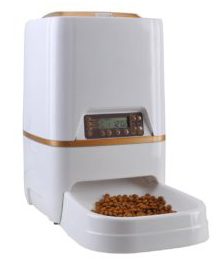 Westlink 6L automatic pet feeder allows you to feed your cat up to 4 times a day with customized portions and schedules, according to your cat's needs. You can enjoy the peace of mind of having an automatic feeder that will take care of your cat while you're away.
The Westlink automatic feeder has the ability to dispense from very small amounts of food up to cups of food at a time so you can keep your cat at a healthy weight.
If you have power outages often, you will like to know that this feeder works with AC/USB adapter and batteries in conjunction so in case of a power loss the batteries ensure that the settings won't be lost.
FEATURES
Works with AC/USB plug and 3xD batteries as a backup (both can work in conjunction)
Dispenses up to 4 meals a day
The portion of each meal can be individually customized, the same with mealtimes.
Each meal can be programmed in portions from 1- 39 portions, where 1 portion = 10-12 gr.
Small minimum dispensing of 1 portion (10 gr), ideal for a cat on a diet
A locking mechanism on the lid makes it paw-proof
Pet-proof. It unlocks the control panel by pressing two keys at the same time
Voice/microphone recording feature to call your pet to eat (10-second message).
Built-in infrared sensor keeps the bowl from food overloads
It accepts various kibble shapes and sizes, not exceeding 0.39" diameter (1 cm). Bigger kibble may result in jamming
Feeder capacity: 6 lbs -7 lbs (depending on the kibble)
Low power consumption
HOW THE WESTLINK 6L PET FEEDER WORKS
The feeder features a small portion rotator on the inside with slots that contain the portions. One small slot contains 1 portion, where 1 portion is equal to 10gr-12gr.
Let's say a meal is programmed with 3 portions, this means the rotator will rotate 3 times to dispense the food of 3 slots to complete the desired amount for this particular meal, which is 30 gr to 36 gr approx, depending on the kibble size and shape.
As each meal can be set from 1 up to 39 portions, this means each meal can be as small as 10grs-12 gr or as big as 390 gr – 468 gr, approx. If kibble is very small and flat, the amount dispensed will be larger.
The Westlink feeder mechanism with a small rotator prevents the food from getting stuck and allows the feeder to handle different sizes and shapes of kibble, up to 0.39" dia (1 cm).
HOW THE FEEDING SCHEDULE WORKS
Westlink 6L automatic pet feeder needs to be programmed only once and this schedule will be repeated every day. You can't program different feeding hours for a defined group of days individually with this feeder since it doesn't feature that type of timer.
The one feeding schedule you entered in the unit will be the one that your cat will have every day until you decide to change it. If you want to skip a meal or to stop the feeder on the weekends, for example, you can turn one, two, or all meals off by a push of a button.
If you decide to give your cat a little snack, you push a button manually and feed your pet a portion or two in advance.
THE WESTLINK 6L BACKUP SYSTEM
The Westlink 6L automatic feeder works with AC/USB connection and also with 3D batteries that can be used in conjunction with the AC power so if a power loss happens, the feeder will retain the programming.
Unlike other feeders that only work either with an AC adapter OR batteries, the Westlink 6L works with both without affecting the feeder.
Alkaline batteries should last at least one year with one cat.
THE PROGRAMMING
To program the feeder you need to test how many portions you will need to complete the desired amount of food for your cat to eat. You can do this by pushing the manual button to dispense the equal to 1 portion in a measuring cup and see how many portions are OK for a meal. Once you have determined how many portions you will feed your cat for each meal, you can program the feeder.
1 Step: Set the clock to the current time
2 Step: Select the time for the first meal (breakfast), for example, 7 am (the clock uses 24 hours military time)
3 Step: Choose the # of portions for the first meal.
4 Step: Repeat with the next meals.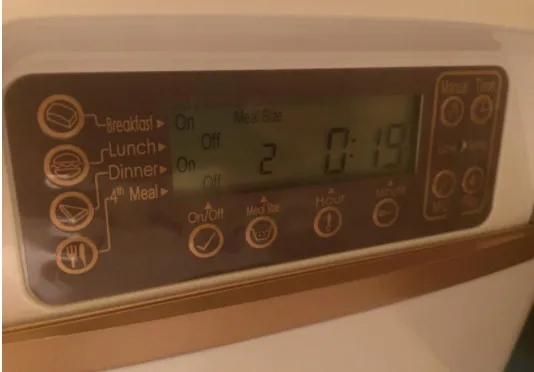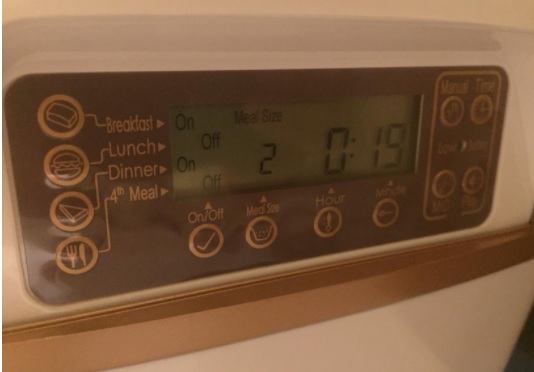 WHAT ARE THE PROS & CONS OF WESTLINK 6L AUTO FEEDER?
To know all about this automatic feeder, here's a full list of the good things about this unit and the not very good things:
Simple to program reading the instructions
Easy to fill
You can customize each meal individually, in portions and times
Easy to manage each meal individually, you can turn a meal Off/On if you want.
Good accuracy in portions
The minimum amount dispensed (10-12 gr) allows you to put your cat on a diet
Good capacity of the hopper (6 lbs to 7 lbs)
A cat-proof locking mechanism on the lid (it requires to press on two points at the same time for the lid to open)
It works with AC/USB adapter and batteries as a backup to ensures the settings
An infrared sensor prevents the bowl from overfilling
Removable bowl, easy to clean
Dispensing mechanism avoids clogs or jamming (even with oddly shaped kibbles)
The cat can't see there is food in the hopper, so less anxiety to eat (a "con" to see the food level)
CONS
Voice recording is not loud enough and it sounds a little garbled
The feeder has a big footprint
An LCD panel is not backlit
You need to test the number of portions before programming the feeder.
The clock uses 24-hrs military time, no am/pm format (not a "con" if you are familiar with it)
You can't see the food level at a glance
The instructions have poor print quality
CONCLUSION
Westlink 6L automatic pet feeder is a product that works as described. To program this feeder you will need to test how much you will want to feed your cat per meal, considering each portion is equal to 10 gr or 12 gr depending on the kibble.
The Westlink 6L automatic feeder offers a good value for money and I would recommend it if you are looking for a feeder under $100.- and you want to feed two cats. This feeder may be too large to only feed a single cat, but it works well either way.
In case you have an average cat weighing up to 9 lbs and you want to put your cat on a diet, I suggest you set up the feeder with 3 meals per day, choosing 2 portions each, completing a total of 70-80 gr approx. a day, assuming your cat eats small kibble and also considering extra wet food on your cat diet.
UPDATE: The Westlink brand got discontinued but the same automatic feeder is in Amazon under the brand "Iseebiz".