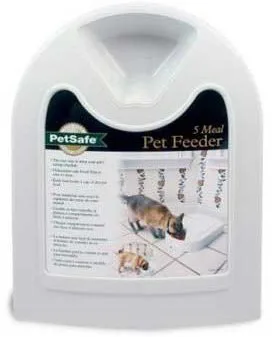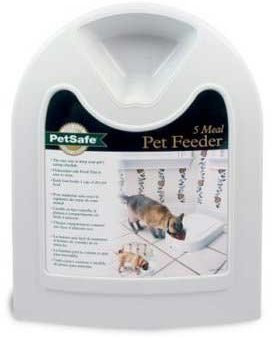 PetSafe 5-Meal Review
The Petsafe 5 Meal pet feeder is one of the best automatic dish feeders with a digital timer which gives you more accuracy in feeding times.
As follow you will find a full review of this automatic feeder with all the information you need to decide if this unit it is suitable to your needs. In this review, we will give you a description of this product, features, pros and cons, tips given by current customers how to better use this automatic feeder and final conclusions.
PRODUCT DESCRIPTION
The PetSafe 5 meal pet feeder automatically feeds your pet up to 5 times a day, 4 of them are programmable meals. With this automatic feeder, you will not worry about your cat not eating or overeating. The digital timer allows you to set a feeding schedule with one-hour increments between each meal. For example, you can set it up to deliver equal portions 5 times a day (the first meal at present time), or one meal every day for 5 days, or 2 meals every day for 2 and a half days, and so.
FEATURES
Automatic feeder made with rugged polypropylene.
5 compartments with a capacity of 1-cup of dry food.
Secure latching lid.
Very easy to program with digital timer.
Removable food tray for easy cleaning.
Works only with batteries.
Requires 4 D-cell batteries not included.
One year limited warranty
Dimensions: 15 x 5 x 18 inches; 3.9 pounds
CAT AND FIRST ENCOUNTER WITH THE PETSAFE 5-MEAL
PROS AND CONS OF THE PETSAFE 5 MEAL PET FEEDER
Learn about the advantages and disadvantages of this automatic pet feeder to know what to expect and how you can adapt his feeder to your cat needs:
Pros
Unique dish feeder with digital timer.
Very easy to program and operate.
The digital timer is very accurate.
Programming does not need to be restarted every day, it is one-time-thing so you can relax and forget about it unless you want to change the times or remove batteries.
Easy to refill.
Deep compartments that hold 1 cup of dry food each.
Made of durable and resistant materials.
Sturdy so your cat cannot tip it over.
It works with rechargeable batteries.
The feeder has a good grip on the bottom.
The food tray is easily removable and dishwasher safe
Batteries seem to last a long time.
Good solution for overnight trips.
You can easily set as many feeding times as you like and also set the feeding times at any intervals you like.
Cons
The motor of the feeder makes a whirring noise when the dish rotates (it lasts 2 seconds).
It's not a cat-proof automatic feeder. Some smart cats (more chances with Oriental breeds) can figure out how to rotate the tray with the paws.
You can program really 4 meals as the first one is exposed to be served at present time.
It does not have ON/OFF switch, so you have to remove the batteries if you want to turn it off (if using it every day no needs to turn it off).
The unit does not have "low battery" indicator.
Very difficult to insert and remove batteries.
The unit does not retain programming after removing batteries.
To use with moist food is not good for more than 24 hours as it does not have ice pack underneath the tray (it has one small compartment to put ice and it is set underneath the present feeding compartment).
The feeding tray something doesn't align with the lid opening.
TIPS GIVEN BY CURRENT CUSTOMERS USING PETSAFE 5-MEAL
Excellent 4 tips mentioned by current customers to make of this automatic dish feeder a good experience for you and your cat. Then we will give you our final conclusions for this product.
1. Before leaving your cat alone with the Petsafe feeder:
√ As all feeders, make sure to try it several times before leaving your pet alone with the feeder. This way you will make sure your cat is getting used to the motor noise that lasts approx. 2 seconds. Sometimes this feeder doesn't align the lid with the feeding tray. To check the alignment, program a fake feeding time and test it. If the lid is aligned then program the mealtimes making sure not to move the tray too much.
2. Tips How to Best Assemble and fill the Petsafe 5 Meals
√ Before using the Petsafe 5 meals, make sure to peel off the instructions label on the lid or tape it properly so the lid rotates without problems. If you peel off the instructions label, you can print them going through the Petsafe website.
√ Make sure to push the lip down till it "clicks" so this way the tray is locked in (and not on top of) the little guide at the back edge of the base. This way your cat won't be able to move the lid with the paw trying to get more food from the next tray.
√ If the compartments ever get off from the center, there is a button that moves the motor (turns the compartments) and centers the lid again.
√ Never fill the food tray in presence of your cat. It will know all the food is inside and will try to defeat the dish feeder.
3. Tips to use the Petsafe 5 meals with moist food
√ If you want to feed your cat moist food, freeze all meals for 12 hours before installing the tray into the feeder. Then for the compartments that will feed within the first 10 hours, spread the food within the tray. For the trays that will open after 10 hours leave it frozen in the shape of the can because this way takes longer to thaw.
4. If your cat is allergic to plastic:
√ To avoid chin acne in your cat, you can remedy this by buying small stainless steel prep bowls (3.5" in diameter) from Sur La Table. These bowls fit perfectly into each compartment.
CONCLUSION
This is an excellent product if assembling it properly, which is simple. The PetSafe 5-meal allows you to feed your cat dry and wet food (with some adjustments for wet food) and it has an affordable price.
BOTTOM LINE
I recommend the PetSafe 5-meals:
For anyone who works and needs to feed the cat multiple times a day.
For cats that need to lose weight because it allows you to feed your pet specific portions throughout the day.
I recommend it with reservations:
To feed your cat moist food: Only if the feeding cycle length is 24 hours and if you set the food on the tray as described in #3 customers tips.
x This unit may not be suitable:
If your cat is stressed or has anxiety because this feeder makes a loud motor noise when the lid is rotating.
To use this feeder to feed for more than two days if you want your pet to eat  2 or 3 times a day. It can be used up to 5 days if the cat eats once a day dry food.
To use it with moist food if you live in hot weather.
Get the PetSafe 5-Meal on Chewy with fast shipping on this link. Or get it on Amazon: