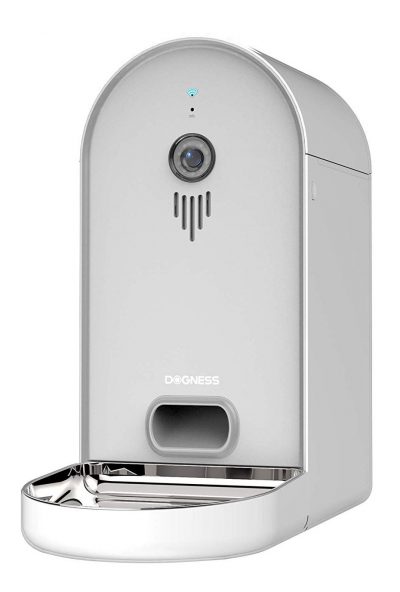 Dogness automatic Wi-Fi Smart cam pet feeder allows you to feed your cat from anywhere at anytime using the Dogness App on your Smartphone. This programmable cat feeder has several features that makes this device a very interesting option to feed your cat.
Features of Dogness Wi-Fi Automatic Pet Feeder
Stylish and modern design
Automatic Wi-Fi feeder with a user-friendly App operation
165° full HD built-in camera (Wide-Angle 720P) w/daylight mode, dark mode and night vision mode.
Ip camera. Feeding via free app
Ability to watch, talk and listen to your cat, recording videos or taking pictures
Hopper capacity: 6.5 lbs dry food (approx. 3 kg)
Programmable to dispense up to 6 meals per day
Military time format
Ability to feed your cat on demand at anytime with your smartphone.
Two Interchangeable inner wheels to adjust to small or large kibble
Accuracy in portion control, from 5 to 100 grams per portion (w/2 size internal wheels)
Play pre-recorded personal voice message that will play at meal times.
Anti-jam patented mechanism
Recommended kibble diameter: 1/5-3/5 inches(5-15 mm)
Excess food sensor
2-power supply: AC adapter & optional battery backup in case of power outage
Hopper and stainless-steel tray are removable and dishwasher safe on top shelf
Materials: Body made of ABS plastic / Tray made of 304 stainless steel
Colors: Dark Blue, Gray, Pink and Tiffany blue
One year warranty
Dimensions & weight
Dimensions in inches: L 16.5 x W 8.66 x H 16.14 (assembled)
Dimensions in cm: (L 42cm x W 20cm x H 41cm)
Tray (inch): 7.7×8.1×2
Tray (cm): 19.5×20.5×5 cm
Feeder weight: 6.6 pounds/3kg (without batteries or food).
Technical specifications
Requirements: Android 5.0 or up, IOS 7.0 or up.
Power adapter: 5V DC 2A with 9-feet long (3 meters) power cord / Input: 110-240 V, 50/60 HZ, Output: 5.0 V, 1 A
Optional battery backup: 3 alkaline D-cell batteries (Not included)
Requires a wireless router 2.4GHz frequency (it doesn't support 5G equipment).
For indoor use only
What comes with the package:
1x Dogness Smart Pet Feeder
1x Stainless-steel Tray
1x User Manual
1x AC Adapter
1x USB Power Cord
How it works
Dogness automatic Wi-Fi pet feeder works with your existing Wi-Fi 2.4 GHz connection. You download the free App and bin your phone with the App. Open an account to register your cat following the steps. Then pair the feeder with your Wi-Fi home newtork. Once you register your cat and the feeder is paired with the Wi-Fi, you can start programming the feeding schedule you need for your cat.
The feeder features a built-in microphone that allows you to record a voice message calling your cat to eat. This recording will play 3 times when the meal is dispensed.
What's great about Dogness Wi-Fi Automatic Cam Pet Feeder
You can watch your cat through the ip camera streaming via free App. You can record videos or take pictures and keep them on your phone, share them with your family and friends on social media.
You can check on your cat whenever you need through the App video streaming, relieving your anxiety of not knowing how your cat is doing while being alone.
Dogness Wi-Fi Smart feeder features 2-way audio that means you can talk and listen to your cat. The Dogness built-in microphone allows you to do that. With other feeders you can either talk to your cat or listen to your cat, you can't do both.
The camera features a 165-degree angle with full 702 p HD which is very nice. Cameras on automatic feeders don't usually provide good quality image. The video quality is very good, with a low latency video streaming, about a second. The night vision allows you see your kitty in the darkness too.
Cats usually don't stand by in front of the camera, but with Dogness automatic feeder you can call your cat and he or she will show up in front of the feeder. Not only that, you will be able to talk to it and if you want to listen to your kitty tap the App to hear its response.
The feeder comes with 2 internal wheels for large and small kibble. This allows you to have good accuracy when feeding your cat.
If the internet goes down, the feeder will retain the last programmed feeding schedule in its hardware and will keep dispensing food according to this schedule. For the feeder to keep working during power outage you need to have the feeder with batteries.
If you have 2 feeders you can watch each cat with video streaming, using the same Wi-Fi. You can add two or more cats (feeders) on the same App account and the App will let you name each feeder. Also, if you use different phones you can login into the same account to control ONE feeder with any of your phones (not login at the same time of course).
Programming Dogness Wi-Fi Smart Feeder
You can program up to 6 meals per day. The minimum portion is 5 gr up and the maximum of 100 gr that you can feed at a time. If you want to feed your cat ¼ cup, it takes about 6 "portions" to get this amount. Each "portion" is a 5-gr increment approximately, depending on the kibble size. The 5 gr increments are achieved by using the small wheel which is suitable for cats.
Also, if you want to feed your cat a snack or extra meal, you can do it from your smartphone by tapping Manual Feeding option. The manual feedings are unlimited.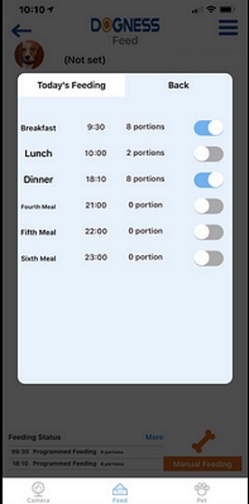 Video of Dogness Wi-Fi Automatic Smart Feeder
How to clean it
You can remove the ABS plastic hopper and put it on top shelf. The plastic food tray and the stainless steel insert can go anywhere in the dishwasher machine. You can hand wash these parts if it's more comfortable for you since the hopper is on the large side.
What are the pros & cons of Dogness Wi-Fi Smart Automatic Feeder?
Learn the advantages this feeder has to offer you and your cat and also what could be the drawbacks.
PROS
Modern minimalist design
Sturdy and well made
Dependable Wi-Fi network connection
Can bind multiple feeders and control them on the same App account
Very easy to set up with friendly-user operation free App
Reliable error notifications
Ability to login with different phones into your App account
Camera has very good resolution and wide angle
High quality pictures and audio
You can talk and listen to your cat (2-way talk)
You can watch your cat at anytime, video recording or taking a pic of your feline friend.
Ability to change the feeding schedule from anywhere using your phone
You can feed your cat extra meals anytime with your phone.
Feeder doesn't jam
You can program up to 6 meals per day, customizing each portion individually
Keeping in touch with your cat reduces the anxiety of your kitty when being alone (and yours too!)
The feeder features a pocket with desiccant inside the food container, to keep the food free of humidity.
The feeder is easy to clean, only 3 pieces to remove and that's all.
The food tray has a slight slope that ensures the food won't get stuck in the food gate
Stainless steel food tray is hygienic and avoids feline chin acne
AC adapter and backup batteries to ensure its continue operation in case of power loss
Customer service located in Texas, USA.
CONS
Food tray is kind of small for two cats to eat comfortably. It will depend if they can eat very close to each other.
It could be a little loud when kibble falls onto the food tray
The camera doesn't show where the food tray is
Not compatible with Alexa
My final thoughts about DOGNESS Smart Feeder
After so many years investigating automatic feeders for cats I can say that the Dogness Wi-Fi Smart Automatic feeder is one of the best automatic cat feeders on the market. It offers several good features that other cam feeders don't, especially when it comes to video and picture quality. Also, the feeder doesn't jam and it provides good accuracy in portions.
I definitely recommend Dogness Smart Wi-Fi cam feeder:
If you want a reliable feeder that will keep operating no matter what
To put your cat on a diet
If you want to watch, talk and listen to your cat from anywhere
If you want to record videos, take pictures of your kitty and share them with family and friends
In case you need flexibility with feeding schedules, being able to change it at anytime from anywhere.
Feeding your cat manually if you want
x This automatic feeder might not be suitable for:
Feeding two cats with the same feeder (unless they are used to eating head to head)
If you want to have a view of the food tray (you will only see the view as if you are the feeder)
If you want a feeder with motion sensor
If you want a unit with low-food indicator