PetSafe Smart Feed Wi-Fi Feeder Review
Editor's Rating: 4.2 | Avg. Rating Online: 4.1
The PetSafe Smart Feed allows you to control and monitor the feeder at any time from your smartphone, iPhone or Android. With the free-downloading App you can program feeding schedules, portion sizes, monitor your cat's feeding activity for the last two weeks and also trigger meals in real time by a tap of the "Feed Now" button.
PetSafe Smart Feed can be programmed to feed up to 12 meals per day, with portion sizes from 1/8 cup up to 4 cups each meal.
FEATURES
SMARTPHONE CONTROLLED: You can fully control your cats feeding schedule anytime, anywhere, using your iPhone or Android.
REQUIREMENT: iPhone or iPod device iOS 9.0 or later. Most Android smartphones 5.0 or later.
CUSTOMIZABLE MEALS & PORTIONS: You can program up to 12 meal times within 24 hours. Each meal size can be programmed from a minimum of 1/8 cup up to 4 cups at a time.
FEED NOW OPTION: If you want to feed your cat an extra meal or snack in real time simply tap "Feed Now" and let your cat enjoy an extra meal. You can choose a minimum of 1/8 cup to 4 cups when triggering a meal in real time.
SLOW FEED OPTION: The feeder dispenses meals over a 15-minute period. This option slows down your cat, keeping your pet from inhaling the food.
RECEIVE ALERTS: App notifies you if a meal couldn't be dispensed.
EFFECTIVE DISPENSING SYSTEM: PetSafe Smart Feeder works with an internal conveyor that handles most kibble shapes and sizes, preventing jamming.
24-CUP CAPACITY FOOD HOPPER. Great capacity makes you forget about refilling the feeder often. Translucent food hopper allows you to see the food level at a glance.
LOCKING LID: To protect food from mischievous paws.
EASY-TO-CLEAN: Hopper, lid, bowl, and bowl holder are top-shelf dishwasher-safe.
MATERIALS: BPA-free plastic and stainless steel bowl
AC ADAPTER INCLUDED: Includes AC adapter which is the main source of power. Batteries must be used as a backup in case of power outage. (4 D-cell alkaline batteries, not included).
Indoor use only.
DIMENSIONS: 20.3" x 9.4" x 12.6"
ITEM WEIGHT: 5.6 pounds
WHAT COMES WITH THE PETSAFE WI-FI FEEDER?
Main feeder
Bowl holder
Stainless-steel bowl
AC Adapter
User Manual
HOW IT WORKS
The PetSafe Smart Wi-Fi feeder uses an internal conveyor that escalates the kibble up to the chute to finally drop into the stainless-steel bowl. The unit connects to the WiFi network and to a Smartphone through the App. The App allows you to control the feeding times and portions. Once you program a feeding schedule, it'll repeat every day.
The connection of the feeder to the Wi-Fi allows you to control the unit from your Smartphone, but if the internet fails, the feeder still operates and dispenses the programmed feeding schedule. If a power outage occurs, the battery backup ensures a continuous operation. The lack of internet just means you won't be able to control the unit from your Smartphone. The feeder is not meant to be used solely with batteries, its main power source it's AC adapter.
The unit doesn't have a control panel, only a "Feed Now" button that you push if you want the feeder to dispense a meal. All the feeding options are controlled via the App; portions, feeding times, slow feed option and "Feed Now" as well.
VIDEO OF PETSAFE SMART FEED AUTOMATIC FEEDER
HOW TO SETUP THE FEEDER
Simply put the batteries (4 x D alkalines), insert the stainless-steel bowl, fill the hopper with food, plug it in and turn it on. Then download the free App (iPhone or Android), register the unit in the App and connect the feeder to the Wi-Fi router.
The food hopper is held shut by two snap locks and the hopper lid is held by a one push lock. Once you fill the feeder with dry food, make sure to "Prime" as instructed, which is basically press the feeder's front button to dispense a meal until about ¼ cup is dispensed. This "Prime" action of pushing the button allows the food to escalate and fill the conveyor so the food is ready next to the chute to be dispensed.
PROGRAMMING & APP FEATURES
The App allows you to program the feeder up to 12 meals daily. You add one meal, choose the time and portion. Then you add another meal and do the same. The meal times can be set in 15-minute increments only. You can't, for example, choose a meal for 4:25 pm.
The programmed meal times are repeated every day so it's not possible to program a different feeding schedule ahead of time, for example, program a different portion to be dispensed on the weekend or something like that. What you program is what your cat will eat every day until you change either the # of meals, the time or the portions.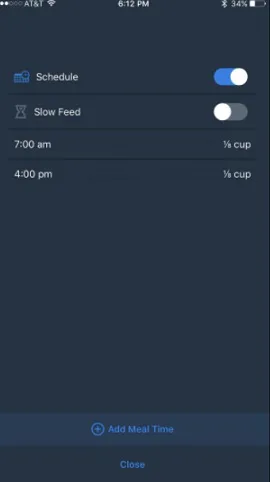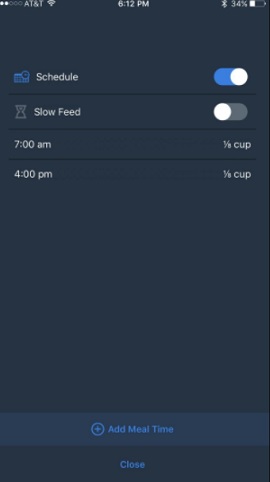 You need to program the time zone on your App, which will automatically adjust according to daylight saving time. The App allows you to:
Add meal times & portions
Trigger an extra meal or snack by tapping on "Feed Now"
Enable the Slow Feed option
Notification when a feeding has been dispensed
Notification if a feeding has failed
Check on the App if the batteries are low
Check on App if there is a Wi-Fi lost connection
Track the history of the cat eating behavior for the last 2 weeks
Lock the "Feed Now" button to avoid kids or pets to manually push a meal
SIMPLY FEED VS SMART WIFI SIMPLY FEED
PetSafe Smart Wifi is much easier to program
Easy to pause the feeder if you need it to stop working (toggles like when you set an alarm clock on your smartphone)
Allows you to remotely lock the feeder's front button by tapping "child lock"
PetSafe Smart Feed features latches on the lid to keep pets from accessing the food
LET'S SEE THE PROS AND CONS OF THIS UNIT
Here's a comprehensive list with the advantages and disadvantages of PetSafe Smart Feed WiFi Automatic Feeder:
PROS
Easy to set up and connect Phone/App/Feeder/Wi-Fi
App allows you to fully control and monitor your cat's feeding activity and the feeder from your Smartphone
Change your cats feeding schedule at any time, anywhere
Customizable meal times and portions, individually
Easy to use App provides many features, such as notifications, remote feedings, etc.
App allows you to control more than one feeder
It keeps operating without internet (as long as it's plugged-in)
Large 24-cup capacity of food hopper
Good accuracy in portions due to its internal conveyor feeding mechanism
Stainless-steel bowl avoids cat chin acne
Bowl, holder, and hopper are removable for easy cleaning, top-shelf dishwasher safe
Power button located at the bottom of the unit prevents kids from turning off the feeder.
Groove on the bottom for the cord to sit in.
Battery backup to ensure the unit's operation in case of a power outage.
Feeding internal mechanism handles a wide variety of kibble sizes and shapes.
Includes AC adapter (unlike Simply Feed version)
CONS
Kibbles makes a loud noise when falling into the stainless-steel bowl
Batteries are not the main source of power, only as backup
App doesn't allow you to add a second admin
Big footprint
It doesn't have webcam
No notification when hopper is low on food
Bowl isn't wide enough for two big cats to eat together comfortably
You can't use Slow Feed Mode to dispense the minimum amount (1/8 cup). Only for bigger meals (¼ cup and up)
TIPS
Make sure to always keep the hopper with enough food to allow the conveyor to get full and escalate the portions up to the chute. If you fail at doing this, the mechanism starts putting less food into each conveyor compartment and the accuracy of the programmed meals is less.
CONCLUSION
The PetSafe Smart Feed is the Wi-Fi version of the PetSafe Simply Feed. As most automatic Wi-Fi feeders, the Smart Feed can be programmed and controlled by your Smartphone and it allows you to change the settings of the feeder at any time, anywhere.
The PetSafe Smart Feed has good accuracy in portions, you just need to make sure to keep the feeder with enough food. The App is easy to use and straightforward.
The downfall is the lack of notifications when the feeder is low on food and the lack of a webcam to see or talk to your cat. Also, this feeder needs to be placed away from bedrooms as it's noisy when the food is dropping into the bowl.
Other than that, this feeder works well for cats and provides busy cat owners good control of the feeder and access to change settings from their Smartphone. I recommend this Wi-Fi Smart Feeder.