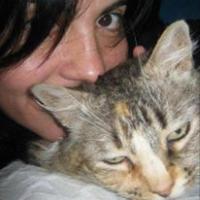 Hello everybody!  My name is Lorena and I am a cat owner and cat lover as well.
What can I say about me? I love traveling, snorkeling, visiting museums, watching birds and of course, I love cats but mostly I love nature and animals in general, they give you the real sense of life and caring about our planet.
I am graduated as an Engineer and I love art and writing. My mind switches between the logic and the emotions, I have lived this duality since I remember, but it's fun, it lets me enjoy the best of both worlds, but sometimes it makes it hard to make decisions.
My First Cat Lily 
I remember when I got my first cat Lily, I rescued her from the street on a New Year's eve. I had to start learning about cats because I didn't have any experience previously. So I realized I needed a litter box, I needed to feed her while I was at work, I had to choose a cat food, set up her bed and so many other things. I was overwhelmed!
Why I Started This Blog
I remember the night when I needed a cat food dispenser and I started looking online. I needed good reviews that help me to decide what it was the best option, but I was very frustrated to find very little information and not very complete which made it very hard for me to get what my kitty needed.
That's why I decided to create this blog to help cat owners with complete and honest reviews about automatic feeders and I feel happy doing it. My information is written with passion and love for cats and with empathy for cat owners.
My blog is the result of almost 6 years of investigation about cats. With my articles and reviews you'll have a better idea about cat food dispensers, how they can help you to control your cat weight when you are at work, and how to analyze the current offer on the market so you can pick the best one for your cat.
My cat Lily passed away in the end of 2013 :-( Here's a post I did when that happened, I was so sad.  That's one of the main reasons why I started investigating cat foods so people don't make the mistake I did with my cat. I don't want anybody go through what I went with my beloved kitty. I used to feed my cat Lily a very well known and reputable brand of dry food that had great reviews. What I didn't know it was that this dry food contained grains and this caused her to develop diabetes that was not diagnosed for a long time. By the time she got diagnosed it was too late. Since she ate normally I didn't think she was ill. She passed away when she was almost 10 years old :-(
I didn't know better at the time. She was my first cat and there was so much I didn't know about cats! I felt so guilty. That's why I was determined to investigate cat foods as much as I can to help people not to make the same mistake with their kitties.
My Cat Sophie
Now I have a new cat, Sophie. She is a little wilder than Lily, but very affectionate and cute. I love her! I rescued her from a shelter and that day I saw so many cats and I didn't know which one to take home, my heart was broken seeing those beautiful cats wanting a home. But what made me choose Sophie is that she was the only one reaching out me with her paws through the cage trying to touch my face like saying: Please get me out of here! So I picked her. Since then, she has become a beautiful cat, very playful, curious, loving and also sometimes a little spoiled lol.
I hope you like my website, I try to make sure that you can find all the information you need to take care of your cat, I have made this website sharing my experience as a cat owner and thinking how to help, especially to new cat owners that are lost and don't know where to start.
If you have any thoughts or questions, all comments are welcome. If you need to contact me, please send me an email to contact @ catfooddispensersreviews.com I will respond as soon as possible. If you have ideas how to improve the life of kitties, just let me know and I would be very pleased to discuss it. My ultimate goal is to make kitties happy and of course kitties's moms happy as well.
You can also follow me on Twitter, Facebook, Instagram and YouTube. It was nice to meet you guys and we will be in touch!