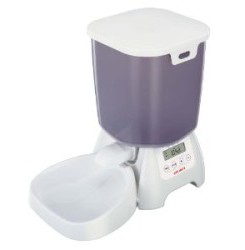 (3.7/5) Cat Mate C3000 it is an automatic feeder with several features and mode settings.
This review will give you a general description of the Cat Mate C3000, features, mode settings, pros and cons, and the final conclusion if this unit is recommended for your cat. We also include a video so you can see how this device works.
CAT MATE C3000 DESCRIPTION
The Cat Mate C3000 allows you to program up to 3 individually sized meals within a 24 hour period with the ability to dispense each meal with a minimum of about 10 gr. (1/3 oz) at a time. It is designed to work with a minimum pellet size of 1/4″ diameter up to 6/8″ diameter pellet size. For better accuracy in portions, you may want to use 1/2″ diameter pellet size.
The Cat Mate C3000 has a programmable LCD control to set clock and feeding schedule. This automatic feeder has several mode settings to customize your cat feeding schedule. If you want to program more than 3 meals by day you can do it with this unit adding this option manually every time.
FEATURES
Feeds up to 3 meals by day.
Capacity to dispense small amounts of food with minimum 2 teaspoons.
Optional mode settings.
Easy to program using the LCD control.
Snap lock lid to keep away smart pets.
Food hopper with a capacity to hold 6.5 pounds.
Dishwasher safe components.
May be attached to a wooden board for extra stability if required.
It has a low battery indicator on the LCD screen.
Dimensions are 8.3X8.3X14.5 inches
It works with 4 C batteries not included.
WATCH TWO CATS EATING FROM THE CAT MATE 3000
/p
ADDITIONAL MODE SETTINGS:
In addition to the classic "Set Meal" of 3 meals by day within a 24 hour period, this automatic feeder has 4 extra mode settings:
Extra feed (in addition to a Set Meal). This allows you to feed your cat additional "feed units" (meals) to the 3 times by day feeding schedule. You can add one extra meal (entering 4 in total) or you can add more meals as well. These extra feed units have to be programmed manually by day.

Cat Mate C3000 LCD Control
Advance feed (serving the next Set Meal early). With this setting, you can bring a programmed set meal forward. You may only advance feeding schedules programmed for the same day. For example, if you have set 3 meals by day and you want your cat to eat the second meal earlier, you can do it pushing 2 buttons and the second meal will be served. After this, on the screen will flash the next programmed meal (3rd meal).
Manual feed (dispensing controlled feeds on demand). This setting allows you to feed your cat a determined amount of food without programming meal times.
Frequent feed (small feeds at regular intervals). This setting is perfect for cats with specific dietary requirements (e.g. example, diabetic cats). The "frequent feed" allows you to set a determined amount of food to be dispensed at regular intervals you define within 24 hours. You define the "start" and "end" of this 24-hour cycle.  The intervals are defined by how many times you want the food to be dispensed during that cycle.
What are the Pros and Cons of the Cat Mate C3000?
If you need more specific information about the advantages of this auto feeder and also the disadvantages of it, the following Pros and Cons will help you to decide better:
PROS
It allows you to feed your cat up to 3 times by day and you can increase the times manually.
It allows you to customize the feeding schedule.
"Frequent mode" special for diabetic cats.
It retains the setting when turned off.
You can change the batteries without reprogramming if you do it within 60 seconds.
Components are dishwasher safe.
Convenient price.
 CONS
Cats can reach extra food from the chute if using small size pellet (1/4″ diam.)
The dispensing is not accurate if you use small pellet (1/4″ diameter).
Chute goes assembled with the unit, is not attached to it.
A little tricky to be programmed.
Just works with batteries.
Loud when operating.
TIPS HOW TO USE IT:
After setting the clock you have to wait 60 seconds before setting the feeding schedule,

this is very important.
If you love the idea of getting this device but you have a cat very obsessed with food and you know it will try to defeat this feeder, you can check this great customer solution (US link) to use this automatic feeder.
CONCLUSION
The Cat Mate C3000 is an good automatic feeder that works with accuracy when dispensing, but you need to keep your cat's paws away from the lid. This unit is not a cat-proof pet feeder because somehow cats can lift the lid with their paws. Securing the lid is as simple as taping each side of it to the hopper. With that said, and according to customer reviews,
√ This feeder is recommended in these situations:
If you feed your cat with 1/2" diameter pellet size (better accuracy in portions).
If your cat eats up to 3 meals by day.
If you need to feed your cat a determined amount of food by day with regular intervals, using the "Frequent Feed" mode.
If you have the patience to program this feeder (it takes time to figure out the programming).
With small pellet size (1/4″ diameter), is recommendable only if:
Your cat is well behaved with food, not a cat obsessed with food.
You want to feed two cats.
If your cat is not on a strict diet.
x I don't recommend this automatic feeder:
If you don't want to secure the lid of this feeder.