Editor's rating: 4.3 | Avg. rating online: 4.5
SureFeed microchip pet feeder is a selective microchip feeder that works with RFID technology. The feeder has a lid that stays closed at all times blocking the food that can only be accessed by the assigned cat through its microchip, either collar tag or implanted. If your cat is not micro-chipped you can use a SureFlap RFID collar tag that works the same.
When an authorized microchipped cat approaches the feeder and puts its head underneath the hood to eat, the lid will automatically open, allowing the cat to eat. The lid will only open if an authorized cat sticks his head under the hood.
SureFeed comes with 2 detachable colored polypropylene bowls and one silicone mat for a nice-looking unit. Each bowl has a capacity of approximately 2 2/5 cups of dry food.
If you set up 2 or more feeders, you can identify each unit with its respective cat by purchasing extra colored bowls and mats or simply to have a backup set. Mats are designed to catch spilled food and they match the bowls.
The unit works with 4-C alkaline batteries and it features a low-battery indicator. Batteries last from approximately 6 months to a year, depending on the usage. SureFeed is not designed to work with rechargeable batteries.
Features of SureFeed Microchip
It works with your cat's existing microchip implant or RFID collar tags
Compatible with all microchips worldwide
A capacity of 13.5 fl oz wet or dry food
It accepts up to 32 microchip IDs in its memory
Selective feeder system that stops other pets from eating your cat's food
It keeps children from manipulating or eating the cat's food
Ideal for cats on prescription diets or special diet food
It comes with a single portioned bowl for dry food and a split portioned bowl to feed wet and dry food.
The lid protects food and keeps the smell and flies away from the food.
The rubber seal around the bowl's top edge forms a sealed lid, keeping the food sealed and fresher
Removable bowl, mat, and lid for easy cleaning
It works with 4-C alkaline batteries (not included)
Battery-life indicator
For indoor use only
Weight: 3.3 lbs
1-month money-back guarantee
3-year warranty
Dimensions
Feeder dimensions: 12.5" D x 9.1 W x 7.87" H (Overall dimension of the feeder)
Front opening dimension: 8.26" W x 6.10" H (Feeding area dimension)
Bowl dimensions: 4.13" W x 6.29" H x 1.18" D
Mat dimensions: 8" W x 4.37" H
What Comes With The Unit
1 x SureFeed main unit
1 x Single-portion gray bowl (to feed dry food)
1 x Split-portion gray bowl (to feed wet and dry food)
1 x Grey silicone mat
1 x Sureflap RFID collar tag
How The SureFeed Works
The unit has a hood with sensors on both sides so when the cat approaches the front of the feeder and sticks its head under the hood to eat, the sensors recognize the microchip ID and open it by swinging the transparent lid up that is blocking the food, allowing the cat to eat. The feeder will stay closed at all times, preventing other unauthorized pets to eat. By setting the unit in "intruder mode" if the feeder senses an unregistered cat while the authorized cat is eating, the lid will shut. Once your cat is done eating and walks away from the feeder, the lid will close, keeping the food sealed, fresh, and protected from non-registered pets or kids' hands.
SureFeed Set Up For Two Cats
Watch the Selective System of SureFeed in Action
Safe For Toddlers And Cats
The unit is safe for kids and animals because the lid is strong enough to push the cat's nose out of the food, but if it feels something blocking the closing, like a finger or a paw, it will stop the lid from closing and will try again. The pressure applied by the lid is not enough to hurt people or animals.
The Hood Guarantees Reliability
Unlike other RFID or IR feeders, SureFeed ensures that your cat's head is always in contact with the RFID sensor since its head is under the hood at all times while eating. This prevents the lid from shutting if your cat turns its head while eating, which happens with sensors that are located right in front of the unit. As long as your cat has its head under the hood, the lid will stay open.
Time Delay Adjustments
The time delay for the lid to close after the authorized cat walks away can be adjusted to 3 delays: I, II, and III. With delay "I" the lid shuts one second after losing contact with the microchip, with delay "II"; two seconds and with delay "III"; 3 seconds, approximately. The unit comes set on standard delay II.
NEW! A Cool option to customize your Surefeed
There's a great option to customize your Surefeed pet feeder with a stand. You can pick your favorite color to match your decor. This stand allows you not only to feed your cat in a better position, especially elderly cats or cats with a disability but it also makes it easy for you to operate the buttons on the back of the feeder. You must pick the right stand according to the version of your SureFeed (there are 3 versions currently). Check more details about this great idea on Etsy, here (*This stand is not sold by SureFeed). You can also match the color of the stand with a cute mat that you can purchase in addition to the stand. Check the matching mats here.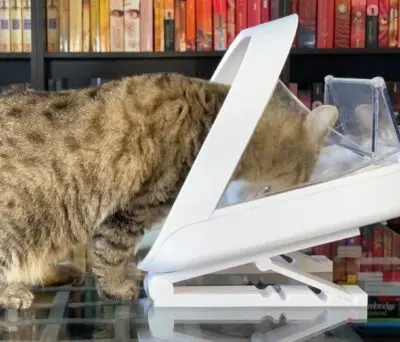 Pros & Cons of SureFeed Microchip Pet Feeder
Check the pros and cons to have a better idea of the advantages and disadvantages of this automatic feeder:
PROS
Easy to set up and use.
Very clear instructions.
The unit is solidly constructed.
The feeder is compatible with any existing microchip worldwide.
An option for your cat to use an RFID collar tag if is not micro-chipped.
You can register several cats to eat from the same feeder, up to 32 different IDs.
It allows you to control each cat's food intake (by setting up 2 or more units).
Excellent to protect your pet's prescription diet.
Rubber seal around bowls provides good sealing, covering smells and protecting against flies or other insects.
The feeder's arch gives a wide range of RFID sensitivity so if the cat turns its head from the feeder the lid won't close.
4-C batteries on the bottom of the feeder give the feeder good weight and stability.
The low-battery indicator allows you to know when to change batteries.
It stops dogs and small children from accessing your cat's food.
You can buy extra bowls, mats, and collar tags.
CONS
The unit is basically a free feeding bowl for the authorized cat, thus it doesn't stop glutton cats from gorging all the food at once.
It does not have a timer, so you can't split your cat's daily intake into several portions throughout the day (if you are not home to refill the bowls).
It does not have an ice pack to keep wet food cool.
Bowls are not dishwasher safe.
It does not have an AC adapter, designed to work only with 4 x C alkaline batteries (not rechargeable).
Some stubborn cats might be able to get their head behind the feeder and steal food that way (place the unit against a wall to block the back gap of the feeder to stop that or get the SureFeed rear cover that is sold separately).
Price
TIPS
Try not to place the feeder close to metallic/electrical appliances.
To ensure the best operation of the RFID sensor, they need to be kept clean at all times.
When registering your cat's microchip, make sure there is not another non-authorized cat in the proximity or this may cause an unintentional registration of another cat. If this happens, you have to do a factory reset of the machine.
The User's Manual comes with training tips for different types of cats, including timid cats.
You can't put the feeder in the refrigerator or place ice packs inside the feeder.
If you have a cat that is aggressive when it's time to eat and you think this idea won't work for your cat, you can check the article I wrote about how to manage two cats competing for food.
CONCLUSION
SureFeed Microchip pet feeder is a very good microchip selective cat feeder that works as advertised. This unit is especially recommended for multi-cat households where you need to separate their foods. One thing to consider is that the SureFeed feeder can't stop very aggressive animals that push their way into the feeder to access the food, no device could do that.
√  In Conclusion, this feeder may be suitable for:
Keeping dogs or other animals with no open access to the cat's food
Multi-cat households to feed the right amount to each cat (by setting one unit for each)
Keeping the chubby cat out of the skinny one's food
Cats with special RX prescription
Isolate a sick cat's bowl in a multi-pet household, so the feeder avoids saliva transmission between pets.
x Not suitable:
If you don't want to microchip your cat and he/she does not accept collars
For aggressive cats that gorge on all their food at once and push their way into the other's feeder.
For big cat breeds, such as tall Main Coons
If your dog is a chewer
Get the SureFeed Microchip cat feeder with fast shipping on Chewy by visiting this link. Or get it on Amazon: