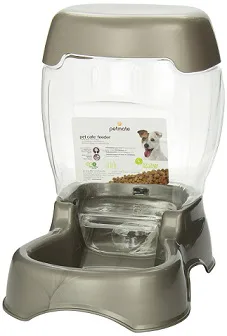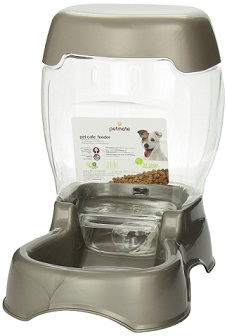 Petmate Cafe Pet Feeder Review
Rating: 3.9 stars | Petmate Café Gravity feeder keeps your pet with food at all times with its gravity system. The unit features a clear transparent food container which allows you to check the food level accurately.
The feeder design is simple and it looks nice in any kitchen. Petmate Cafe Feeder's food hopper is made from sturdy PET plastic (polyethylene terephthalate). PET is a BPA-free plastic that is safe and recyclable. The unit features recessed handle areas for easy lifting so you don't risk to drop the feeder when carrying.
Petmate Pet Cafe Feeder's base and lid are dishwasher safe. The Petmate Feeder comes in 3 colors pearl tan, pearl blue, pearl white and in 3 sizes: 3 lbs, 6 lbs, and 12 lbs. This review is for Petmate Cafe Feeder 3 lbs capacity.
FEATURES
Gravity feeder suitable for small pets
3 lbs capacity of the food container
Clear transparent food hopper allows easy checking of food level
Base and lid are dishwasher safe
Food container made from PET plastic, environmentally sustainable
With recessed handle for easy lifting and carrying
Dimensions: 6.8" W x 12" H x 9.7" L
WHAT ARE THE PROS AND CONS OF PET CAFE FEEDER?
The following pros and cons will help you to make a better decision:
PROS
Good quality, sturdy
It looks very nice for the price and it matches most kitchens.
The hopper keeps the food dry and fresh
Easy to clean, lid and base are dishwasher safe
Very clear transparent hopper that allows checking easily the food level
Color blends nicely with any decor
You can get the Petmate Pet Cafe waterer that matches the feeder
Good value for money
CONS
The chute opening where the food comes out it's on the narrow side so food gets stuck and does not flow into the dish, a little shake helps the food to get released.
Unit is not easy to fill since opening is narrow
Food tray is small
Hopper is not dishwasher safe
TIPS & TRICKS
Very small flat kibble may help to prevent the food from getting stuck.
You can place a flat object under the base on the back to tilt the unit a little and allow the food drop more easily.
If you want to match this feeder with a water dispenser you can get the Petmate waterer pearl tan ¾ Gal. which looks nice with the feeder.
CONCLUSION
Petmate Pet Cafe Gravity feeder is a good solution for pet owners that need to leave food for their cats while they are at work or if they don't want to pour food into bowls every day. However, the mechanism is not designed to automatically refill the bowl by gravity. You need to consider some points about this unit:
The feeder has a good price but, as mentioned, the major issue reported by customers is the food getting stuck in the chute and not dropping into the tray. This issue becomes a "Pro" if you have a smart cat that paws at the food and gets more kibble dropping into the tray; this way your pet exercises to get its food. If your cat doesn't know how to do this, this may not be the feeder for you. In case you spend most of the time at home and you are able to check on the feeder occasionally to shake it, this may still work for you and your cat.
The unit is small, suitable for one cat and it dispenses food for about 5 days or more, depending on how much your pet eats. The tray size may not work for multiple cats. For all these reasons and Pros and Cons,
√ Petmate Cafe Pet Feeder is suitable:
To feed one cat
To feed very active cats or cats that don't overeat
If you are home to shake the feeder to keep the gravity system working
If you have a smart cat that will keep the gravity system working (by pawing the food stuck in the opening)
x This feeder may not be suitable:
To leave your cat alone with the feeder for more than a day
For overweight cats
To feed big kibble or oddly shaped kibble
If you want a gravity feeder that does not need supervision
To feed more than one cat