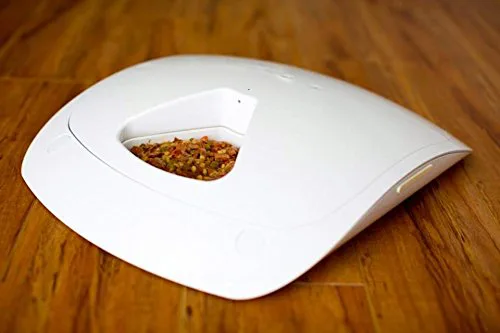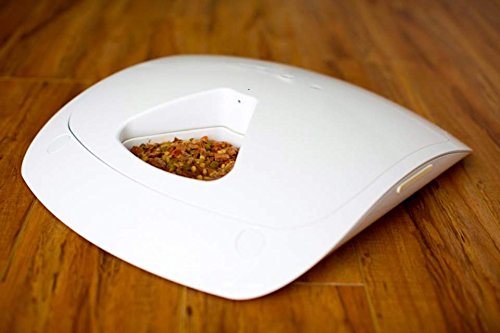 PRODUCT DESCRIPTION [star rating="4.3″ numeric="yes"] Feed and Go is an automatic cat feeder that allows you to feed your pet dry and wet food. It is a very unique device because it's the only one that allows you to manage your cat's feeding schedule and control the automatic feeder through the internet from any computer, mobile or portable device.
The unit also features a high quality built-in webcam to watch your pet and a built-in microphone to record a message that will play before every meal.
How to use the feeder remotely? it is simple. Feed and Go connects wireless to your home Wi-Fi router. You only have to log into your account at the Feed and Go's website and you will be able to manage and control your feeder.
Feed and Go feeds up to 6 meals at anytime, any day, or group of days of the week. Each tray has 8 Oz capacity and it can feed dry or wet food. The unit's motor is strong enough to rotate with a fully loaded wet food tray.
Feed and Go features a special locking mechanism that makes it impossible for your cat to outsmart and break into the feeder or move the trays.
UPDATE: This product is not available and the Manufacturer is out of business.
FEATURES

With a built-in webcam to watch your pet eating while you're away from home.
It feeds up to 6 meals at any time, any day or group of days.
Built-in microphone to call your pet to eat before each meal.

Watching your pet on your mobile phone

Internal Wi-Fi connectivity for placement anywhere in your home's network.
You can setup a feeding schedule anywhere via internet or App and change the schedule at anytime.
You can feed your cat extra meals at anytime by logging in and clicking on "Feed Now" option.
Capacity of 6 x 8 Oz cup sized food trays for dry and wet food.
Removable feeding tray for easy cleaning, dishwasher safe.
Special locking mechanism makes it cat proof.
Feeding area made from researched plastic to prevent cat chin acne.
4 rubber bottom feet to keep the unit from moving around.
You can control one or more Feed and Go units with the same account.
Control from any device such as, smartphone, tablet, laptop or PC (iOS, Android or Windows)
Feed and Go runs on standard USA AC/DC adapter plug.
Dimensions: 20.47" D x 16.14" W x 2.76" H
Weight: 6.5 lb.
12 month warranty on all Feed and Go units
New: iOS and Android Apps.
HOW TO SETUP THE FEED AND GO
To setup the feeder you will need: the main unit Feed and Go, a computer or mobile device (phone/tablet), a Wireless Internet Router, Internet service, and AC outlet.
You have to open the unit by pushing two buttons simultaneously which are located in front of the feeder and remove the paper underneath the tray. Then, plug the cord of the Feed and Go into the power jack located at the back of the unit and plug the power plug into an AC outlet.
Then you need to connect the router to your Feed and Go according to the instructions.
You can also connect your feeder directly through Ethernet cable or if your router does not have WPS, you can connect it to the router through the online Access Point option explained in the User's Manual. Check the following video that shows how to connect the Feed And Go to the Wi-Fi router:
HOW IT WORKS
Once you have setup the feeder, you can program up to 6 meals any time, any day or group of days of the week, but the idea is to create a consistent feeding schedule for your feline. Each meal can be programmed with intervals of minutes, hours or even days between each.
The feeder's tray rotates uncovering each slot with the meal. The food is very well protected because the unit is designed in a way that the covered food it's almost airtight.
The Feed and Go has a special locking system that makes it almost impossible for a cat to move the tray with its paws trying to get the next meal. You can only unlock the feeder by pressing two round pressure points next to each other on top of the feeder simultaneously. After 20 seconds of inactivity, the feeder will lock again.
In the following video you will see a big dog trying to open the feeder and you will notice how sturdy the unit is. Your cat simply won't be able to open this feeder, it's totally cat-proof.
CHECK ON THIS VIDEO HOW STURDY THE FEED AND GO IS
Every feeding will be preceded by a 6-sec calling-to-eat recording with your voice. The unit features volume control for recording and the option of change the recording if you did not like it.
You can play this calling from your account online if you just simply want to see your cat via webcam. You do this by clicking on "Call My Pet Over" option first to make your cat show up and then click "Turn On Webcam" option (do this only occasionally). The built-in webcam is located right in front of the feeder, just above the feeding tray (as seen in the picture).
How you can control the Feed and Go through the internet and App:
Simply log in to your Feed and Go account at www.FeedandGo.com from any computer, laptop, portable device, tablet or smart phone. Or download the Feed And Go App on your iPhone or Android and you will be able to:
Manage your account profile
Set one or recurring feeding schedules, feed your cat extra meals at anytime.
Change your cat's feeding schedule if you want
Call your cat over by playing the call-to-eat message, but not actually feeding your cat.
Watch your cat via webcam
Check your cat's feeding history
FEED AND GO DASHBOARD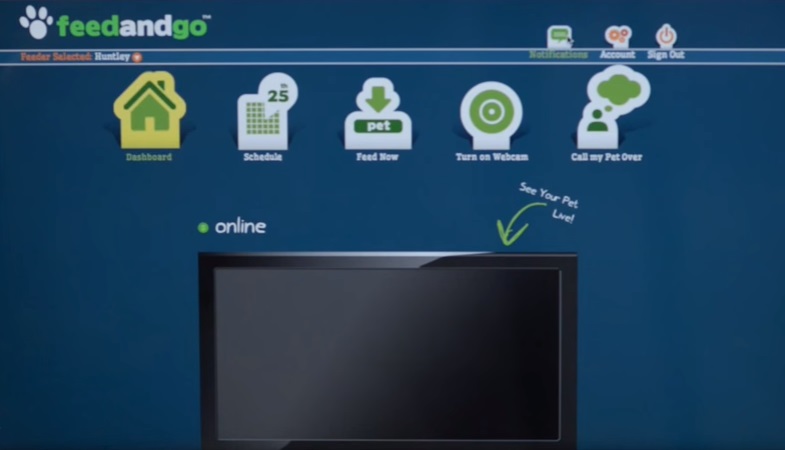 If your internet service is interrupted, the Feed and Go will still dispense food according to the programming you set. The unit restores all the programming within 2 minutes once plugged in. As long as the feeder is powered, it will dispense the food. The only effect of not having internet is that you won't be able to see your cat through the webcam and any other action that needs to be done through your online account.
A very good feature is that you can receive notifications via SMS, e-mail, Facebook or Twitter if your cat has been fed or if your cat is about to be fed or both. You choose how you want to be notified.
FEEDING OPTION & SCHEDULES
Feed and Go gives you 3 options to feed your pet:
A One-Off Feed. You can log in to your account and from your dashboard click "Feed Now" and right in that moment the feeder will call and feed your cat. This option is useful when you realize at the last minute you will be late home to feed your pet.
A One-Time Feed. This option is useful because it allows you to program a one-time feeding at any time and date you choose, up to 6 one-time feedings. A One-Time feeding means that once that feeding is dispensed, it won't happen again. You can add this one-time feeding every day to your cat's regular feeding schedule and it will be valid only for that week where you add these feedings to the regular schedule. You add these one-time feedings by clicking on "Schedule" menu. This option is useful for a busy week in which you won't be able to feed your cat.
A Regular Feeding Schedule. With this option, you program a regular feeding schedule for your cat, according to the number of times you want your cat to eat daily. Each feed is programmed individually, specifying a day of the week, hour and minute and stays in the programming continuously. You can setup up to 16 different time and date schedules.
FEED AND GO FEEDING OPTIONS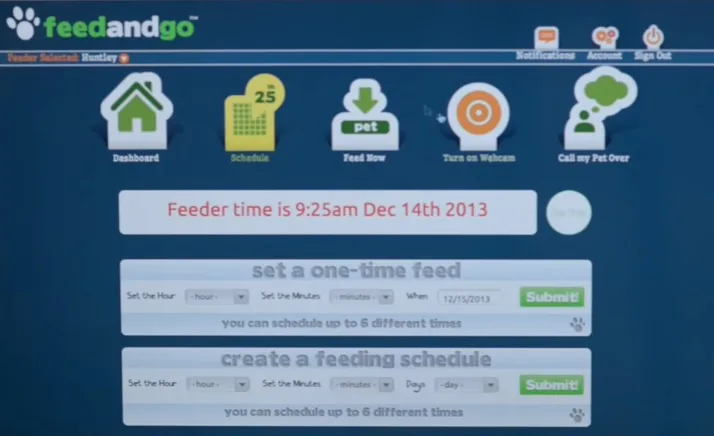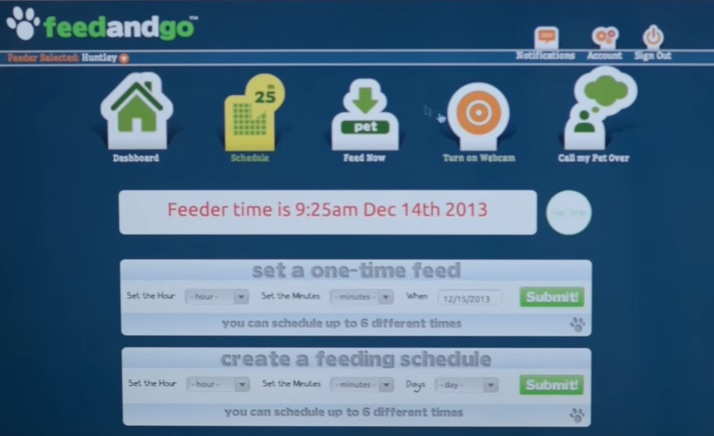 You can program a regular feeding schedule of 6 times a day, 3 times a day for 2 days, twice a day for 3 days or once a day for 6 days or any other combination if you want. The programming is completely customizable.
If you don't like your current cat's feeding schedule you can change any part of it by logging in and clicking on "Schedule" menu and change it. If a particular week you will stay home and you want to feed your cat, you can delete the regular feeding schedule and then re-schedule it back.
You can reset the feeding schedule, Wi-Fi connection settings and Date & Time settings by simply press a pin into the hole located on the back of the unit and hold down for 5-8 seconds to clear your settings and start over.
WHAT ARE THE PROS AND CONS OF FEED AND GO AUTOMATIC PET FEEDER?
PROS
The feeder can be setup and controlled from work or anywhere.
You can program a feeding schedule or change it anytime via internet.
100% customizable feeding schedules, in days, times and group of days of the week.
It feeds up to 6 meals at any time (e.g. 5 am, 12 pm, 8 pm) and with intervals from minutes, hours or days between each meal.
Suitable for dry and wet food.
Strong motor handles a fully loaded wet food tray.
The web interface is friendly, fast and responsive, even on 3G devices.
You can trigger one feed at anytime with only one click.
You can watch your cat eat via webcam from any device.
6-seconds high quality voice personal recording to call your cat to eat before every meal. Recording has adjustable volume.
Cat proof, a locking mechanism makes it impossible for the cat to open it or move the tray with its paws.
If unplugged the feeder will restore all the programming within 2 minutes after plugged back in.
When the feeder is closed, the top seals the tray almost airtight which ensures fresh wet food without the need of ice pack (wet food has been checked OK after 3 days in 83 degrees heat, however it's recommended not to have wet food for more than 24 hours)
You can control as many feeders as you want from just one account.
Made from special plastic that does not cause chin allergy to cats.
Reliable dispensing according to the feeding schedule.
Due to it's ergonomic and flat design the unit can't be knocked over by cats.
Almost silent operation.
CONS
It may take a little long to connect the feeder to the internet if your router does not have WPS button.
You need internet to program the feeder, to make changes and control the unit.
It does not have a battery backup in case of power outage.
It does not have ice packs (however, when top is closed the seal is almost airtight).
It does not have extra trays for purchase separately (for now).
Price
TIPS
You can make one tray loading to feed for more days if you feed your cat in the morning and/or after work.
If you don't want to fill the tray every day (or every other day) you can get an extra tray that is sold separately as spare from the manufacturer. Also it keeps the Feed and Go working if you need to wash the tray.
CONCLUSION
Feed and Go is a revolutionary automatic cat feeder, suitable too feed your cat dry food, wet food or both. Its big accomplishments are: quality, reliability and a real solution for busy people who can't take care of feeding time of their pets all the time. This device is almost like a pet sitter that you can control online.
I highly recommend Feed and Go for cat owners with very unpredictable working hours and for feeding cats dry and wet food, in a reliable way.
√ I recommend Feed and Go to:
Cats with diabetes
Overweight cats
Cats that eat too fast and then vomit (separating each meal in small portions with minutes in between)
Very smart "locksmith" type cats
Cat owners with unpredictable working hours
As a complement to a dry food automatic feeder for a mix wet and dry food diet.
x The feeder it's not suitable for:
People without internet.
People not familiar with interfaces online
Places with often power outages if using the unit as the only feeder
Feed and Go is not available in the market. If you are looking for a good automatic feeder, check my list of best automatic feeders reviews or best wet food feeders and pick the one you think will fit with your cat needs.