Automatic cat doors are very useful if you want your cat to become an indoor/outdoor pet. It is proven that when cats have the freedom to enjoy the outdoor, they are healthier and happier in safe environments and with proper care. But not only that, automatic pet doors can be really helpful if you need to separate pets in different rooms, for example, when it's time to eat. Pet doors with selective entry system can do this possible, they are a great help with food competition between pets or separate cats in case of inter-cat aggression.
Automatic cat doors don't work all the same. Cat doors use different technologies to open and shut, some of them are more efficient than others, but they satisfy different goals according to the particular needs.
WATCH HOW AUTOMATIC CAT DOORS WORK
To help you in finding the best electronic cat door according to your needs, we have made a list with very comprehensive reviews so you can find the most suitable for your pet. The order on the list is from the best rated automatic cat door to the lowest. To see an in-depth review with Pros and Cons, click on the brand or "FULL REVIEW" link.
SUREFLAP MICROCHIP CAT DOOR 4.3 Stars Rating
SureFlap Microchip Cat Door uses your cat's implanted microchip as a key to unlock the pet door. This cat door features a "selective entry" which means only the cat with the programmed microchip can access the door but any pet can exit.
This is a great solution for cats that don't like to wear collar tags or if they lose them often, which could be expensive in the long run.
SureFlap Cat door has a rigid "flap" with strong magnets that allow an effective closure when the cat has entered the house, avoiding other intruders to enter the door when following your pet.
I recommend it:
If your cat has been micro-chipped and you want to stop the neighbor's cat from entering your house.
If you are willing to microchip your cat for safety and for using this pet door.
If your cat is small to medium size.
If you have a non automatic pet door and you want to replace it.
For separating feeding stations, if one cat steals the other's food.
To create litter box stations to separate cats or to keep the dog out of the litter box
In some cases the SureFlap Microchip may not be suitable for some cats. Details in the FULL REVIEW.
SUREFLAP DUALSCAN MICROCHIP CAT DOOR  4.1 Stars Rating
SureFlap DualScan microchip cat door works with RFID signal, reading a microchip implanted under your cat's skin to unlock the door so your cat can push it with its nose or head and get through.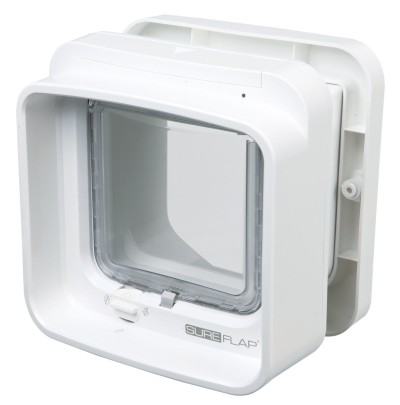 With its double antenna, one inside and the other outside, SureFlap DualScan allows you to control your cat's movements, keeping the indoor-only cat inside, and the outdoor cat free to exit and enter.
The unit's double locking system (inside and outside) keeps raccoons or other unwanted animals from pulling the door open from the outside with their claws. This is the only automatic cat door working with implanted microchip that gives you that peace of mind.
If you don't want to microchip your cat, you can buy the SureFlap collar tag with microchip and it works the same like the implanted microchip.
I recommend SureFlap DualScan to:
Small to average size cats.
If you have indoor-only and outdoor cats.
If you don't know how to stop raccoons from entering your house or garage.
If your neighbor's cat sleeps on your couch and eats your cat's food.
In some cases the SureFlap DualScan may not suitable. Learn more in the FULL REVIEW
CAT MATE ELITE ID MICROCHIP DISC CAT DOOR  3.6 Stars Rating
The Cat Mate Elite Super Selective works with RFID technology to unlock the mechanism and let the cat in. The cat needs to wear a collar tag containing a unique ID that will be read and recognized by the control panel, unlocking and allowing the cat to push the door and get through.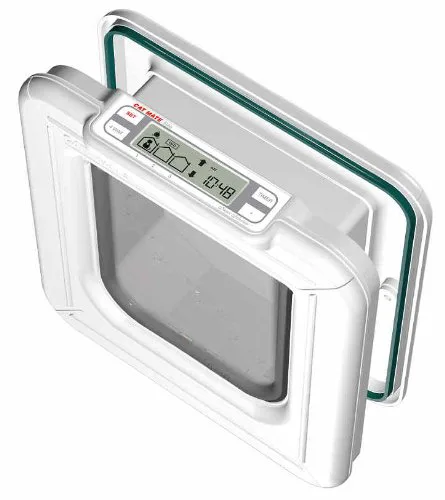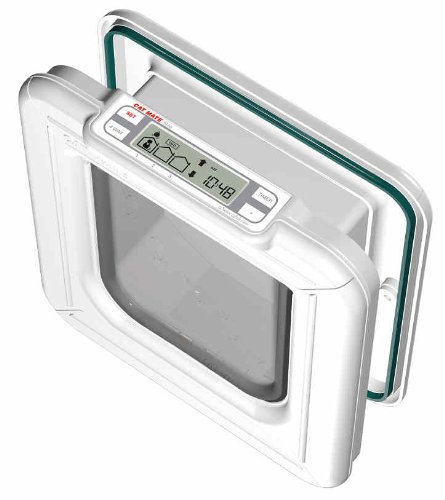 Cat Mate Elite has selective exit and entry, which means it can be programmed individually for each cat, letting some cats only-in if you want, and the others with access to the outside (for example, if your cat is ill and needs to stay in).
Cat Mate Elite Super Selective features a timer that allows you to program an "outdoor schedule" for your cats. For example, you can program the unit to let your cats out at 8 am, and keeping them inside at 8 pm. The unit comes with 2 collars ID. The memory programs up to 8 ID's (cats).
I recommend Cat Mate Super Selective:
Ideally to small and medium size cats
To cats with self-confidence
For multi-cat households with one or two indoor-only cats
To keep a raccoon from entering your house
To stop your neighbor's cat from visiting your house
If you need a cat door with a timer
Too see what type of cats I don't recommend this unit, check the FULL REVIEW.
CAT MATE ELECTROMAGNETIC CAT DOOR 3.6 Stars Rating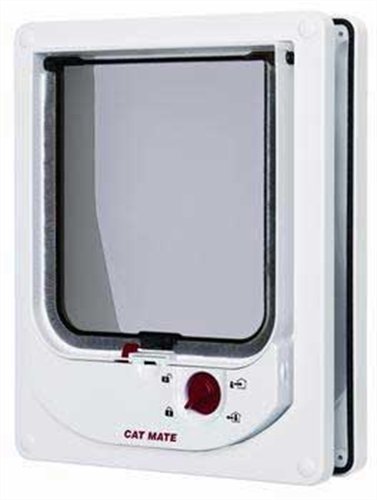 Cat Mate Electromagnetic door uses electromagnetic technology to unlock the system and let your cat enter the door, keeping unwanted animals out.
Your cat wears a collar with a small magnet as an identification tag. A sensor in the control panel activates when the magnet triggers the mechanism to open. Then a latch opens and your cat can enter the house by pushing it with its head or nose. Only the cat with a magnet tag can enter the door.
Cat Mate Electromagnetic door gives freedom to both, you and your cat. Your pet will be able to come and go as he/she pleases and you'll be free from the "doorman duty".
I recommend it:
For small to medium sized cats
If your cat is not too nervous to noises
For areas free of raccoons or other wild small animals
If your neighbor's cat is docile and not very smart
To separate pets inside the house, create feeding stations or cat litter box stations
With some type of cats this pet door may not be suitable. Learn more in the FULL REVIEW.