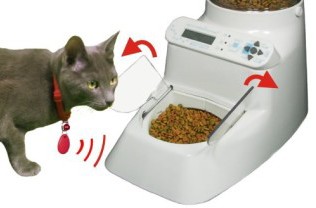 (3.7/5)
Wireless Whiskers pet feeder is a very sophisticated automatic pet feeder that has several unique features to resolve your cat feeding needs, especially if you have more than one pet at home.
This smart automatic feeder keeps each cat (or dog and cat) away from each other's food.
It has the ability to warn if your cat is not eating enough and also it allows you to separate the daily intake in 1, 4 or 24 intervals, this way your cat or cats will not gorge all the food at once. If your cat or any of your cats attempts to have a one-second-feast the feeder shuts it down.
The total capacity of the Wireless Whiskers is 5 pounds of kibble which lasts about a month of feed for a large cat or a small dog. It works with a wireless RFID tag that goes attached in the cat's collar and it activates the Wireless Whiskers to open when a daily portion is available in its diet.
The Wireless Whiskers has the unique ability to feed up to 8 pets (up to 18" tall), measuring, setting and controlling the diet for each one of them. This automatic feeder works with kibbles up to ½" diameter and it is only suitable to be used with dry food.
FEATURES
The Wireless Whiskers measures and records how much your cat eats daily and calculates and sets your cat (or cats) daily intake, automatically.
It allows you to divide the daily food intake in several portions by setting intervals.
The feeder works with AC adapter and 4xD batteries as backup
It keeps your greedy and chubby cat from stealing the food of the other.
It allows you to feed up to 8 different cats with the same feeder.
Your cat or cats will be effectively put on diet (the system sets the daily intake individually for one, 2 or more cats)
The feeder identifies each cat and greets it by its name
Intelligent access control allows you to decide who will use each feeder (e.g. cat and dog)
Stop from your cat or dog eating each other's food
It shows individual feeding stats for each pet.
It alerts you if your cat or one of your cats is eating too little (sign of possible illness)
It stops bad eating behavior such as gorging the food and then vomiting.
Special optional feature of shutting down the feeder during the night
The feeder can be set automatically or manually.
Dimensions (L x W x H): 16 x 9 x 16 inches.
30 days money-back guarantee (only with unused units)
180 days warranty (includes parts and labor)
WHAT'S IN THE BOX
The Wireless Whiskers unit
Feed Tube
Top cover
Paw Guard (to prevent cats getting their claws in the gap between the doors)
AC Adapter
2 Wireless tags (you can order more)
Owner's manual and warranty
HOW IT WOKS
The Wireless Whiskers feeder works via a wireless tag that the pet has attached on its collar. The unit has a bowl where the food is sitting covered by 2 little transparent doors that open when the feeder makes wireless contact with the tag. The feeder shut the compartments once the allowance (daily intake set individually for your cat) is completed.
The unit works only for dry food. If you want to see a RFID selective automatic feeder that works for wet food, you can check the SureFeed Microchip feeder.
The Wireless Whiskers settings allow you to whether feeding your cat (or cats) with a normal intake, or putting your cat (or cats) on a diet to lose or gain weight.
HOW IT WORKS IN CASE OF POWER OUTAGE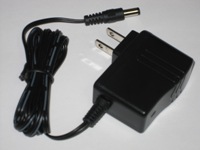 The feeder works with AC Adapter and batteries as backup. If you only use AC adapter and a power loss occurs all the programming is retained but time & date. The batteries ensure that time & date will be retained if a power outage occurs. However, using backup batteries won't prevent the feeder from stop operating during lack of power. During a power outage the little doors will automatically open and will stay opened, to ensure your pet will have access to food until the power is restored.
The Wireless Whiskers feeder meets high quality standards, and is CE, FCC, ETSI and IC certified and laboratory tested.
AVAILABLE MODES WITH THE WIRELESS WHISKERS
There are basically 4 modes you can set your wireless whiskers feeder:
Default Open: The feeder compartments are always opened by default and it closes when the pet reaches its available allowance (determined by the Daily Allowance divided by the Portion Control interval) or when an excluded pet is detected. This mode is recommended if there is only one cat in the household.
Default Shut: The feeder little doors are normally shut and only open when an allowed pet is detected with an available allowance (determined by the Daily Allowance divided by the Portion Control interval). This is the mode recommended if you want to feed more than one cat (you can feed up to 8 cats with the same feeder) or if you have a cat and a dog.
Permanently open: The feeder is always open.
Permanently shut: The feeder is always shut.
FEED YOUR CAT'S DAILY INTAKE AUTOMATICALLY

If your cat has a normal weight, the Autodiet mode will automatically set the daily food portion for your cat and you don't need to worry about portions measurement.
If your cat eats too fast, with the Portion Control option, you can divide that amount of food in 1 or 4 or 24 intervals during the day.
CONTROL EACH CAT'S FOOD INTAKE WITH AUTODIET WIZARD
When a new cat or pet is detected, the Autodiet Wizard mode is activated. The Autodiet Wizard purpose is to establish the normal food intake for each pet. From the beginning of the day and throughout 24 hours, the system records how much time your cat spends eating. After 1-3 days (selectable) the feeder calculates and set the proper daily intake for each pet. From there, each pet will be allowed to eat until its daily intake is reached. If one of your pets tries to overeat, the system will shut the doors.
MANUALLY SET YOUR PET'S DAILY INTAKE
You can manually set the allowance (amount of food you want your cat to eat). The ideal is letting the Autodiet Wizard set the allowances automatically for your pets. But in the case of kittens and puppies the dietary needs are different and they need to have permanent access to the food. In this situation it is recommended to set the allowance to unlimited.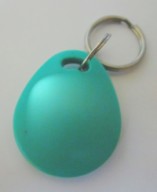 ADJUSTING THE AUTODIET
Once the daily allowance for your pet or pets have been set whether manually or by Autodiet Wizard, you can decrease (or increase) your cat daily allowance as a percentage of its normal allowance to program an individualized diet.
You can adjust the feeder to put on a diet one or more cats by decreasing the default regular allowance in 10% decrements (or increments if you want your cat to gain weight).
Whether being in default mode or adjusted in a diet mode, the feeder monitors your cat feeding activity. If your cat eats too little, an alert flash is going to show.
STOP YOUR CAT FROM GORGING WITH PORTION CONTROL
This feature prevents from your cat to gorging its allowance at once. You can sub-divide the daily allowance into 1, 4 or 24 intervals to complete a preset allowance (amount of food to be eaten in 24 hours). Once the allowance is reached the feeder shuts.
This means that the minimum amount of food of 1 tablespoon can't be programmed by size (this is a gravity type feeder) but by the time the doors will stay opened.
PETS WITH PRESCRIPTION DIET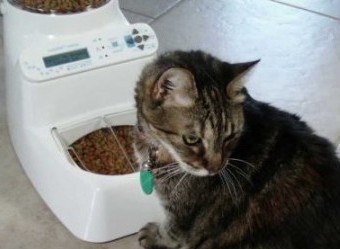 This is a good application for multi-pet households in which one of the pets has a special Rx diet or a different type of food and you don't want the other pet or pets to eat from that food.
You can accomplish this just by setting two Wireless Whiskers stations, one for the pet with special prescription diet and the other for the rest of the pets.
Tips when using the Wireless Whiskers:
The unit cannot sit on metal surfaces
The feeding tube is not dishwasher safe
Make sure your cat collar is not tight so this way allows the tag to be always down, facing the feeder.
Test the unit without food and see how it works. Once you are 100% sure you like the performance of the feeder, place food in it (this is a gravity type feeder so you can test it without food). Once the unit has been used, the money back guarantee applies up to 50% of the price.
PROS
Solid unit
Easy to setup and add pets to the system as well.
One unit allows you to feed one or more cats, measuring and setting an individual diet for each one of them and controlling the intake individually as well.
It allows you to stop the chubby cat to steal the food from the docile and skinny one.
Excellent if you want to put your cat or cats on a diet effectively
You can stop your cat or dog from eating each other's food by using two feeders, one for the cat (or cats) and the other for the dog.
Excellent solution for multi-pet households in which one pet has prescription diet or pets with different foods.
One wireless whiskers feeds up to 8 cats (up to 18" tall)
It records and displays stats of how much your cat or cats have eaten during the day and the day before.
It alerts you when a cat has eaten too little (possible sign of illness)
Good capacity to hold food.
CONS
Cats obsessed with food may get around the plastic doors and eat from the side (setting the door control to Default Shut fixes this).
Bowl is not removable for cleaning
Hopper is not airtight
IMPORTANT POINTS BEFORE CONCLUSION
As follows some important points to use the unit more efficiently: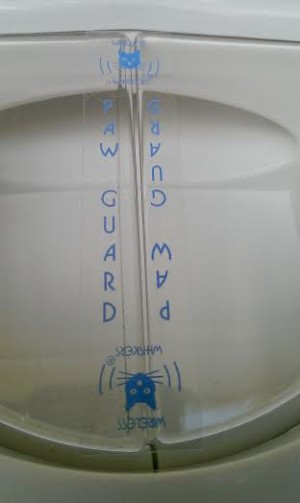 If the tag does not meet the sensor within 2 inches from the top, the feeder won't open. The same if the tag is hanging sideways and not facing the feeder within that distance.
Cats need to go through a learning process to get the idea of how this system works. They don't know the system in the beginning and it might scare them at first, but then they will learn how it works. Try not to be pushy when introducing the unit to shy cats.
New feature "Detection Interval" allows you to adjust the time from the last detection of the allowed cat to when the doors close. With a smaller detection window the doors close quickly if a pet either walks away or raises its head. The minimum interval is 3 seconds. If the sensor detects a cat that does not have an allowance, the doors shut immediately and if they feel a blockage, they will re-open and rapidly will try to re-shut.
If your cats are competing too much for food, set the feeder in Default Shut. This way the unit will be always closed until the allowed cat approaches the feeder.
If your cat tries to open the doors using its claws, the Paw Guard will prevent this.
CONCLUSION
The Wireless Whiskers automatic feeder gives a solution to multi-pet households in the task of feeding each pet, individually. This unit had some software glitches with the first version, but on April 2015 the Company released a new version correcting this. Other improvements are:
Selectable 1-3 days on AutoDiet Wizard, Portion Control with different setting for Night Feed modes, Detection Interval allows you to shorten the time of reaction for the doors to shut, Paw Guard to prevent cats from getting their claws in gap between doors, and a longer warranty. The following recommendations are based in customer reviews:
√ I recommend this automatic feeder:
To be used with one cat on a weight loss program
For two cats, setting the feeder in "Default Shut" mode
To keep your cat from eating too fast and then vomiting (with Portion Control)
If you have 2 pets and one of them has prescription diet (setting up two stations)
X I don't recommend this feeder:
For very small kittens that won't handle 1/5 Oz of tag on their neck (better for bigger kittens)
For bullier cats that won't give up trying to steal food.
If you want to wash the feeder bowl in the dishwasher
If you want a 100% money-back guarantee within first 30 days after using the feeder  (you can get up to 50% refund if you use the feeder).