Cats go crazy when playing with laser toys and some felines just can't get enough of it. However, with regular laser points your intervention is necessary in order to make your cat play. Enter the automatic cat laser toy. Good automatic cat laser toys feature a special timer that allow them to shut off after a certain amount of time. Let's check the list of the 3 best cat laser toys on the market.
Best Automatic Interactive Laser Cat Toys
The importance of your cat playing on a daily basis can't be ignored. Fortunately, the following automatic cat laser toys have great features and will keep your feline friend entertained and active. Choose the one you think your cat will enjoy the most:
#1 PetDroid Boltz Hanging Automatic Laser Cat Toy
(4.1/5)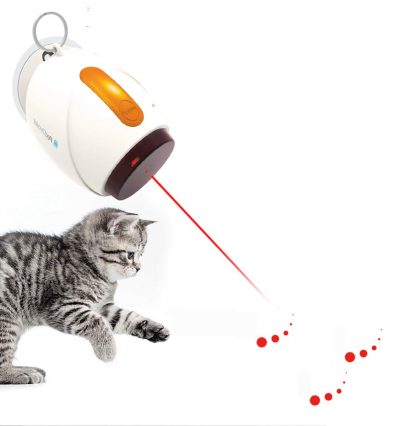 Dimensions: (L x W x H) 4.6" x 1.6" x 1.3"
# Lasers: 1
Beam pattern: Random. Up to down about 30°. Left to right about 15°.
# Speed settings: 2 (One constant laser beam and one blinking beam which adds difficulty).
Shut Off timer: 10 minutes
Batteries required: 3 x AAA
Pros
Red dot pattern is the most random of automatic laser toys
It features a suction cup to attach to windows or smooth walls
It comes with mounting hardware to mount to a wall
It can be attached to walls or other surfaces, providing a better angle from above.
The higher you put the toy the larger the casting area
Cats can't tip it over when attach on a wall
Cons
The automatic shut off timer of 10 minutes is rather short.
It could be a little noisy for some cats.
What I like about it:
The versatility where you can put this toy makes it more fun and with a lot more possibilities to entertain your feline friend.
The random pattern of red dot up and down and left to right.
You can get a cat toy of your choice for free by contacting the seller through Amazon. Check it out here.
Watch the PetDroid Boltz laser toy in action (Amazon link)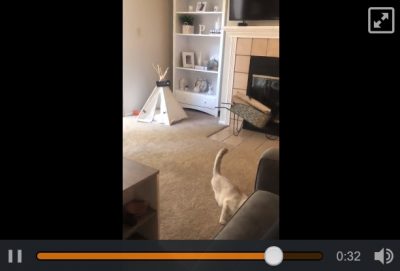 #2 SereneLife Automatic Cat Laser Toy
(4/5)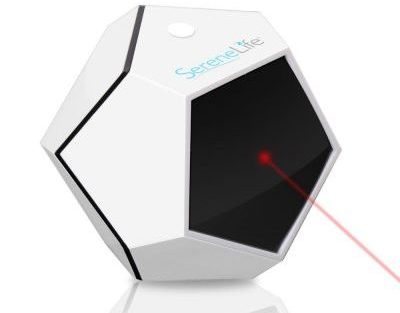 Dimensions: (L x W x H): 5. 0'' x 3. 5'' x 5. 3''
# Lasers: 1
Beam pattern: Circling pattern with random motion of toy back and ford.
# Speed settings: 3 (Slow, Medium, Fast).
Shut Off timer: 30 minutes
Batteries required: 3 x AAA
Pros
The shut off timer lasts 30 minutes, longer than other toys.
Random motion of toy back and ford
Low milliwatt laser (although it makes the beam less bright)
Compact
Cons
The light speed doesn't seem to be very fast
Red dot less bright than others (safer though)
Batteries seem to last less than other toys
What I like about it:
The toy works with motion back and ford providing random circling red dot.
Watch the SereneLife laser toy in action (Amazon link)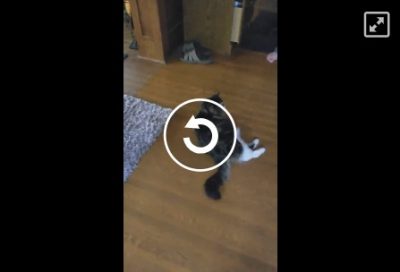 #3 Friends Forever Interactive Cat Laser Toy
(4/5)
Dimensions: (L x W x H) 4" x 4" x 8.5"
# Lasers: 1
Beam pattern: Rotational in 360°
# Speed settings: 3 (Slow, fast, random)
Shut Off timer: 15 minutes
Batteries required: 3 x AAA
Pros
Beam goes around in 360 degrees, great for cats that like to play in circles.
Beam is bright
Random setting engages cats to play and hunt the red dot
Cons
Some cats could knock the toy over
The laser toy goes only on the floor, less versatile than others.
Rotational beam pattern could be boring for some cats (however, its a lot of fun for the type of cats that love rotational random lasers).
What I like about it:
This toy really keeps some cats engaged when set in rotational mode. Not all cats like this red dot pattern though, but with the type of cat that loves rotational games, this toys is a winner.
Watch the Friends Forever laser toy in action (Amazon link)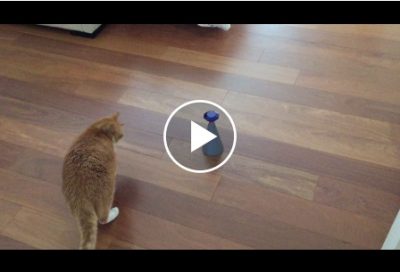 Are laser toys dangerous for cats?
Automatic cat laser toys are designed in a way that even if the cat stares at the red point, it won't touch the cat's eyes but rather always hit the floor in a sharp angle. Nevertheless, most laser points comply with the Class II or Class IIIa type lasers in the US.
What are the Class II or Class IIIa lasers?
According to a Wikipedia article regarding laser safety, the Class II and Class III are the following:
"Class II: The blink reflex of the human eye (aversion response) will prevent eye damage, unless the person deliberately stares into the beam for an extended period. Output power may be up to 1 mW." Only laser that emit visible beams belong to this category. Some lasers pointers fall in this class.
Class IIIa: Lasers in this class are mostly dangerous in combination with optical instruments which change the beam diameter or power density, though even without optical instrument enhancement direct contact with the eye for over two minutes may cause serious damage to the retina. Output power does not exceed 5 mW. Beam power density may not exceed 2.5 mW/cm2 if the device is not labeled with a "caution" warning label, otherwise a "danger" warning label is required. Many laser pointers used for presentations and cat laser toys belong to this category.
According to the above definitions, laser toys could be harmful if a cat stares into the beam for a long period of time. Automatic laser toys are designed in a way that the beam is constantly moving, reducing to almost zero the probability of your cat staring at the beam for a long period of time (over 2 minutes).
Benefits of automatic cat laser toys
It keeps your cat active, eliminating boredom
They provide the mental stimulation cats need
Hunting training for kittens
Your direct participation in the game is not required
Disadvantages of automatic laser toys for cats
It could be frustrating for cats not to kill a prey at the end of the game
Anxiety, due to the lack of satisfaction during hunting, with no prey killed.
You need to restart the toy manually once it shuts off automatically.
Tips to use an automatic cat laser toy properly
After your cat uses the toy throw a mice toy, bird toy or feather to satisfy your cat's instinct to kill after hunting.
Switch the areas where you place the toy, otherwise the cat will lose interest.
Don't use automatic laser toys with kittens younger than 3 months age.
Don't let your cat overuse the toy so it can keep a longer entertainment lifespan.
Get the right automatic laser toy for your kitty and make it enjoy a fun game!