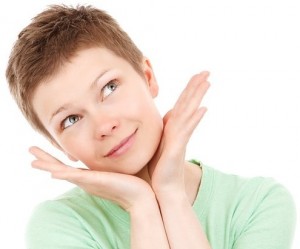 If you are looking for a cat water fountain for your pet here you will find reviews of some popular brands with pros and cons to help you to decide which one is the most suitable for your cat. As all the reviews on this website, they are honest and based in customers experiences.
Cats are very versatile animals and the reaction toward any of these devices is unpredictable, but we try to give you an orientation about what unit would work better for your cat.
If your cat has already tried a water fountain but insists on drinking water from the faucet or toilet you can check the first two reviews of the Aquapurr, the basic and the newest version with sensor motion and decide which one you prefer.
For full review with Pros and Cons, click in the brand of your preference:
AQUAPURR EC WITH SENSOR MOTION NEW! (5.0/5)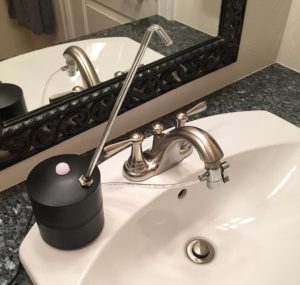 Aquapurr eC is a new design that improves the basic Aquapurr water feeding system. A motion sensor activates when is senses your cat's body and triggers a stream for your cat to drink.
Your pet will have water at all times by only jumping on the sink and stand up close to the base of the Aquapurr eC.
This is a great invention that will stop you from having to open and shutting the faucet all the time for your cat, sometimes even at night.
This unit has a setting small panel inside the base that can be adjusted to more or less time for the stream to run. FULL REVIEW
AQUAPURR WATER DRINKING SYSTEM (4.3/5)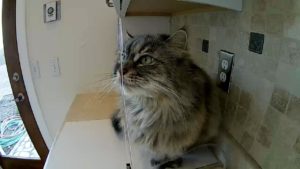 The Aquapurr cat water drinking system is specially designed for cats that insist on drinking from faucets and refuse drinking from automatic water fountains.
This innovative solution allows you to forget about turning the faucet On/Off for your cat to drink from it. The system is setup in a way that as soon as your cat stands up on the Aquapurr panel the faucet starts feeding water instantly and when your cat leaves the panel, the stream stops. Your cats doesn't need your intervention to drink fresh moving water and you can relax knowing your pet will never run out of it. FULL REVIEW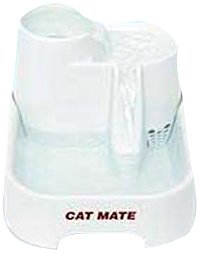 CAT MATE PET FOUNTAIN  (4.3/5)
The Cat Mate Pet Fountain is a water dispenser that gives your cat fresh running water to encourage it to drink more water.
This is good for cats that have kidney condition and for cats in general that don't like to drink water from regular bowls and instead, they like to drink from faucets.
The special design of the Cat Mate fountain makes it a very silent unit and with its unique multi-level water pools makes it more appealing to your cat to drink water since he can choose from the level where to drink.
The Cat Mate is suitable for cats and small dogs and it has a 70 fl Oz (2 Liters) water capacity. FULL REVIEW
DRINKWELL PLATINUM PET FOUNTAIN (4.3/5) (BEST SELLER)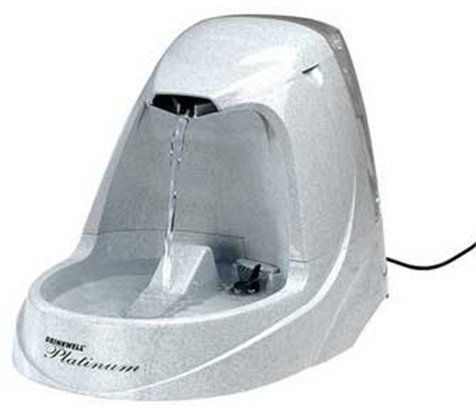 The Drinkwell Platinum is a water pet fountain with a 5-inch free-falling stream water that encourages your cat to drink more water, especially if your pet won't drink water other than from dripping faucets or bathtub spouts.
This waterer is made with good durable plastic and holds 168 Oz fluid of water (1.3 gallons or 4.9 L.), including the bowl.
One good feature is the pre-filter that catches big dirts before they get to the motor and a replaceable charcoal filter to remove bad tastes and odors so your cat enjoys a very fresh source of water. FULL REVIEW
CATIT FLOWER CAT WATER FOUNTAIN (4.3/5)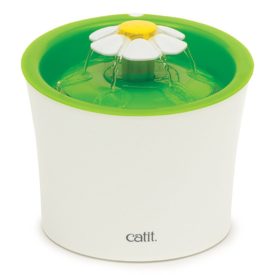 Catit Flower Fountain provides your pet filtered moving water and 3 different flow settings for your cat to drink from.
The unit has a good capacity of 100 fl Oz and a unique filtering system that removes the excess of calcium and magnesium to keep your cat's urinary system healthy.
The fountain although its good water capacity won't take too much space of your room due to its compact design. You can match the Catit Flower Fountain with the Catit Multi Feeder for a cute feeding station. FULL REVIEW
DRINKWELL MULTI-TIER PLASTIC PET FOUNTAIN (4.2/5)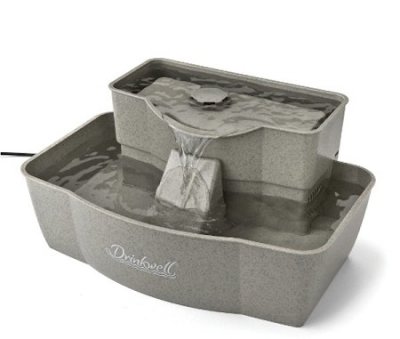 Drinkwell Multi Level Automatic Pet Fountain has a good circulating water system with a nice free-falling stream which makes your cat drink more because cats feel more attracted to moving water making them drink more and keeping them well hydrated.
The water is filtered by a replaceable charcoal filter, removing bad tastes and odors for a clean, fresh source of moving water.
Drinkwell Multi tier fountain is special for multi-cat households because it gives three areas where to drink: top and bottom tray and the falling stream.
The fountain has 100 Oz capacity of water and its top tray allows old cats or cats with disabilities to drink more comfortably. FULL REVIEW
CATIT FRESH & CLEAN STAINLESS STEEL TOP FOUNTAIN  (4.2/5)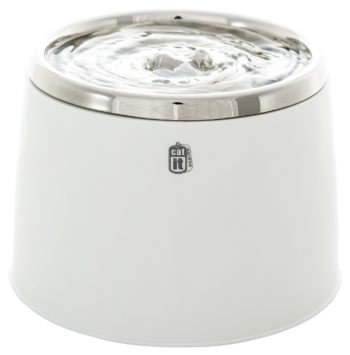 Catit Fresh & Clear Stainless Steel keeps your cat hydrated by drinking more water with its re-circulating system that encourages your pet to drink more and keeps the water cool and oxygenated.
The unit features a dual filter with foam and carbon that filters the water from pet hair.
The fountain capacity of 64 fl Oz ensures water supply for days so you can forget about pouring water in bowls every day. FULL REVIEW
PETSAFE DRINKWELL CERAMIC AVALON FOUNTAIN (4.2/5)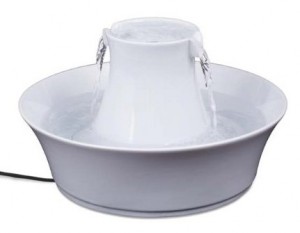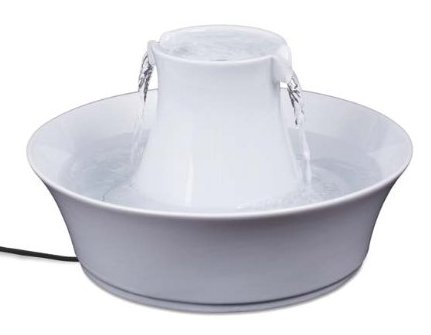 Petsafe Drinkwell Avalon is a very nice looking ceramic fountain that supplies your cat with fresh and aerated filtered water, encouraging your pet to drink more as felines prefer to drink from moving water.
Increasing the water intake in pets is very important when it comes to prevent urinary tract diseases.
As any ceramic device, this fountain is particularly easy to clean in comparison to plastic units and the ceramic helps to reduce bacteria growth, so the fountain stays clean longer.
Drinkwell Avalon has a top and a bottom drinking areas for your pet to choose from and its circular design makes it easy for your pet to drink from different angles. FULL REVIEW
CATIT DESIGN FRESH & CLEAN DRINKING FOUNTAIN (4.2/5)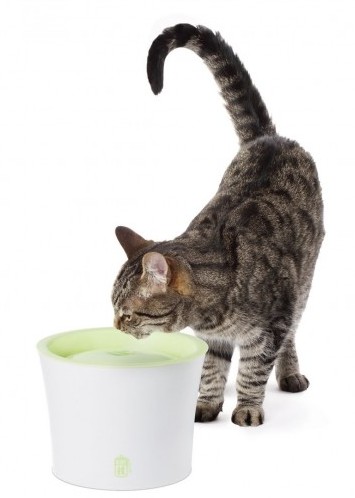 Catit Fresh drinking fountain holds 100 Oz of water and gives cats a circulating source of fresh and oxygenated water which helps to prevent urinary tract diseases in cats.
Hagen Catit pet fountain is a tall water bowl designed for your pet to drink without the need of bending over. This elevated design helps to keep the bubbling water away from particles on the floor.
The water bubbles up from the centerpiece of the unit where cats drink from.
A cartridge filter located underneath the centerpiece of the fountain keeps the water clean and fresh, free of particles and hair. The unit includes one cartridge, extras are sold apart.
DRINKWELL 360 PET FOUNTAIN 128 OZ. (4.1/5)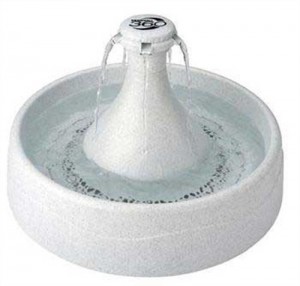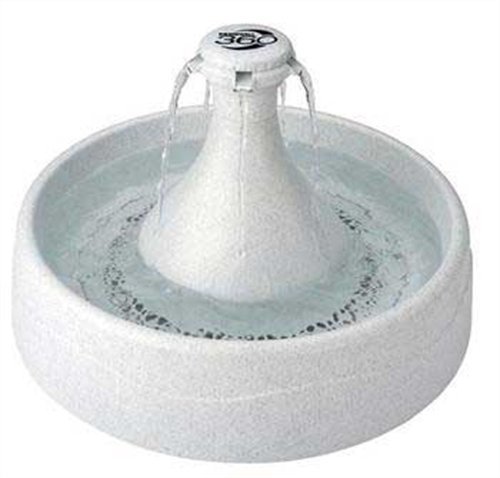 The Drinkwell 360 fountain entices your cat to drink more water because it makes the drinking more attractive and fun as cats like to drink moving water better than stagnant water.
A patented 5-inch free-falling water stream and the round design helps your cat drink water from any angle, so no more waiting its turn for drinking. This feature makes the fountain suitable for multiple pet households.
The fountain capacity is 128 Oz of water and it comes with 5 spout rings to customize the fountain with one and up to five water streams. The flow streams are adjustable as well. FULL REVIEW
DRINKWELL ZEN STEEL PET FOUNTAIN (4.0/5)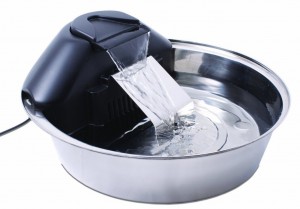 The Drinkwell Zen Steel Fountain has 128 Oz water capacity and a circulating water system that gives your cat oxygenated and fresh water. Moving water entices pets to drink more which is very important to avoid urinary problems. Circulating water also inhibit bacteria growth and slime.
The Drinkwell Zen fountain has a 3-layer charcoal filter that helps to eliminate bad tastes and odors and they are replaceable when needed. The stainless steel bowl is hygienic and easy to clean and its big size makes it easy for pets to drink water from it. FULL REVIEW
DRINKWELL 360 STAINLESS STEEL PET FOUNTAIN (4.0/5)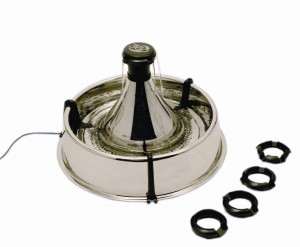 The Drinkwell 360 Stainless Steel fountain it is a good solution for pets that are allergic to plastic as they do not have contact with plastic when drinking water from the stainless steel reservoir.
With its 128 Oz capacity (1 gal) of fresh and filtered water the Drinkwell stainless steel ensures your pet to drink more water as it gives constant stream of moving water which encourages pets to drink more.
This fountain has a unique design with customizable number of streams, up to 5, which is great for several pets to drink at the same time and from any angle so they don't have to wait their turn to drink water anymore. FULL REVIEW
PETSAFE DRINKWELL CERAMIC PAGODA FOUNTAIN (3.9/5)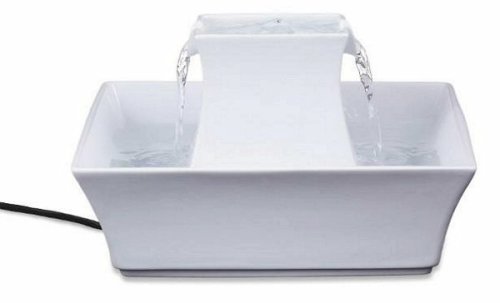 The Petsafe Drinkwell Pagoda is a ceramic fountain that encourages your cat to drink more water with its dual free-falling streams that oxygenates the water and keeps it cool and fresh. This fountain is perfect for pets with feline acne as does not have plastic in the area where your pet drinks.
The unit has 70 ounces water capacity and it works with a charcoal filter which removes bad odors and taste. The Petsafe Drinkwell Pagoda comes with one filter for initial set-up. This unit is very easy to clean and has a nice looking design. See pros and cons in the FULL REVIEW.
PETSAFE DRINKWELL SEDONA PET FOUNTAIN (3.8/5)
Petsafe Drinkwell Sedona pet fountain provides your cat fresh circulating water to keep your pet hydrated. The unit looks very elegant and stylish, complementing any home décor.
The fountain features approx. 100 oz water capacity (check full review) and it's suitable for small and medium size pets.
Petsafe Drinkwell Sedona is made from transparent BPA-free plastic and if features a sturdy ceramic tower in the center where the water runs.
The unit has two type of filters: carbon filter and foam filter. The first one gives the water a fresh taste and the second one traps hair and debris from going into the pump. FULL REVIEW
KURMA BEST AUTOMATIC PET WATER FOUNTAIN (3.8/5)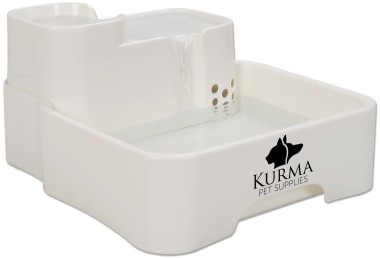 Kurma Best Automatic Pet Water Fountain provides your cat 3 sections from where your pet can drink from, on top left from where the filtered water comes from, the top right that creates a mini waterfall and the low wide bowl that receives the stream. The unit features a 2-step filtering process to filter the water.
The fountain is very quiet with a submersible pump featuring a switch on the side that allows you to regulate the stream if small or big, slower or faster.
Kurma automatic pet fountain holds a good capacity of 1 Gallon of water, preventing from constant refilling and supplying water for several days. FULL REVIEW.
DRINKWELL ORIGINAL PET FOUNTAIN 50 OZ (3.8/5)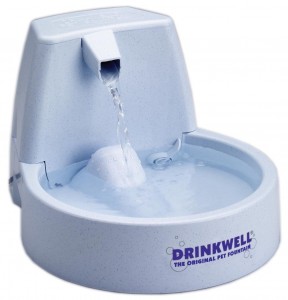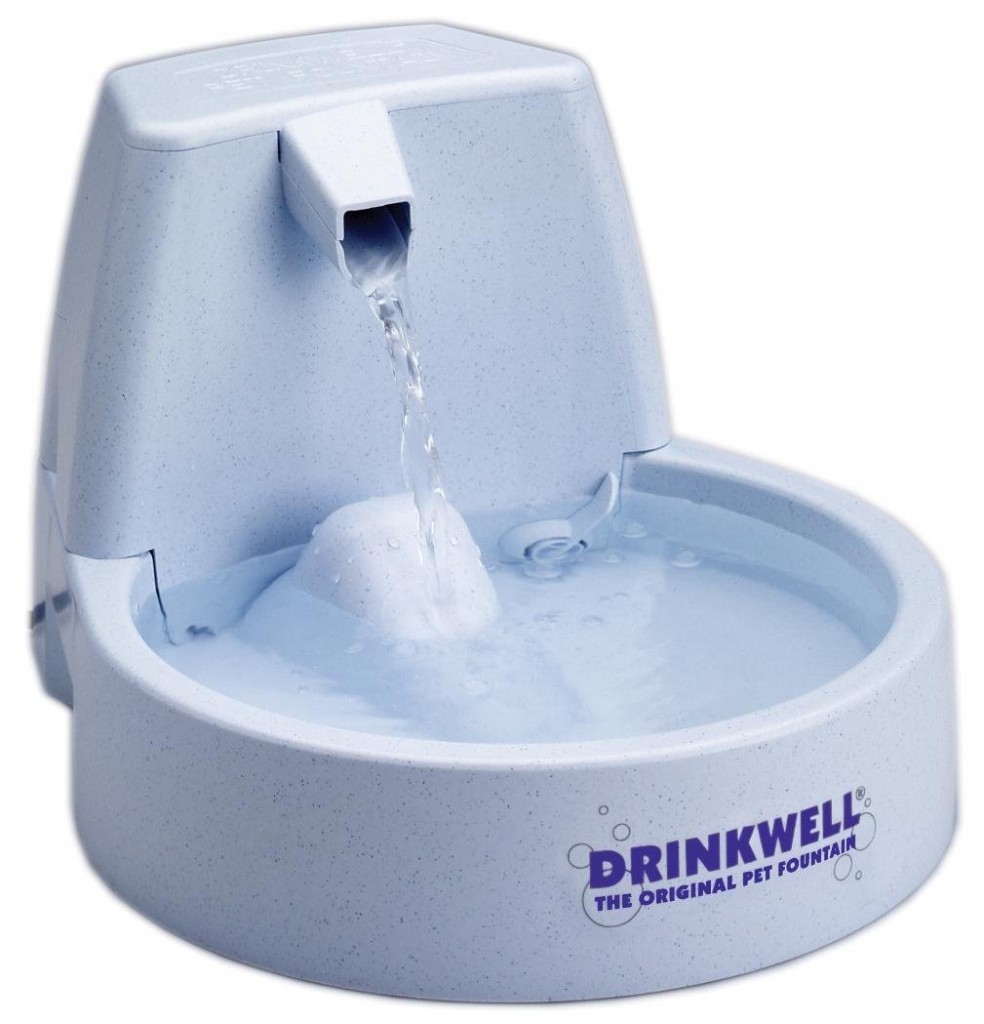 Drinkwell Original Pet Fountain is a cat water dispenser that encourages your pet to drink more water by giving it a permanent source of stream falling of water. Increasing the amount of water your pet drinks helps to reduce the risk of developing urinating problems.
The unit has a 5 inch of free falling stream of water that allows your pet to drink water from any angle. Replaceable charcoal filters help to purify the water and reduce bad taste and odors.
The capacity of the unit is 50 Oz of flowing water and it can be increased by purchasing the extra 50 Oz reservoir that goes attached on the back of the unit. FULL REVIEW
PIONEER CERAMIC FOUNTAIN BIG MAX (3.8/5)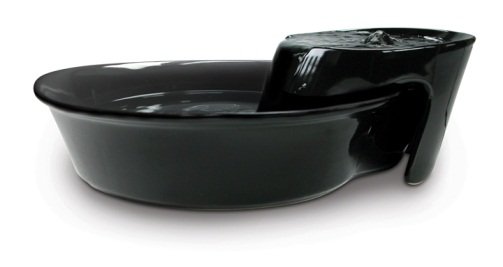 Pioneer Ceramic Big Max is a pet fountain with a high water capacity of 128 Oz that ensures circulating water for your pets to drink more. Ceramic is hygienic, easy to clean and it helps to reduce bacteria formation.
The Pioneer ceramic is very easy to assemble by putting together two main pieces. This fountain gives cats two areas to drink from: the mini waterfall and the bowl.
Pioneer ceramic Big Max has a premium replaceable charcoal filter that helps to keep the water fresh and pure from pet hair and particles.
The unit is very quiet and provides pets a very big drinking area to satisfy multiple pet needs. FULL REVIEW
PIONEER STAINLESS STEEL RAINDROP DESIGN (3.8/5)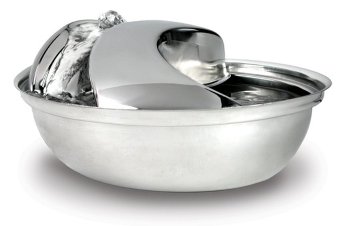 Pioneer Pet Stainless Steel Raindrop is an elegant pet fountain with a water capacity of 60 Oz (1,77 L), which gives cats 2 different areas where to drink water from: the top and the bottom (some cats like to drink and lick the slide too).
The fountain has a slide that helps to minimize splash and creates fun bubbling. Moving and circulating water encourage pets to drink more and keep well hydrated and healthy.
The Pioneer Pet Stainless Steel Raindrop design has a premium replaceable charcoal filter that keeps the water pure and clean from debris and hair. The pump and filter are enclosed in a plastic housing located in the bottom of the unit. FULL REVIEW
PIONEER FOUNTAIN BIG MAX STAINLESS STEEL (3.8/5)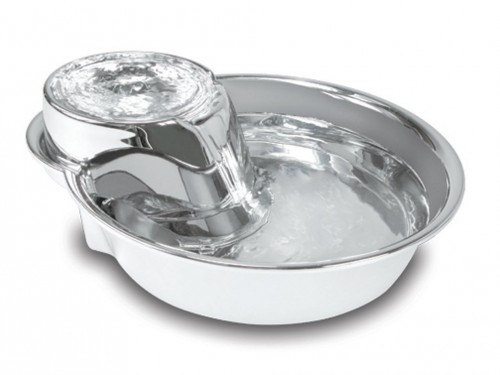 Pioneer Big Max fountain with 128 Oz (3.78 L) capacity is a stainless steel fountain that keeps the water in movement which encourages your pet to drink more.
It consists basically in two main assembled parts; the top and the bottom. The water comes out from the top part so cats have two areas where to drink: top and bottom.
Stainless steel keeps the water cool, helps to stop from developing bacteria and it is very easy to clean.
Pioneer Big Max has a quiet pump located underwater, inside a plastic housing. The bowl's size nicely accommodates more than one pet drinking. FULL REVIEW
PETKIT EVERSWEET PET WATER FOUNTAIN (3.7/5)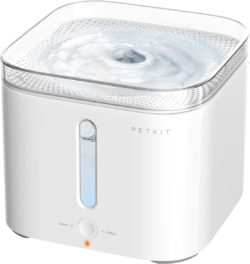 Petkit Eversweeet is a cat water fountain that features a triple filter that allows your cat drink fresh and healthy water every day.
Petkit Eversweet can be set in 2 modes, Smart Mode or Normal Mode. When set in Smart Mode the fountain distinguishs day from night, adapting the function according to the water intake. Cats usually drink more water in the day and less at night and Petkit pet fountain saves and optimizes the energy adjusting its functionality according to this.
The unit is really quiet when operating and it features a low water indicator that automatically turns off the fountain when low on water. FULL REVIEW
CATIT WATER FOUNTAIN WITH FOOD BOWL  (3.5/5)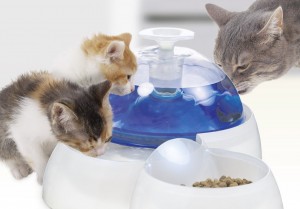 The Catit Water Fountain with Food Bowl is a water dispenser that will give your cat a permanent fresh and clean water to drink from. Its design is made to re-circulate the water and expose it to oxygen. This gives your cat a fresh tasting and cool water that is previously filtered by a charcoal filter especially to keep the water clean.
The unit has a bowl where your cat can drink water directly from and a dome where the water runs over and where your pet can lick the water from as well. The water capacity of the Catit Design Fresh and Clear drinking fountain is 100 fluid Oz.
The Station comes with an additional bowl that you can use as a food feeder or set it as an extra water station for another pet. FULL REVIEW
PETMATE FRESH FLOW PET FOUNTAIN 108 Oz. (3.4/5)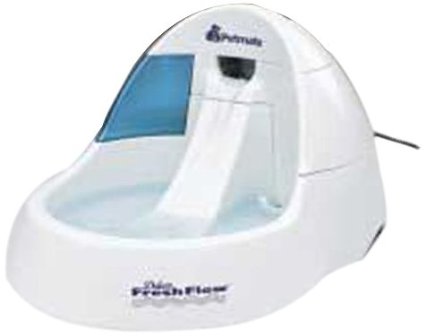 Petmate Fresh Flow Pet Fountain is a quiet fountain that keeps the water oxygenated, cool and fresh making your cat drinking more water as pets like to drink moving water better than stagnant water.
Its design with a water-slide where the little waterfall runs along, helps your cat not to be afraid of getting the face wet when drinking water as the water flow of the Petmate Fresh Flow is small and does not splash over the floor.
The Petmate Fresh Flow uses special filters to keep the water clean and the fountain runs with a submersible pump that makes the unit quiet when operating. FULL REVIEW
GRAVITY CAT WATER DISPENSERS
PETMATE PET CAFE WATERER 3/4 GALLON CAPACITY (4.4/5)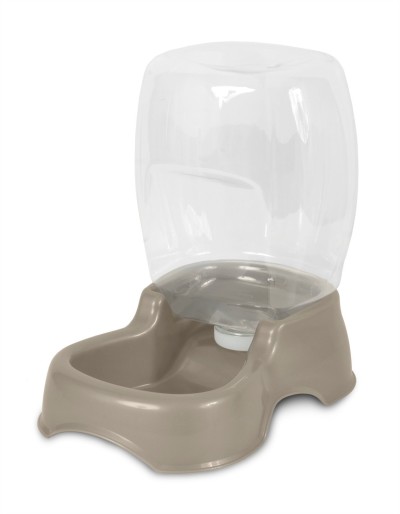 Petmate Cafe is a fashionable designed gravity waterer that allows you to give a long lasting source of water to your cat without the need of refilling for days.
Water consumption is very important to keep your cat hydrated and with good health, especially if you feed your pet dry food.
Petmate Cafe waterer hopper has a wide opening, allowing easily to clean with a brush. The unit is easy to refill; fill the hopper with water, put the cap back on, flip it, place it on the bowl and you are ready to go for days.
The water hopper is eco-friendly, made from safe PET (a thermoplastic polymer resin) plastic and it features recessed handle for easy lifting. FULL REVIEW
PETSAFE HEALTHY PET WATER STATION  (4.2/5)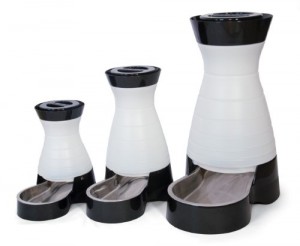 PetSafe Healthy Pet Water Station is a water dispensing system with removable stainless steel bowl, easy to clean and dishwasher safe plus prevents the formation of bacteria. The stainless steel bowl is a good solution if your cat has allergy to plastic.
Petsafe Healthy Pet Water Station has a unique flow-control system that prevents the unit from spilling water when filling it from the bottom. You can upside down the unit and the water won't fall out.
Once you lock the reservoir to the base the system will start releasing water to the bowl as your cat drinks from it. FULL REVIEW
BERGAN PETITE GOURMET WATERER 1.5 GALLONS  (4.1/5)
The Bergan Petite Gourmet waterer with 1-1/2 gallons capacity is suitable for small pets. With a transparent holding tank, you can see the water level to know when refill. The holding tank has a detachable cap that won't release water until the container is locked into the reservoir-base.
The Bergan Petite Gourmet has wide opening which makes it easy to clean it inside and also to fill it in the sink as the holding tank is wide and short.
The large reservoir-base helps to prevent pets from tipping the unit over. The wide reservoir-bowl is suitable for large or short nosed pets. FULL REVIEW