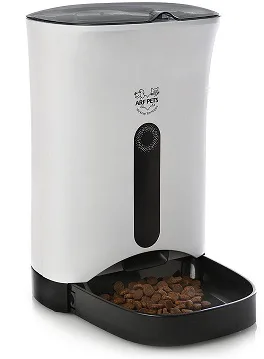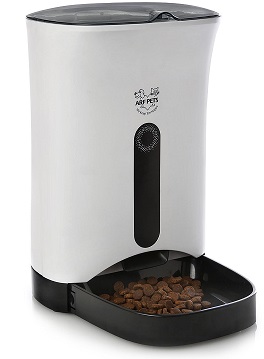 Arf Pets Automatic Pet Feeder allows you to feed your pet up to 4 times a day. The feeder dispenses from 1-10 portions at a time. The amount of each portion is 24 ml (approx. 2 tablespoons) so the minimum amount per serving is 2 tablespoon and the maximum is one cup.
You can customize how many portions you want your cat to eat per serving. The maximum of food the feeder dispenses in total per day is 4 cups of kibble.
The 1.14 Gal capacity food hopper and the food bowl are removable for easy cleaning.
The unit features blue light LCD clock and display, making it easy to program. The lid has a magnetic lock to keep the cat's paws away from the food.
Arf Pets feeder allows you to record a personal message to call your pet to eat and can be powered by DC Adapter or 3-D batteries.
FEATURES
Capacity to dispense up to 4 meals per day
Customizable portions from 1-10, being each unit equal to 24 ml or 2 tablespoons
Customizable feeding times in military clock (24 hrs)
Blue light LCD clock and display for easy programming
Magnetic locking lid to block access to food
Record a personal message calling your feline friend to eat, up to 10 seconds.
Powered by AC/DC power adapter or 3-D alkaline batteries.
DC power: 5V1A standard power supply
5-foot cord power
Dimensions: 9 1/2" wide X 11" deep (including the food tray) X 14 1/2" tall
Capacity: 1.14 gallon (4 lbs of dry food)
Material: ABS
Weight: 4.63 lbs.
Motor: Working life – 2,000 hours; rotate speed – 8RPM; rated voltage – 4V
Dry food only
To use Indoor
HOW THE SYSTEM WORKS
Arf Pets dispensing system consists of a rotating paddle impeller at the bottom of the food hopper that moves the food into an opening to fall into a built-in tray with small slots at the bottom of the food hopper. Each unit added to the serving size adds one extra slot of food that gets added as the bottom tray rotates.
VIDEO OF ARF PETS AUTOMATIC PET FEEDER
HOW TO PROGRAM THE ARF PETS AUTOMATIC PET FEEDER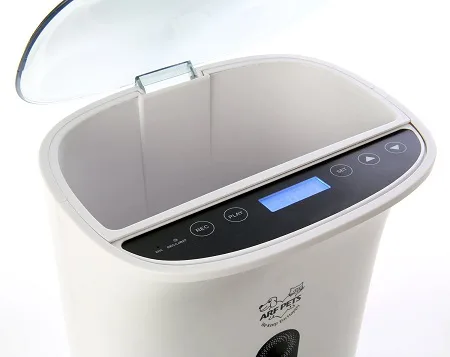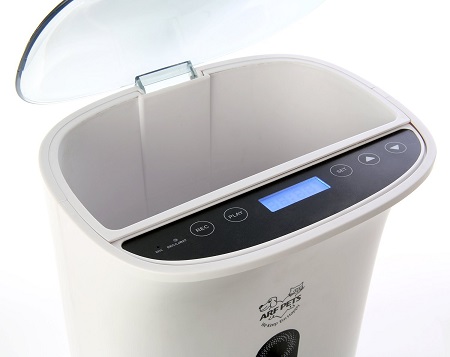 The control panel features the buttons: REC, PLAY, SET, and UP/DOWN arrows. You will use the buttons SET, UP/DOWN to set up the clock, the number of meals per day and the size of the meals.
The first step is setting the clock which uses the military time where 1 pm = 13 hrs, 2 pm = 14 hrs, and so on.
Once you have setup the clock you need to select how many meals your cat will eat per day, up to 4 times per day. If you want to jump one meal, just set it to zero. When setting the number of meals you need to set the time for each.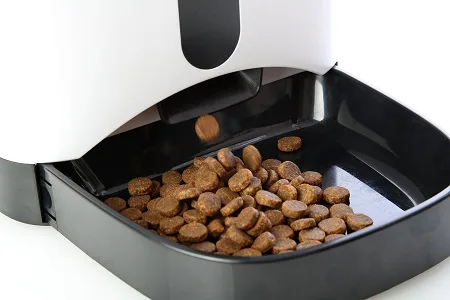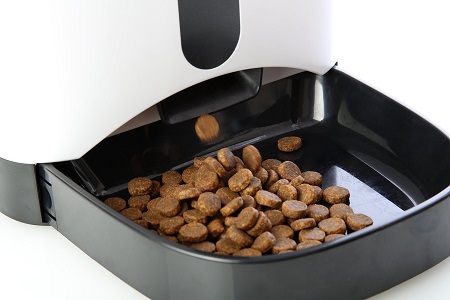 The feeder allows you to choose the hour and minutes for each meal, but the minutes only in 5-min intervals.
Also, you have to program the feeder's meal size you need to choose how many units the meal with have. The units are from 1 to 10 where 1=2 tablespoons (approx. 1/8 cup).
The feeder features manual feedings if you want to feed your cat an extra meal at any time by pushing and holding the UP arrow button.
The button REC allows you to record a message for your pet to eat. The recorded message will play 3 times in a row while the food is being dispensed.
If you like the Arf Pets feeder but you want a unit that you can control and program remotely, you can check the GemPet PF-103 SmartFeeder that gives you the option to manage your cat feeding activity through your smart device.
PROS
The unit comes assembled
Feeder is made of solid ABS plastic
You decide how many times and what time you'll feed your cat, up to 4 times a day
Customizable meal sizes, from 2 Tbsp up to 1 cup approx. (All meals have the same size).
Strong magnet on lid for a safety locking system that protects food and control panel
Magnetized lid keeps food fresh
Control panel automatically locks after a period of time
Transparent thick acrylic lid allows you to see the food level at glance.
It has a microphone to record a personal message calling your pet to eat
It works with AC adapter or batteries as alternative
Food hopper has a good capacity (4 lbs.)
Removable food bowl and food hopper for easy cleaning
Blue light LCD clock and display
Option of manual feedings
CONS
Power button located at the bottom of the unit (you need to lift it up to turn the feeder off).
User's Manual lacks information (size of each portion "1-10", or where the power button is)
The clock is based on 24 hours (military time). (a "Con" only if is hard for you to figure out the time)
With some kibble, the tray might get build up with food close to the chute.
The individual portion is not very accurate, but close enough.
It could jam with some odd shaped kibble.
CONCLUSION
Arf Pets Automatic Cat Feeder works as advertised, even though some small issues stated in the "Cons". In general, dispensing systems with paddle impellers work better with regular semi-round shaped kibble that isn't too big or too small. With some kibble such as stars or triangle shaped, the unit usually jams.
All in all, Arf Pets is a good automatic feeder that will work fine if you use round spherical kibble. If you use irregular shaped kibble or flat type disc, this feeder will be unreliable. In the scenario that a cat reaches some kibble from the chute, it will get only a few kibble.
√ Arf Pets may be suitable for:
Cats that need a customized feeding schedule, up to 4 times a day
Cats that aren't aggressive for food
If your cat eats rounded spherical medium sized kibble
x The unit may not be suitable:
If you feed your cat the type of kibble described as above (irregular shaped kibble, flat kibble, too small or too big)
Big cats that may tip the unit over (magnet will keep the lid shut though)