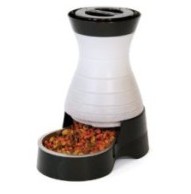 Petsafe Healthy Pet Feeder Review
(4/5)The Petsafe feeder with stainless steel bowl it's on my list of reviews because it's a good solution for cats with an allergic reaction to plastic.
The Petsafe feeder station has a gravity food system with a removable-stainless steel bowl that is dishwasher safe. The steel bowl can be sanitized at high temperatures in your dishwasher to eliminate potential bacteria that can cause your cat harmful infections from germs, allergic skin reactions, and nose irritation.
This unit saves you the effort of adjusting your schedule to be able to pour food on the cat's bowl. The PetSafe Feeder is recommended to be used indoors only. This unit comes in two sizes, small and medium. To create a nice set, the feeder can be purchased together with the Pet water Station that matches in design and color.
FEATURES
Gravity feeder
Stainless steel bowls are more hygienic and safe for your cat
Removable bowl is dishwasher friendly, easy to clean
It comes in 2 sizes: Small (holds 2 lbs of food) and medium (holds 4 lbs of food)
Hopper is made of BPA-free plastic
Hopper locks in place to prevent the cat from tipping the unit over
Dimensions & Capacity Small Size:
Small size dimensions  6″ wide, 9 1/2″ long and 10 1/4″ tall
Bowl depth small size: 1 inch
Bowl diameter: 5 inches
Hopper Capacity: 2 lbs dry food
Dimensions & Capacity Medium Size:
Medium size dimension 7.7″ W x 11.7″ D x 13.8″ H
Bowl depth medium size: 2 inches
Bowl diameter: 5 inches
Hopper Capacity: 4 lbs dry food
HOW IT WORKS
This is a gravity feeder which means it doesn't require batteries or electricity to work, it uses gravity to dispense. You just need to fill the feeder with dry food and let the food drop down into the bowl. When you fill the feeder you will notice that the food will go straight to the bottom so the bowl will have plenty of food, this is normal. The Petsafe Gravity feeder is not a meal-by-meal dispenser. It is meant to be used by cats that don't overeat because the bowl will be constantly filled to the top at all times. Occasionally you will need to shake the hopper a little bit to keep the food flowing into the bowl.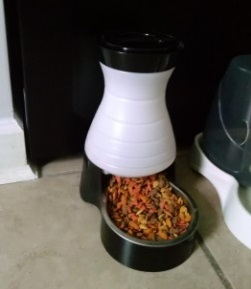 Some units can be refilled from the top while others from the bottom, it'll depend on the batch you buy. It's the same feeder with different directions how to fill the unit, both ways work the same. To refill from the top make sure the bowl is attached to the hopper. Just untwist the lid to open the hopper to pour food into it, shake it a little and the unit is ready to go.
To refill from the bottom you need to unscrew the bottom, flip the hopper, fill it with food, and screw the bowl back on with the hopper upside down and then flip it back to allow food to fill the bowl.
WHAT ARE THE PROS AND CONS OF PETSAFE GRAVITY FEEDER?
The following list will help you to decide with more information about the good features that will convince you to get this gravity feeder, and the possible issues you may encounter with this unit:
PROS

It has stainless removable steel bowl preventing allergic reactions on your cat.
Constant fresh food as it has a gravity design system to dispense food
Nice design for indoor
You can get the station with fresh water dispenser to match the feeder
US-based Customer Service
CONS

It doesn't have control program to regulate the feeder from dropping food.
You have to wait till the hopper is empty to remove the bowl to wash it.
The hopper is not dishwasher safe
It needs a shake to get more food to drop into the bowl (most gravity feeders do). Check the below video, a great tip how to make the Petsafe Healthy feeder to drop automatically without the need of shaking it. This is a great solution if your cat has feline acne and you want a gravity feeder that lets food drop without the need of shaking it:
CONCLUSION
√ I recommend the Petsafe feeder in the following situations:
If you free-feed your cat or multiple cats and your only concern is not having to pour food every day to your cat's plate.
If your cat is allergic to plastic and you fit the first condition above.
If you are OK with shaking the feeder every 2 or 3 days to get the food drop
x The feeder might not be suitable:
If you want to feed your cat with a schedule (one time p/day, 2 times, etc).
If your cat is obsessed with food (this is a gravity free-feeding system)
If you want to make your cat lose weight.
If you want to feed your cat fresh food every time (the food in this feeder is exposed for days).
If you have ant problems at home.