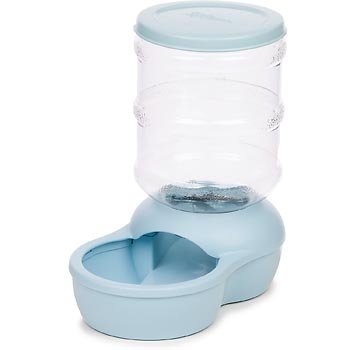 Rating: 3.2 stars | With Aspen Le Bistro Gravity Pet feeder your cat has food available at all times. With its gravity system, the food drops as your cat eats and it relieves you from pouring food into a bowl every day.
Made from PET plastic (safe, recyclable plastic that does not contain PBA), which is healthier for your cat and more environmentally friendly than those feeders made from PVC.
The feeder's total capacity is 2 lbs, which makes this unit more suitable for small pets, such as cats and small dogs. The bowl's capacity is approximately 1 cup of dry food.
This particular size of Aspen Le Bistro Gravity feeder (2 lbs capacity) comes in several colors, such as Breeze, Pink or Navy. The bigger size of 5 lbs food capacity for larger pets comes in similar colors as well. This review is for Aspen Le Bistro Gravity feeder 2 lbs capacity, suitable for cats and small dogs.
FEATURES
Gravity system provides your pet access to food throughout the day
Transparent hopper allows you to see the food level
Easy to refill with removable top
Hopper twists and locks to the base, making the bowl spill resistant
Hopper capacity 2 lbs
Bowl capacity: About 1 cup dry food
Dimensions: 10" x 6" x 9.9"
Weight: 12 Ounces
Comes in colors: Navy, Pink, Breeze, Bleached Linen.
Dishwasher safe (only the base)
Material: PET plastic
Made in the USA
WHAT ARE THE PROS AND CONS OF ASPEN LE BISTRO GRAVITY FEEDER?
The following pros and cons have been created with honestly and considering the criteria you need to know to make a better purchase:
PROS
Gravity feeder relieves you from having to pour food in your cat's bowl every day
It provides your cat food access at all times (to free feeding cats)
Feeder is well made and durable
Easy to fill
Easy to keep clean
Food hopper holds a lot of food (about half of a 22 lbs bag of Friskies cat food)
Fully disassembled for easy hand washing
Made from PET recyclable plastic, environmentally friendly
Good price
CONS
Gravity feeders don't control your cat's food intake, free feeding system is only for some cats that are not obsessed with food
It does not work very well with big sized kibble
It doesn't auto dispense. The feeder needs to be shaken a little to keep dispensing
Hopper is not dishwasher safe, only the base
Bowl size it's on the small side for larger dogs, good size for cats.
TIPS
The feeder seems to work better with small round or flat kibble as it allows the food to flow better down to the bowl. Very small round or flat kibble make the gravity system work better.
Some cats figure out that if they stick their paws in the feeder reaching upwards at the kibble stuck in the chute, more food will drop so they can keep eating. Other felines push the bowl around until food drops into the bowl. If your kitty is smart enough to do any of these actions he or she will keep eating no matter what; consequently the lack of food-flow won't be an issue.
You can match this feeder with the Aspen Le Bistro waterer.
CONCLUSION
Aspen Le Bistro Gravity Pet Feeder is a good alternative to feed your cat with a gravity feeder and for a good price. Gravity feeders help you from having to pour food into the bowls every day which could be annoying to cat owners. This particular size is special to feed small pets; the unit is smaller than what it looks in the picture. The bowl is narrow as well.
The Aspen Le Bistro, as commonly occurs with most gravity feeders, needs to be shaken a little to keep the food flowing into the bowl. Other customers state that they move the stuck food with their hands to ensure the dispensing of the feeder. This gravity feeder gets stuck with most dry foods, but especially with odd shaped kibble, such as stars, flowers, triangles, or when using big kibbles over 1/4" diameter. For all the above reasons and Pros and Cons;
√ I recommend Aspen Le Bistro Gravity Feeder:
To be used for one cat that does not need control food intake
Used with very small round or flat kibble
If you are willing to shake the unit once in a while to keep the gravity system working
If you don't want to pour food in your cat's bowl everyday and are willing to supervise the feeder.
x I don't recommend it:
For more than one cat, because the bowl is not wide enough
Used with irregularly shaped kibble (stars, flowers, etc.) or large kibble
For cats on a diet that need to control their food intake
If you don't want to check on the feeder to keep the gravity system working
If you want to go on trips and leave your cat alone