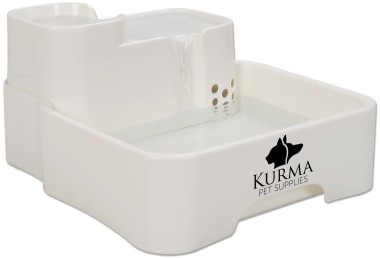 PRODUCT DESCRIPTION
Kurma Best Automatic Pet Water Fountain is a water feeder that features a quiet pump to feed your cat with fresh and clean water.
The unit has three levels where your cat can drink from, two areas on top, one with a little waterfall to encourage your cat to drink more and a lower wide bowl. A submersible pump provides a quiet operation and a filter features a two-step filtration process for better filtration of the water.
Kurma Best Automatic Pet Water Fountain's pump has a switch on the side that allows you to regulate the stream and speed to better adjust to your cat's needs.
The unit has a good capacity of 1 Gal of water so you don't need to refill constantly. The fountain is easy to clean, with no hard to reach nooks or corners.
The fountain is made from BPA-free Polypropylene providing a chemical free water for your pet.
Kurma Best Automatic Pet Water Fountain comes with 3 filters that last about 4 months.
FEATURES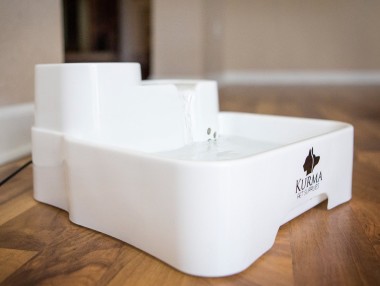 Automatic water fountain suitable for cats and small dogs
Filter features 2-Step Filtration Process for clean and fresh water
Quiet operation
Design makes the fountain easy to clean
Little water fall entices your cat to drink more
Fountain is made from BPA-free Polypropylene, ensuring the water free of harmful substances.
Good capacity of reservoir of 1 Gal., less refilling.
100% Money back guarantee (check if shipping costs apply)
Dimensions: 11.8" x 10.8" x 6.3"
Weight: 2.6 lbs
HOW IT WORKS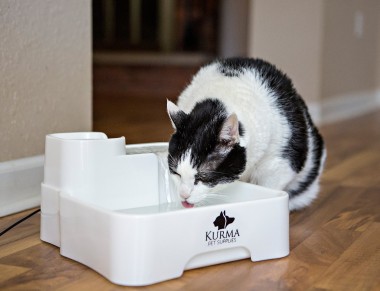 The main unit consists of two parts that get assembled creating three areas where the cat can drink from:
The top left area where the filtered water comes from, the top right area that creates a little pool with a waterfall that falls into the bottom area which is the lower wide bowl.
The pump is submersed in the water, underneath the left side of the top piece. The filter is located underneath the top part, close to the pump.
The water in the lower bowl goes through the little holes of it to the filter located underneath the top piece. Once filtered, this water gets pumped by the submerged pump up to the surface to keep the water circulating.
PROS
Very easy to setup
Simple design, easy to clean and maintain without hard to reach nooks and crannies
Simple to take apart and reassemble for cleaning
Very quiet (it makes a slight noise like a fish tank though)
2-step filtration system purifies the water more than other systems
Cats can't reach and play with the filter like other models
Excellent capacity of 1 Gallon of water, allows less refilling
Filters have good duration
3 sections where cats can drink from, with an attractive waterfall
Ability to change the motor speed for a smaller or bigger stream
Circulating water keeps the water cool and fresh
CONS
It needs to be fully cleaned at least once a week (as all automatic pet fountains)
Not good for cats with chin acne
Plastic bottom bowl is not very thick
There is a little gap inside where the filter goes that allows some water to pass by the filter
Fountain gets loud when motor is dirty or when the water is low (all automatic pet fountains do though)
No replacement pumps available
Filters are expensive
Instructions are not very well written and illustrations are not clear.
TIPS
If your fountain gets noisy, make sure to check if it has enough water by looking at the low mark or check the if the pump needs to be cleaned.
Make sure the pump fits snugly on the inside to avoid vibrating noises.
CONCLUSION
Kurma Best Automatic Pet Water fountain is a quiet unit in comparison to other automatic pet fountains, it makes a slight noise as any device with a motor operating, but it's not a loud unit. If the unit starts making noises, it means it needs more water or to be cleaned, but this happens with all automatic pet water fountains.
Some customers state that this water fountain works good while others state this unit has some flaws, such as the water not getting completely filtered and the bottom bowl not being made from sturdy plastic.
Currently, the pump of this item is not available to be purchased for replacement.
BOTTOM LINE
Although this pet fountain has a good capacity and it's quiet, some customers complain that the water does not get 100% filtered. This fact and considering that there is not pump available for replacement, I would not consider this unit as desirable as one of the top rated units.