Hagen Catit Water Fountain Review
Hagen Catit Fresh is a pet drinking fountain with 100 Oz water capacity that gives a continuous flow of fresh water to encourage your pet to drink more. Drinking more water helps cats to prevent urinary diseases.
Hagen Catit Design has an elevated design for your cat to drink comfortably with no need of bending over. Pets drink from the center hole where water bubbles up. The water gets filtered with multi-stage filtration that catches debris, food, hair and particles. The unit comes with one filter cartridge to start with, extra filters have to be purchased separately. Cartridges have to be replaced once a week with multiple cats or once a month with one cat.
The fountain is suitable for cats and small dogs and can be used for multiple-pet households. Hagen Catit drinking fountain is quiet, but if gets noisier when running it means that its water level is low and it needs more water.
FEATURES
Provides pets a fresh and aerated source of moving water enticing pets to drink more.
Large surface area maximizes water oxygenation
Multi-stage filtration with activated carbon cleans water of impurities for fresher and tastier water
Lime green top with elevated white base
Hagen Catit fountain is made for a US plug and 110 volts
2 year limited warranty
HOW IT WORKS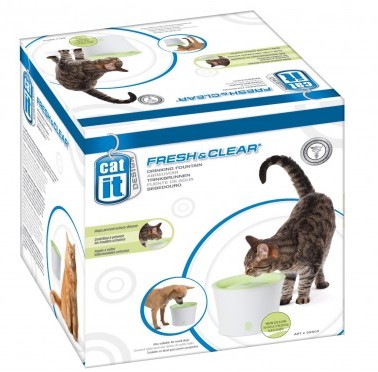 The fountain consists in a large plastic bucket that holds 100 Oz of water with a top part and a round piece that goes in the middle where the water bubbles from.
The pump is located in the bucket and the filter underneath the top piece. The water gets pumped and comes out through a hole located in this middle piece and drops back into the bucket to re-circulate.
Cats drink from this water bubbling up or can lick from the sides where the water is running. This fountain does not offer a falling stream or flow, but a bubbling circulating source of water. See how this fountain works here.
CAT DRINKING FROM THE HAGEN CATIT
PROS
Easy to setup and disassemble for cleaning.
Easy to clean
Easy to refill
It makes very little noise, mostly a gurgling sound, with a slight humming. It gets louder only when water is low, a good reminder to fill the fountain.
It has a good capacity of 100 Oz.
Very affordable price.
It is high so it has less contact with dirt and particles on the floor.
Design allows a little amount of water to be exposed when circulating so it stays cleaner.
No bowl with water exposed, ideal for cats that like to splash everywhere.
Good size fits in any corner or space.
Elevated design allows cats to drink without bending over.
Easy access of the filter
CONS
It needs to be cleaned often (as all pet fountains with pumps)
Cat has no access to water if power outage
It develops slime (as any automatic feeder)
Hard to control the right water level; too low and it makes noise, too much and splash outside a little (placing a mat controls that).
Plastic is not good for some cats (chin acne).
Sometimes the water bubbling gets irregular and the cat's nose gets wet.
Aggressive or mischievously cats can knock it over because it has a light weight.
Some cats learn how to take off the middle piece of the fountain and even the filter.
TIPS & TRICKS
Keeping the fountain clean will allow you to enjoy a quieter and a functioning pump. You have to take the pump apart (It is magnetized) and clean it.
Some cats might be scared of the fountain at first but after some weeks they get used to it.
If the fountain gets noisy either put more water in it or clean the pump.
Make sure to clean the unit every 2-3 days and change the filter every 3-4 weeks. Disassemble and clean the pump every 2 weeks or 3 weeks depending on how many cats are using it.
CONCLUSION
Hagen Catit Design Drinking Fountain works as described and is a good value for the price. The Hagen fountain has a good capacity of 100 Oz just as the other Catit version Fresh & Clean. Some points to consider about this unit:
It might work better for some cats than for others. The reason is the water bubbling up; some cats don't mind to drink from it but other cats don't like it because the bubbling movement can get their noses wet.
This fountain can be used for one cat at a time from the bubbling area.
Considering the Pros and Cons of the Hagen Catit Drinking fountain and the mentioned points,
√ I recommend the unit for:
One or two cats that are used to drink from bubbling water
Cat owners that don't mind to dedicate time to clean the unit often
To be used together with another alternative source of water (in case of power outage)
Cats that are used to plastic water bowls.
x I would not recommend it
For kittens
To skittish cats that like to manipulate things
To cats that tip over water bowls.
For a cat alone due to possible power outages (unless you leave an extra water bowl)
To busy cat owners that don't have time to clean the unit often