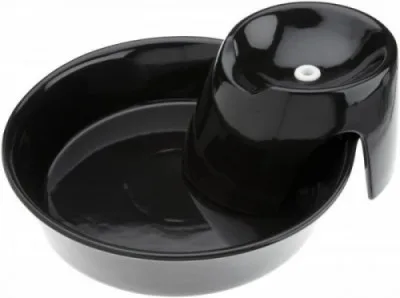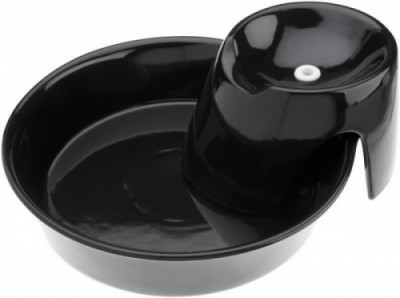 Pioneer Ceramic Big Max is a nice looking ceramic pet fountain that works with a circulating water system that keeps pets hydrated and healthy. This fountain is very easy to assemble and put apart since it only consists of two main parts that fit together. It is also very easy to clean and it is 100% dishwasher safe.
Pioneer Ceramic Big Max works with a pump and a filter both enclosed in a plastic housing submersed in the bowl. The unit has a quiet operation and a huge drinking area to satisfy your pet needs. The fountain is made from heavy duty ceramic and has a 128 Oz water capacity.
PRODUCT FEATURES
128 Oz of water capacity (3.78L)
Circulating water encourages pets to drink more
Durable black ceramic
Replaceable charcoal filter to keep water clean
Dishwasher safe (except the pump)
Nice and modern design fits with any home decor
Dimensions: 4 ¼" H x 12" W x 13W.75" L
Weight: 7.0 lbs.
Low voltage UL listed power system.
Power cord is 6' (1.82m) long
Patent pending design holds filter and electric pump.
HOW IT WORKS
Pioneer Big Max ceramic fountain consists in two main ceramic parts that fit together and a plastic housing which contains the pump and the charcoal filter. The plastic housing is submersed in water. The pump makes the water circulate and the filter (that is located next to the pump) filters the water. Water goes up towards the top part of the fountain creating a miniature water fall. Cats can drink from the mini water fall or from the bowl.
What are the Pros and Cons of the Pioneer Ceramic Big Max fountain?
PROS
Quiet operation (it makes some noise if water is low or if pump is dirty)
Easy to assemble.
Easy to refill, only pouring water into the bowl.
Ceramic is much easier to clean than plastic.
Design is easy to clean, every area is accessible with soap and water.
Ceramic helps to reduce bacteria formation, it's more hygienic than plastic.
Dishwasher safe
It is heavy enough so cats cannot tip it over.
Ceramic keeps the water cool
Nice black ceramic design that fits with any decor
It holds a lot of water (128 Oz)
FDA approved for low toxicity
Pump has a switch to turn down water flow
CONS
Fountain is heavy to carry when filled with water
Fountain is very big (a con to wash in small sinks and to fit in small apartments)
As any ceramic unit it is fragile
Fountain is quiet but it gets noisy when water is low (the noise is a pro to remain you to pour water in it)
It needs to be cleaned often as pump develops slime (as any automatic fountain)
It overflows if pump is not adjusted at the lowest setting.
Pump is rather small (though this helps for it to be quiet)
It is hard to line up the motor unit with the top piece of the fountain
TIPS
You can buy a brush kit or a toothbrush to clean the pump/filter housing.
Make sure that the water doesn't get too low or the pump can get damaged.
When assembling the unit, in order to align up the pump housing with the top piece do it with water in the fountain, this way the suction cups will hold the plastic housing in place and you can easily fit the top piece of the fountain. If the tube is not perfectly aligned with the rubber seal, the unit will overflow so do this step carefully.
Some customers sit the top part of the fountain entirely over the bottom to avoid dripping and this seems to work well.
If the pump stops working or not pushing water strongly, you have to disassemble the unit and clean the pump. The pump works with magnetic connection and it can be opened and cleaned. This will make the pump work again and you will save a lot of money by doing it.
CONCLUSION
Pioneer Ceramic Big Max is a pet fountain that works as advertised in the sense that provides pets circulating water to entice them to drink more. This ceramic fountain, as its stainless steel version, it has a good capacity of 128 Oz of water. Here are some important points about this unit:
The fountain is too big to use it with only one cat and it's more suitable for multiple pet households. If used only with one cat you will waste a lot of water because as the unit has to be filled always by the time of cleaning it you will have to dump much more water every time.
In order to ensure clean and fresh water for your pets you will have to clean the unit often. At least once a week you will have to disassemble the fountain and the pump and clean it deeply. This will keep the pump operating properly.
Filters don't last as long with long haired cats and if using it with more than one cat.
Considering the pros and cons of the Pioneer Ceramic Big Max fountain,
I recommend this unit for:
Multi-cat households
Short haired cats
If you are willing to clean the fountain and pump often
If you remember to keep the fountain filled with water
If your cats don't play with water or drink with their paws
x I don't recommend it for:
Elderly or disable people that cannot carry heavy things.
Houses with small sinks and/or small apartments.
Very playful cats when it comes to drinking water
If you are a busy person or if you don't want to clean the unit often
If you are thinking in a "set it up and forget" fountain
If you want a fountain with a strong and big pump