Catit Fresh & Clear Stainless Steel top pet fountain provides your indoor cat a source of moving and fresh water that entices your pet to drink more.
Catit pet fountain with its dual filter system provides your cat aerated and cool water, keeping your pet hydrated.
The capacity of the fountain is 64 fl Oz of water. The unit comes with one replaceable carbon filter and extra filters are sold separately.
FEATURES
Drinking bowl made from stainless steel rated #1 by veterinarians
Moving water entices cats to drink more
Capacity of 64 fluid Oz
BPA free plastic
Circulating and fresh water to keep your pet hydrated
Water keeps cool through a re-circulating system that helps to reduce bacteria formation.
The unit comes with one replaceable carbon filter
Electrical cord measures 5′ 4″ including plug.
Dimensions (H, W, L): 6.4" x 8.5" x 8.5" (Base slightly wider than top).
HOW THE CATIT FOUNTAIN WORKS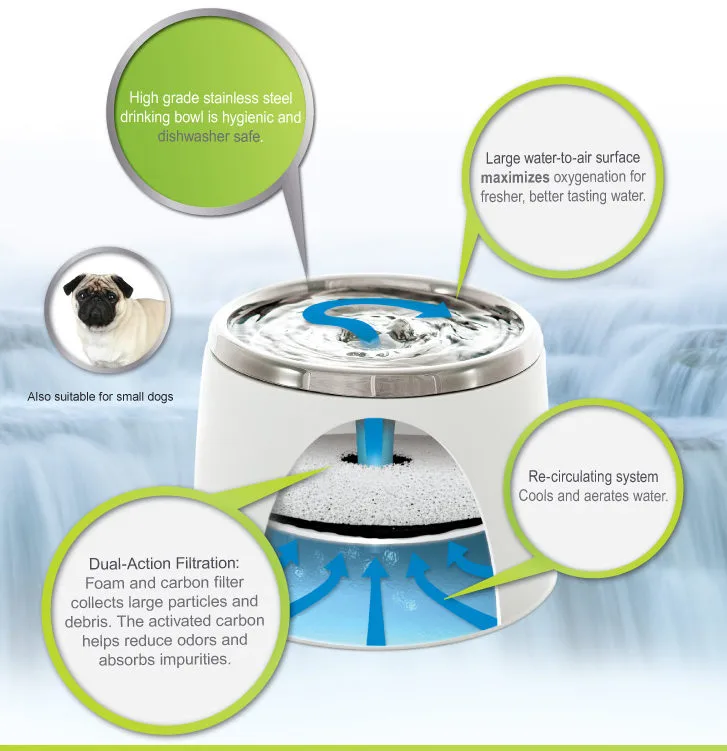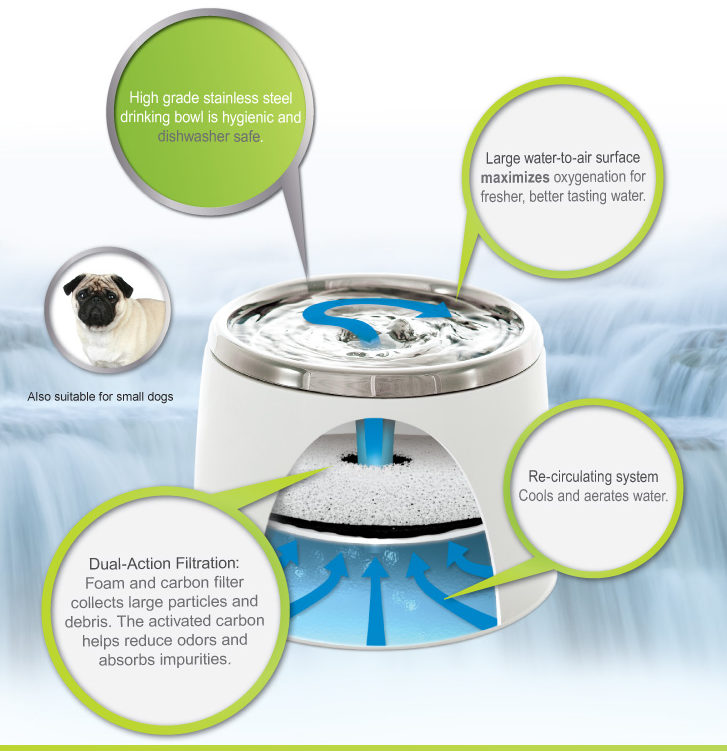 Catit Fresh & Clear features a stainless steel drinking bowl and the base is made from BPA free plastic.
The fountain has a dual filter system with foam and carbon filter. The water goes through a re-circulating system from the bottom of the fountain through the dual filter and up to the surface of the drinking stainless steel bowl and then back to the bottom.
It's recommended to change the filter monthly, but you can rinse it and use it again.
You only pour water into the fountain from the top. On average with 2 cats you will need to refill it approximately every 3 days.
Catit Stainless Steel fountain is very quiet, but not silent. The fountain has a slight hum that gets louder when the water is low so you need to make sure to keep the fountain with enough water at all times, ideally filtered water.
WATCH A KITTEN DRINKING FROM CATIT STAINLESS STEEL FOUNTAIN
PROS
Very easy to set up
Neat and nice look
High-grade stainless steel prevents feline acne
The re-circulating system keeps the pump clean from hair and dirt
Easy for cats to drink from the fountain
The unit is easy to take apart and clean
No water stains on the surface
Bowl is dishwasher safe
Good height allows cats to drink without bending too much, good for cats with arthritis
Cats adapt easily to this water fountain
The fountain is very quiet making a slight hum that is not intrusive.
Filters are inexpensive and easy to install
CONS
Cats can't access the water if there is a power outage
Too many pieces to reassemble the unit and instructions are not helpful
The base doesn't have any transparency to see water level when refilling and when getting low
Filter keeps the pump working more than doing a good filtering of the water. It's better to pour filtered water in the fountain.
The fountain is not entirely made from stainless steel
TIPS
If you are going on short trips make sure to leave an extra water bowl for your cat as backup.
To deeply clean the filter simply drop it into a pot of boiling water for about 14 minutes. This will kill bacteria and clean the filter.
Use a mild soap and wash the fountain once a week.
CONCLUSION
Catit Fresh & Clear Stainless Steel is a good pet water fountain that works as advertised and offers good value for money. The unit is a solution if you want to prevent feline acne in your cat without paying too much money. Beware that the unit is not easy to reassemble due to several pieces that need to be reassembled exactly in the right position, otherwise the unit will not work. (Note: the Petlibro cat fountain is much simpler to reassemble but it doesn't have stainless steel top though).
√ Catit Fresh & Clear Stainless Steel top is suitable for:
Cats that like to drink moving water
Cats with arthritis
If you want a unit that is easy to take apart and clean
x The unit may not be suitable:
If you want a water fountain without any plastic
If you want a water fountain that runs on electrical power and batteries as backup
If your cat likes to drink from falling water
If you want a unit with no very many pieces.