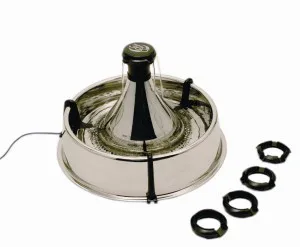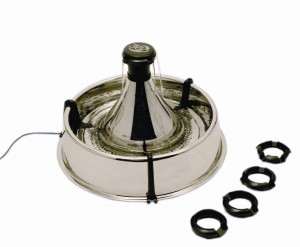 Drinkwell 360 Stainless Steel Fountain Review
The Drinkwell 360 Stainless Steel fountain has 128 Oz capacity (1 gal) of oxygenated, fresh and filtered moving water for pets to drink.
The fountain uses a pre-filter to protect the pump and a charcoal filter to remove bad taste and odors. The fountain includes one charcoal filter and one foam filter.
The Drinkwell 360 stainless steel runs on a Low-Voltage 12V system with inline disconnect for easy plug removal.
FEATURES
Water capacity of 128 Oz (1 gal)
Good for multiple pets weighing less than 60 pounds (27k)
Free-falling stream encourages pets to drink more water
Receiving ramp and adjustable flow control help to reduce splashing
Adjustable flow control cap to customize water stream
Customizable number of water streams (up to 5) by interchangeable spout rings that are included with the unit.
Replaceable charcoal filter to remove bad tastes and odors
Submersible pump for quiet operation
Dishwasher safe (except pump)
Rubber feet to prevent sliding
Changeable spout rings and adjustable flow control cap allow you to customize the water flow
Product Dimensions: 14.8 x 7.6 x 14.8 inches; 4 pounds
For indoor use only
One year warranty
HOW IT WORKS
With multiple free-falling streams (up to 5) the Drinkwell 360 stainless steel can provide water to multiple pets at the same time. The number of streams can be customized by interchanging spout rings included with the unit. With its circular design and multiple streams pets can drink from any angle, this is great as pets no longer have to wait their turn to drink water.
The Drinkwell 360 uses the same filtration technology as the other Drinkwell Fountains. The water filtration, plus the water in movement helps to inhibit bacteria growth, and keeps the water fresh and appealing to pets. Stainless steel is the number one material that is recommended by vets as the most hygienic pet dishes.
WATCH TWO BENGALS DRINKING FROM THE DRINKWELL 360 STAINLESS STEEL FOUNTAIN
PROS
Large capacity with big reservoir
Customizable water streams (up to 5) so two or more pets can drink from the fountain at the same time from any angle.
Replaceable charcoal filter to remove bad taste and odors
Extra soft filter to protect the pump.
Easy to fill
Easy to assemble and clean in comparison to plastic fountains. The stainless steel is easier to scrub clean than the plastic.
Good for multi-pet households.
Quiet fountain (It makes only a slight splashing noise that goes away when fountain is full and with right spout flow)
Adjustable water flow
Stainless steel reservoir is more hygienic than plastic and looks nicer.
It cannot get tipped over or pulled across the floor.
It is easy to unplug.
Not big splashes like other fountains.
 CONS
You have to buy two types of filters: foam pre-filters and charcoal filters (it can run without filters though).
No extra reservoir to hold more water.
Difficult to wash in a conventional sink.
It is not a breeze to line up the parts to get it work again after cleaning the unit.
Unit might be too big if you do not have very much room to place it.
You have to clean the entire unit and change the filter often.
The three clips used to keep the tower into the dish don't stay in place very good, they don't keep the tower clipped down.
The fountain has plastic components.
TIPS & TRICKS
To prevent hard water build-up and save money on filters you can use filtered water.
Never let the fountain to run with low water because you might damage the motor.
You can clean the unit with baking soda and a soft rag and make sure not to scratch the stainless steel.
If you want to use filters and do not want to spend too much money on them, you can buy reusable "Forever Filter".
Keep the water level high to minimize the splashing sound (if you don't like the water sound).
If your cat likes to lick the water from a surface when drinking, there is a different stainless steel version of Drinkwell that features a small ramp metal piece where the water flows.
CONCLUSION
This is a good stainless steel fountain that works as advertised. In terms of material and cleaning process this fountain is a step up from the plastic Drinkwell fountain, but some improvements are needed yet.
The fountain it is very big so it might be too large for a single cat. Kittens would have difficult drinking from this fountain as well since the streams falls are too tall for them to reach and drink.
If you are not familiar with assembling fountains or cleaning plastic versions you might find the cleaning process not a breeze. Though, the assembling and cleaning process is in general, very simple, it only requires a bit of time (+-20 minutes). As any automatic water fountain the Drinkwell 360 stainless steel needs to be cleaned often (according to customers about twice a week) to ensure clean water and operation of the pump.
Some customers report that the pump seems not to be as strong as it needs to be for a big sized fountain. Experiences are different in this sense.
Finally, it seems like it is better to use this fountain with the "Forever" filter because you can save money this way and using filtered water, so you might want to go in that direction.
BOTTOM LINE
I recommend the Drinkwell 360 Stainless:
For more than one adult cat.
If you are willing to clean the fountain often (at least twice a week).
If your cat has allergy to contact with plastic
If you are OK with buying filters or filtered water
If you want a fountain that supplies your pet clean and fresh water up to 2 days without maintenance.
If you have room enough to place it.
x I don't recommend this unit:
For only one cat (the unit is very big) or for small kittens.
If you want a fountain with clean and fresh water for several days without maintenance.
For people who have hard time assembling things, people with no patience or with difficulty with their hands.
If you want an absolutely silent unit
If you don't want to buy filters or filtered water
For areas with hard water if you don't want to buy filtered water.
If you don't want your cat's water have contact with pre-filter made with foam (another option is not to use this filter).
If you don't have room enough to place a big unit.