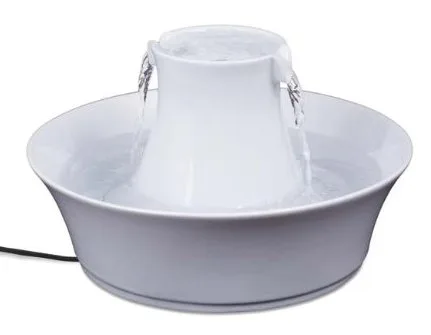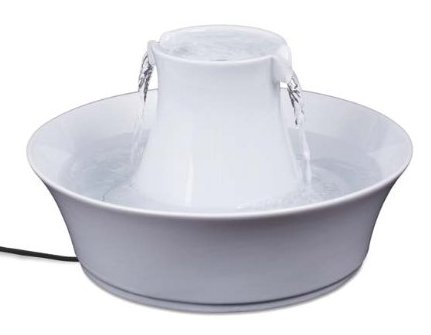 PetSafe Drinkwell Avalon Fountain Review
The Petsafe Drinkwell Ceramic Avalon fountain with 70 Oz. water capacity has a very nice design and provides your pet fresh, oxygenated and filtered moving water, enticing your pet to drink more. This is especially important to prevent urinary diseases.
The fountain is very easy to clean and ceramic is excellent to keep the water fresh reducing bacteria and slime formation. With its unique design with an upper and lower reservoir, your cat has two drinking areas where to choose from and its round shape allows your pet to drink from any angle.
FEATURES
70 Oz. water capacity
Replaceable charcoal filter keeps the water fresh, eliminating bad taste and odors
Foam pre-filter to protect the pump
Unique design in ceramic is very easy to clean and more hygienic
Nice design fits perfectly in your home
Free falling stream circulates the water, adding oxygen and freshness
Moving water entices pets to drink more
Top and bottom drinking areas where pets can drink from
It runs on a low-voltage 12V system
Quiet and safer operation with submersible pump
Dishwasher safe, excluding pump
Product Dimensions: 12.2 x 12.2 x 8.3 inches
Weight: 3.2 pounds
What are the components of the Drinkwell Avalon Pet Fountain?
√ Bowl
√ Tower
√ Pump
√ Filter housing case (top and bottom)
√ Foam filter
√ Charcoal filter
√ Rubber cap
√ Rubber grommet
√ Inline plug
√ Adapter
VIDEO OF THE PETSAFE DRINKWELL AVALON
PROS
Durable and well made unit
Easy to setup
Easy to disassemble and reassemble when cleaning
Easy to carry on to the sink
Easy to refill
Charcoal filters to reduce bad taste and odors
Filters are easy to replace
Foam pre-filter to catch hair and particles.
Very easy to clean, all parts come apart easily (including the pump) and not difficult-to-reach crevices or corners in order to scrub them. Easy to clean stains formed by hard water.
Attractive design that looks very nice in the house (almost like a Zen fountain)
The unit does not have sharp edges
Encourages pets to drink more water
Dishwasher safe (except the pump)
It gives pets multiple drinking areas where to choose from
Ceramic helps to stop bacteria and slime formation, the unit stays clean longer.
Motor is quiet when the fountain is filled to the top (it makes water splashing noise though)
Tested/approved by UL (independent safety testing Co).
Detachable cord to unplug the fountain
Good solution for cats with acne to plastic
CONS
Small capacity in comparison to other fountains (70 Oz.) and no extra reservoir.
Water splashes are rather noisy and louder if the water level goes low
Some cats might get scared by the water splashes noises
It is not 100% dishwasher safe.
You have to replace two types of filters: charcoal filter every 2-4 weeks and foam pre-filter every 4-8 weeks.
The fountain does not have adjustable flow speed (water flow is a little strong for kittens)
Bottom drinking area is too narrow for a cat to drink comfortably
Ceramic is fragile
A little pricey
TIPS
It is a good idea to use mat underneath the fountain to make it quieter and to protect the floor.
Some customers use their own bag of charcoal filters with this model.
When cleaning the parts, leave them soaking in bleach or vinegar.
Keep the fountain always full with water to make sure the pump does not run with low water and to minimize the water splash noise.
WATCH A CAT DRINKING FROM DRINKWELL AVALON FOUNTAIN
CONCLUSION
This is a very good pet water fountain that works as advertised. This ceramic fountain is very easy to maintain clean, much more than plastic units.
Though, it is a little loud, specially when the water level goes low.

This fountain makes water splash noises so it might be a "pro" if you find this as a relaxing thing or this might not work for you if you don't like noises.

Some parts of the Drinkwell Avalon are plastic as the pump and the filter housing but still this is a good product for felines with acne to plastic as they don't have direct contact with plastic.

You have to make sure always keeping the fountain with clean filters because if you don't you risk the pump to get damage. 

You have to clean it once a week and do a deep cleaning (taking the pump apart) once a month at least.
The Drinkwell Avalon ceramic fountain it is more suitable for cats and small dogs since its capacity is 70 Oz. of water. For all the above reasons and the pros and Cons of this unit;
√ I recommend the Drinkwell Avalon Fountain to:
Ideally for one or two cats
Cats that like to drink moving water
Cats that need to drink more water
Felines with acne to plastic
Pets that are not afraid of noises
If the noise of water running relaxes you
If you don't mind to clean the unit periodically.
x I don't recommend this to:
Cats that don't like noises at all
If you have more than 2 pets that want to drink at the same time.
If you want a very quiet unit
If you don't want to buy filters
If you love this fountain but prefer a different shape, the Pagoda Ceramic Pet Fountain is technically the same as the Avalon fountain, but with rectangular shape instead.