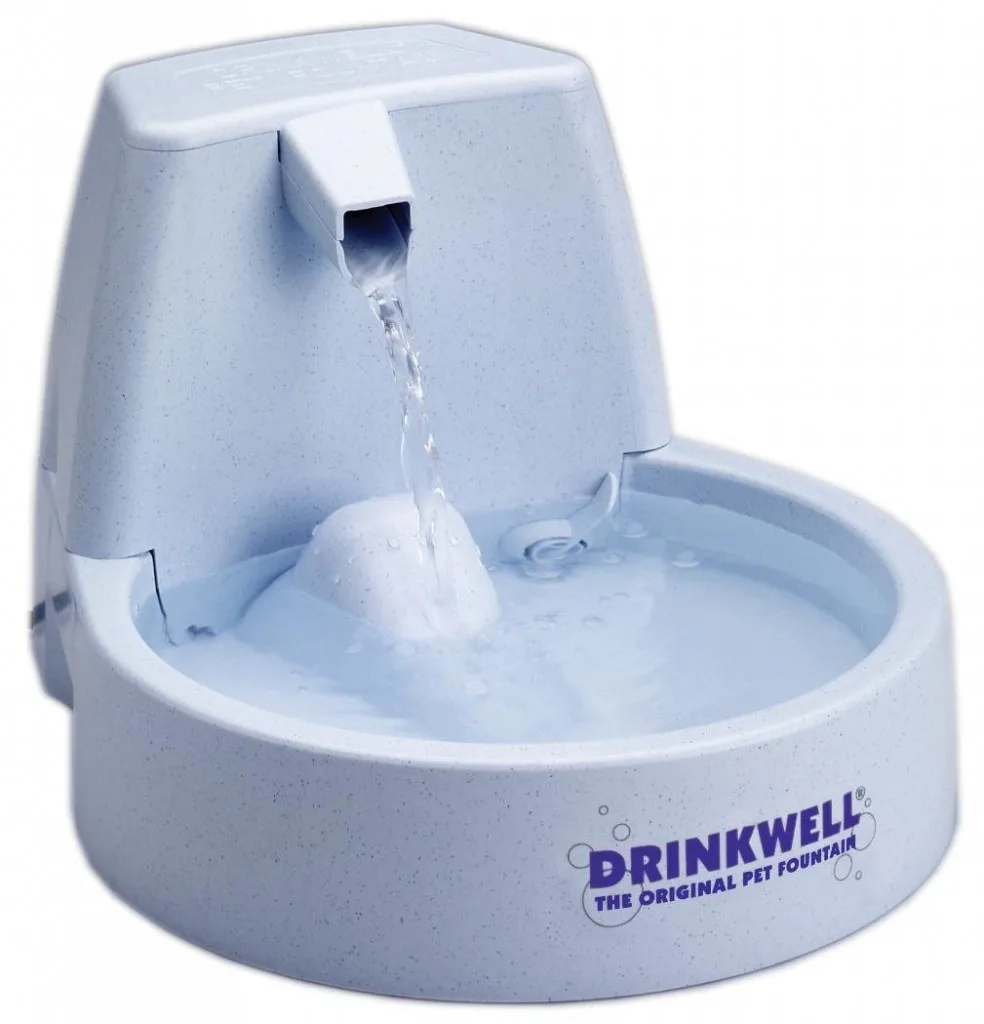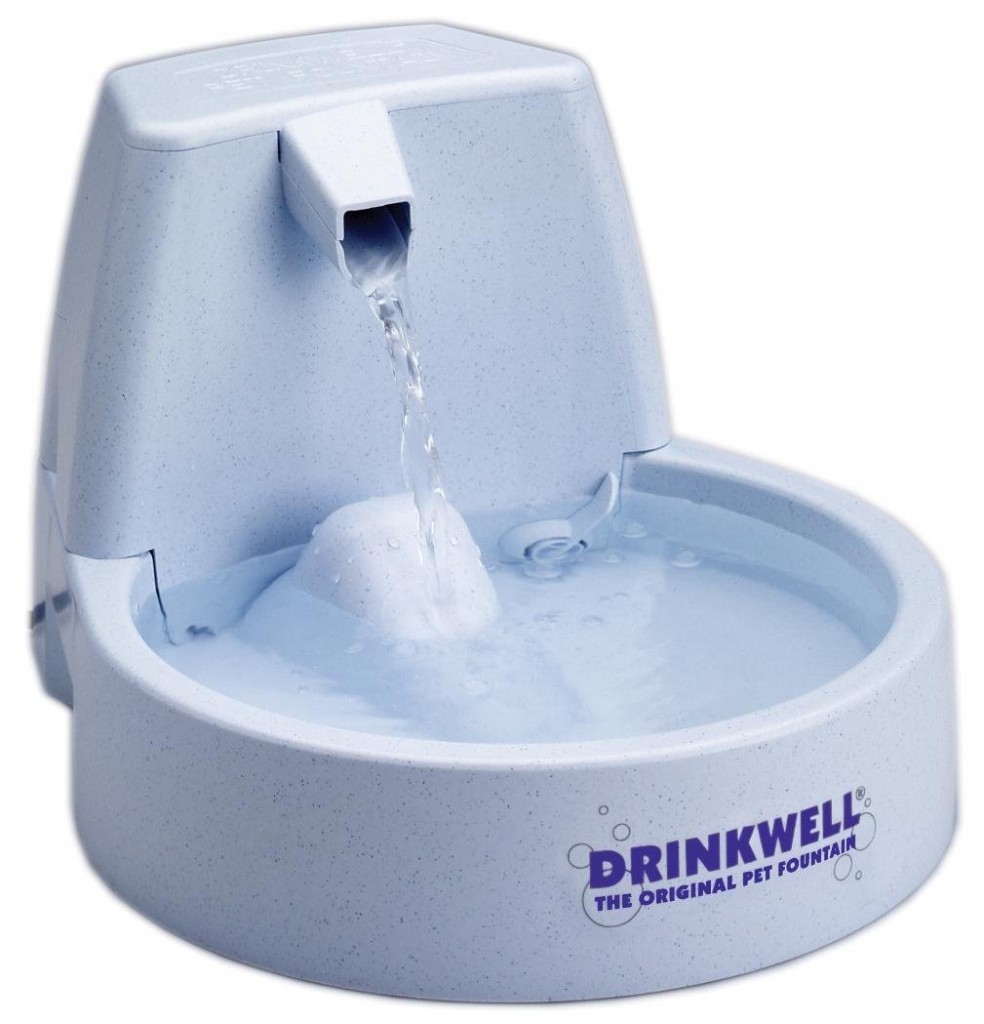 Drinkwell Original Fountain Review
Drinkwell Original Pet Fountain allows your cat to have a source of water in movement that makes your pet to drink more water which is essential to keep cats healthy.
This unit is a good solution for cats that are used to drink water from the sink in the bathroom or kitchen. Better than a regular water bowl as well because your cat does not have to drink from stagnant water anymore, having a permanent stream with fresh water to drink from.
Drinkwell Original Pet Fountain has a 5 inch free falling stream of water that gives your cat the chance to drink from any angle. It works with replaceable charcoal filters that purify the water from bad tastes and odors.
The pump is submersible for a quieter operation. The curve ramp on the bowl prevents falling water from splashing on the floor. The unit bottom has rubber feet to ensure the fountain attached to the floor.
FEATURES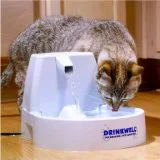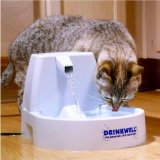 It encourages your pet to drink more by providing continual stream of water
Patented 5-inch free-falling water stream
Capacity to hold 50 ounces of flowing water (1.47 L.)
Replaceable charcoal filter purify bad tastes and odors
For use in the US only
It runs on a low voltage 12-volt system that plugs into your wall outlet.
With 6 ft. power cord
Disassemblable for cleaning.
BPA free plastic.
One-year manufacturer warranty.
VIDEO HOW THE DRINKWELL ORIGINAL FOUNTAIN WORKS
TIPS
If you get the mat, you will need about 2×2 feet of space. The mat helps to stabilize the fountain and keeps the floor from being splashed.
Make sure to buy extra charcoal filters.
It is important to clean the Drinkwell regularly.
If you have hard water, the motor will mostly scale up and stop working. (a good tip is to look for YouTube video on how to clean the inside of the motor).
It is a good idea to buy the cleaning kit to make the cleaning easier.
If you have more than one cat, it is recommendable to buy the 50 Oz reservoir.
When you disassemble the unit to clean it, make sure to put the motor back in properly, otherwise the unit can become very noisy.
PROS
Easy to fill
Simple to setup
The unit can be disassembled for cleaning (there is a YouTube video demonstration on how to do it)
Filters keep water fresh and clean.
Makes cats drink more water, good to prevent urinating problems.
5-inch-free-falling water allows your cat to drink from any angle.
Wide base makes it hard for a cat to tip it over.
Capacity can be increased purchasing an extra reservoir.
BPA free plastic.
Convenient price.
CONS
Noisy and it gets noisier if the water level runs low.It is very hard to disassemble the unit in order to clean it properly and it has to be cleaned often to keep the motor safe.
The noise of the motor might scare your cat
Slime problems if not cleaning often.
Filters are a little expensive
Water flow is not very adjustable. The slow setting still flows fast.
Not good capacity for several pets.
Cover only sits on top of the unit, it does not snap on tightly and it can be opened easily for a cat.
CONCLUSION
The Drinkwell Original Pet Fountain it is an OK water fountain until you have to clean it. You have to be willing to do the maintenance of disassembling the unit to clean it, at least twice a month. This task is a real challenge and could be a hassle for some people. Also, the unit works fine if you can handle noises in your house or if your cat is not nervous or does not mind motor noises either. Another important thing is that you have to keep the fountain filled with water to keep the unit from being louder and make sure to change the filter periodically.
The Drinkwell Original Pet Fountain is not recommendable to be used for several pets unless you increase the capacity buying the extra reservoir. If you need a pet fountain with more capacity, check the review of the Drinkwell Multi Tier that offers a 100 Oz water capacity.
I consider important to mention that some customers have reported leaking problems with this unit. For all the reasons mentioned above:
I consider the Drinkwell Original Pet Fountain a good pet fountain but not as desirable as other options in a long term of use.  If you want to buy a Drinkwell fountain, I recommend the Drinkwell Platinum Fountain instead. The Drinkwell Platinum is easier to clean than the Original version, which could help if you are a busy cat owner.