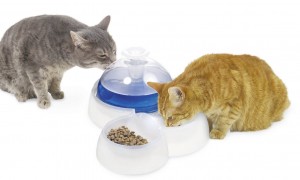 PRODUCT DESCRIPTION
Catit Water Fountain with Food Bowl is a complete water station that allows your cat to drink fresh and clean water in movement. With the re-circulation water exposing it to oxygen provides fresh tasting and cool filtered water for your pet.
This pet fountain has multi-surface drinking areas where your cat or cats can drink from. Some pets prefer drink directly from the bowl while others only from the water in movement, in this case from the dome. The water capacity of the unit is 100 Oz.
The Catit Water Fountain is safe, with a low voltage system (12 Volts) and is energy efficient, consuming less than 4 watts. The unit is suitable also for multiple cats and includes a food dish as free bonus. Purifying filters and matching place mat are sold separately.
FEATURES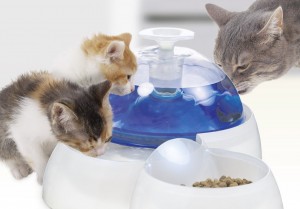 It gives a continue supply of fresh and clean water to your pet.
Large surface areas add oxygen to water: for tastier and fresher water.
Purifying Filter: collects food, hair and debris; also helps to reduce bad tastes, odors, and absorbs impurities present in tap water.
Filters are replaceable.
With detachable AC adaptor and convenient dome handle.
Safe protective plastic cord: prevents cord contact with water; keeps pets from chewing the cord.
Dimensions: 11 x 16 x 8 inches ; 2.1 pounds
HOW TO TAKE CARE OF THE CATIT WATER FOUNTAIN: TIPS GIVEN BY CURRENT CUSTOMERS
To wash it, disassemble the unit and set the dishwasher on economy dry (no heat). Have the caution to remove the small O-ring from the dome. It is easy to lose it.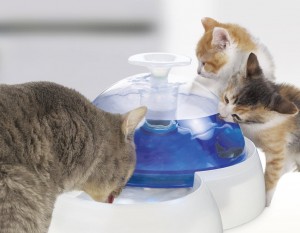 Very important to clean the pump as it gets dirty with hair, food, and all kind of dirt in it. The pump will last longer if you clean it often. Plus, the pump is magnetically driven and it will stop working if is blocked with dirt.
Change the filters every three weeks or it will overflow.
It is a good idea to buy the special cleaning kit to make the task easier.
The motor is completely detachable. You can gently remove the front using a screw driver, take out the magnetic rotating wheel, clean inside with a Q tip and the unit will be working as brand new.
Make sure to keep the reservoir (dome) fully covered with water. Water level has to be about 1/3″ from the top edge and this way it will work perfectly.
Make sure to purchase pack of filters.
If the unit makes noise, it's only because the water level is low or the pump is clogged and needs to be cleaned.
VIDEO OF THE CATIT WATER FOUNTAIN WORKING:
PROS
Easy to assemble
High quality unit
Charcoal filtering system keeps the water clean and fresh.
It comes with an additional bowl that can be used for food or as an additional water bowl for a second cat.
Cats seem to adopt this water fountain easily and they love it.
It is quiet if you keep it full of water.
It allows your cat having a permanent fresh and in movement water to drink from.
All in one concept easy to place in the "cat corner"
Parts can be replaced
It is suitable for more than one cat.
The re-circulation water exposing it to oxygen helps keep the water fresh and cool.
Practical design where the water is filtered before getting into the pump not after it is pumped.
The instruction booklet is clear and straight forward.
CONS
The unit is a little hard to clean and refill
It gets dirty quickly. It has to be cleaned very often to avoid slime formation in the bowl.
It might stop working if you don't properly clean the pump as it gets clogged with fur and dust.
Filters have to be changed often.
It takes some time to get the dome covered entirely by water.
CONCLUSION
With Catit Fresh & Clear Water Fountain one thing is certain: your cat will love it, but maybe you won't love this fountain as much.
The Catit is a great automatic water dispenser because your cat will love drinking water from it, which is excellent if your pet has urinate conditions and does not drink enough water from the water bowl. It is good for multi-cat households as well because some cats drink from the bowls as others from the dome. Also, the design of this fountain is good for cats that like to lick water from surfaces and for cats that prefer drinking from the bowl.
The downfall of the Catit Fresh & Clean Water Fountain is that it needs a high maintenance and that's why you may not love the fountain after a while. You have to wipe clean it often, and change the filter. Every month you have to disassemble the whole unit to clean it deeply so the fountain keeps working perfectly for your cat to have fresh and clean water at all times. The instructions can guide you how to disassemble the unit. The water refilling does not seem to be a breeze either. For these reasons:
√ I recommend the Catit Fresh & Clean Water Fountain:
For cats with urinate problems that need to drink more water and are reluctant to drink from bowls.
If you want a water fountain that your cat will love and will happily drink from it, despite the maintenance tasks (refilling and cleaning)
For cats that like to drink water in movement but get scared with big water streams (this Catit fountain has a soft small stream around the dome).
x I don't recommend the Catit Water Fountain:
If you are lazy to clean and maintain your cat's water fountain.
To cat owners with mobility problems, arthritis, etc.
If you don't have much time or patience.