Catit Flower Fountain is an automatic water fountain with 100 Fl Oz (3L) water capacity that provides your cat a fresh source of circulating water to keep your pet hydrated and healthy.
With this unit you can set up to 3 different water flows according to your cat's preferences. You can setup the fountain without the flower in this case the flow is reduced and slow, by inserting the flower the flow becomes more like a stream, similar to the one from a faucet.
Catit Flower Fountain is easy to take apart for cleaning and has an ergonomic design for your cat to dink comfortably and with a small footprint that won't take much or your space.
FEATURES
Provides 3 flow settings to suit your cat's preference
Reservoir with 100 Fl Oz (3L) capacity
Ergonomic design for your cats better posture when drinking
It uses reduced space, good for small apartments
The filtered water never mixes with the unfiltered water, only fresh filtered water gets to the surface
With dual-action water softening filter
Small energy-efficient pump
Dimension: 8.3" W x 7.3" H
Bonus: Catit Flower Fountain comes in a package that you can turn into a cat toy by making just a few cuts with a scissor.
HOW IT WORKS
Catit Flower fountain features a water filtering system ensuring that all the water will get filtered before going up to the surface which ensures your cat will always drink only filtered water.
The parts of the water fountain are; water reservoir bucket, pump (at the bottom), bucket lid, circular filter, filter lid, flower, and bud.
The system is unique but simple: you fill the water tank, then the pump will pump the water to the surface. The water stream falls down getting filtered by the Dual-Action circular shaped filter that retains hair and debris preventing the pump from clogging and also removes excess of magnesium and calcium, preventing urinary diseases. The filter also removes bacteria and chlorine odors.
Through this design only filtered water gets to the pump to be recirculated back to the surface so your cat will always enjoy fresh water. When the water gets pumped up it runs inside a tube to the surface. This tube is the flower "stem".
The unit features 3 flow settings that you can accomplish by not using the flower, using the flower without bud, and using the flower with the bud. By inserting the flower you can get long streams of water for your cat to drink from. By placing the bud on the flower you will get calm streams of water for a more skittish cat. Without flower, the cat enjoys a larger area where to drink from, without stream and with reduced bubbling water.
Catit Flower Fountain uses a USB plug/block for the power cord. The cord is rather short so you need an electric outlet close to the fountain.
WATCH A VIDEO OF A CAT DRINKING FROM CATIT FLOWER FOUNTAIN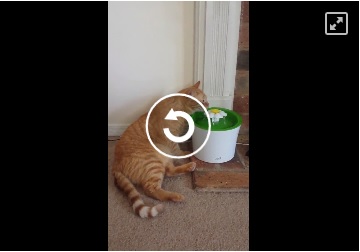 HOW TO CLEAN THE FOUNTAIN
Watch a video with simple steps that will show you how to clean the Catit Flower Fountain. You need to do this periodically to ensure that the pump will work well and also to prevent fungus formation.
PROS
Easy to setup
Cute design
Small footprint
Ergonomic design suitable for kittens and adult cats
Motor it's not too noisy when the unit is filled with water
The unit is very stable when full
Easy to take apart and clean
Filter removes excess of minerals and bad taste
Only filtered water gets to the pump
Water doesn't spill out of the unit
Energy-efficient pump
3 different flow settings help to suit your cat preferences.
CONS
Motor gets louder when the unit gets low on water and as time passes.
Flower tube doesn't get all the water stream up to the surface
The filter lid can be taken off by a curious or playful cat because it's not latched, it just sits on top.
If the fountain is not full of water a playful cat can flip the unit over
The unit gets moldy quickly, it needs to be cleaned very often
You can't check the water level since the bucket is not clear
The cat doesn't have access to water in case of power outage (it needs to run 24hrs)
Pump is not very strong so it needs to be cleaned often
Flow is too small for cats that like bigger streams
TIPS
To clean the fountain simply hand-wash each piece with natural, free of chemicals detergent and rinse thoroughly. Make sure to clean the flower with a toothbrush.
Buy extra filters because it needs to be changed every month or sooner during hot climate.
You can match the Catit Flower fountain with the Catit Multi Feeder, they both look cute together.
To see the water level you can make a small mark on the outside and use a flashlight to check the water level. The fountain lasts about 3-4 days without refilling.
Make sure not to overfill the fountain, you need to pour water up to the fill line marked inside.
The filters that work with the Catit Flower fountain are the same filters used by the Catit Design Senses. The filters that appear as add-on do not fit snugly into the unit.
To avoid fungus formation, make sure to rinse the unit daily if possible.
CONCLUSION
Catit Flower Fountain offers a good value for money and its design is simple and easy to disassemble for cleaning. It works in the sense that provides cats a source of moving filtered water. The negative point is that the unit is made of plastic that hasn't been treated, without antibacterial properties and this means you'll need to wash this unit several times a week.
√ With that being said, Catit Flower fountain may be suitable:
For kittens or medium sized cats
For cats that like small flows of water
If cleaning (by hand) and sanitizing the fountain at least twice a week
x This unit may not be suitable:
For large cats
Cats that prefer to drink from abundant water streams
Skittish cats
If you don't have time to clean the fountain often
If you want a sturdy unit
Note: there is a small percentage of cats that can develop chin feline acne drinking from a plastic fountain. This chance increases if you don't keep the fountain clean.