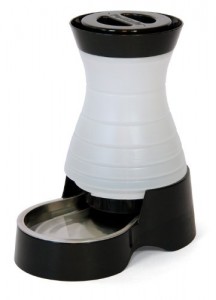 PetSafe Healthy Pet Water Dispenser Review
The PetSafe Healthy Pet Water and Food Station is a gravity water dispensing system with a unique removable stainless steel bowl that is easy to clean and dishwasher safe. This stainless steel bowl is suitable for cats with chin acne to plastic and skin irritations.
With high temperatures, you can sanitize the stainless steel bowl to prevent it from forming micro-organisms and bacteria.
Petsafe Healthy Pet Water features a with a flow-control valve inside the unit that fills the bowl as your cat drinks the water. You can use the optional filter that is sold separately. The filter removes chlorine, sediments, and odor from the water your pet's drinking.
FEATURES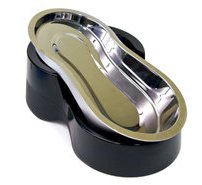 Removable, stainless steel bowl.
Easy to clean, dishwasher safe.
With water Flow-Control Valve system that prevents water from spilling during refilling and carrying.
Automatically dispenses water from the reservoir when attached to the base.
BPA free plastic.
With optional purifying filter (sold separately)
Durable plastic lock-in reservoir.
It comes in small, medium and large size for different pet's needs.
For indoor use only.
HOW DOES IT WORK?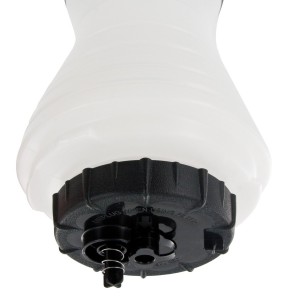 The PetSafe Healthy Pet Water Station works with gravity system and a flow-control valve inside that fills the bowls as your cat drinks the water and also prevents from spilling when filling or carrying the unit. The valve system works when the reservoir is attached to the base of the unit.
To fill this unit you have to do it from the bottom as the top does not have an opening to fill the reservoir.
Once you fill the unit with water and put it upside down its control-valve system stop the water from falling out the reservoir. As soon as you lock the reservoir to the base the spring mechanism starts working. This means that even if your cat tip the unit over (this would be highly unlikely as the waterer is very sturdy) the water won't come out.
PETSAFE HEALTHY PET WATER STATION SIZES AND CAPACITIES
Station Size
Dimensions (inches)
Water Capacity
Calculate Refill Time:  Pet Weight
10-pound cat/dog
50-pound dog
100-pound dog
Small
9.8 x 6.5 x 10.5
0.5 gallon (2 L)
Refill every 6 days
Refill every day
Refill every day
Medium
11.7 x 7.7 x 13.8
1 gallon (4 L)
Refill every 12 days
Refill every 2 days
Refill every day
Large
15.8 x 10.3 x 19
2.5 gallons (9.5 L)
Refill every 31 days
Refill every 5 days
Refill every 2 days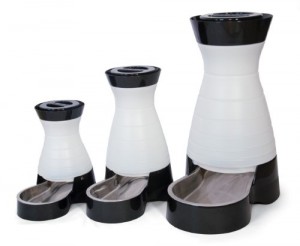 THE PETSAFE HEALTHY PET WATER DISPENSER WORKS EVEN FOR RABBITS!
TIP & TRICKS
It is a good idea to wash the bowl every time you fill the reservoir as well as the water bottle. To do it, you disassemble the unit with 5 parts that are dishwasher safe.
PROS
The unit is durable, with high quality and stable.
Made with BPA free plastic.
With stainless steel removable bowl, good for pets with allergies.
With spring-loaded fill feature that allows you fill it from the bottom and to upside down the unit and no spill.
Very easy to clean and setup
Parts have no rough edges and they fit together smoothly.
It can be used with or without the filter.
With handles at the top to carry the reservoir.
Easy to fill and place in the base.
Not electric or batteries needed
CONS
The system does not dispense properly when water is about 15-20% left.
You can't fill the unit from the top.
Big sizes filled with water are heavy to carry and upside down.
Big sizes might be hard to fill them in regular sinks.
The filter has to be purchased separately.
Cats cannot see water level when drinking due to the stainless steel bowl.
CONCLUSION
PetSafe Healthy Pet Water Station works as described, although in pictures the unit can be mislead because of the lip on the top. This lid is only decor and you cannot fill the water feeder from the top. However, this cat water dispenser works providing water to your pet. If you use the filter you can get rid of plastic smell in the water your pet drinks.
√ I recommend this water dispenser especially:
Large size, for multiple pets that consume water fast
Using the small size for one cat.
For cats with chin allergy to plastic.
Good if going on a trip for some days.
X I don't recommend this unit:
For cats that drink water only from sources with water in movement
Not recommended for disabled people or elderly that has to carry the unit filled with water and upside down.