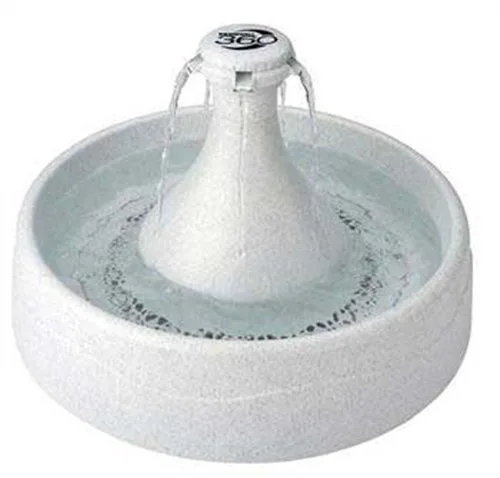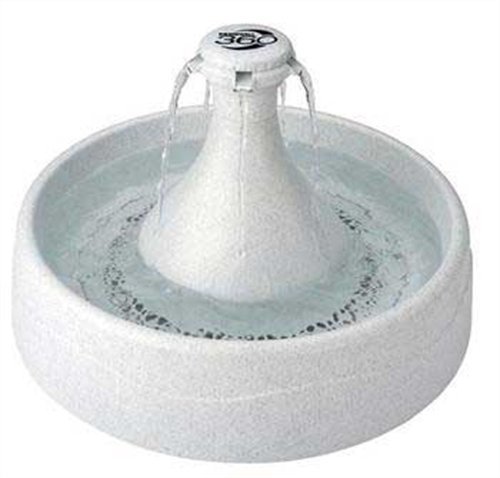 Drinkwell 360 Drinking Fountain Review
Drinkwell 360 Pet Fountain encourages your pet to drink more water as it makes drinking more attractive and fun for your pet. The fountain helps you to eliminate the traditional bowl where stagnant water creates bacteria much faster. A 5-inch free-falling water stream and the 360 degrees design helps your pet drink water from any angle, so it does not have to wait its turn to drink, so it is ideal for multiple pet households. The fountain holds 128 Oz of water and it has an adjustable flow stream.
The Drinkwell 360 original has a replaceable charcoal filter that eliminates bad taste and odors and a pre-filter that helps to prevent hair to get into the pump. The pump is submersible to help a quieter operation. The receiving ramp helps to keep water from splashing into the floor. The rubber bottom keeps the fountain from sliding.
The fountain runs on a low voltage 12-volt system that plugs into a wall outlet. Drinkwell 360 is made with BPA-free plastic and is dishwasher safe.
FEATURES
Supplies moving water that encourages your pets to drink more
Good for multiple-pet households
Replaceable charcoal filter helps to eliminate bad tastes and odors
With pre-filter to protect the pump
Includes five interchangeable spout rings
Rubber feet that prevent the fountain from sliding
The performance of Drinkwell fountain with multiple pets will depend on the size and number of pets in the household.
Patented free-falling stream entices pets to drink more water
Receiving the ramp helps to reduce splashes.
Dishwasher safe (except the pump)
BPA free plastic
Product Dimensions: 13.5 x 13.5 x 8.8 inches; 3.4 pounds
One-year manufacturer's warranty.
VIDEO OF A KITTEN DRINKING FROM DRINKWELL 360
HOW TO CLEAN THE DRINWELL 360?
It is recommended to clean the entire unit at least once a week, including the pump. The nice feature of the Drinkwell 360 is that you can unplug the cord without unplugging it from the wall outlet; once that is done, you carry the unit to the sink or bathtub to clean it. You have to make sure to do these basic steps:
Disassemble the unit to properly clean it. There are several parts to take apart so you have to remember where they all fit together.
The first thing to check is the pump to make sure it does not have cat hair.
Wash all the parts. A very good tip is to wash the parts with vinegar and let hot water run through them.
Change the filter every two weeks or as needed.
Refill the fountain.
Note: Instructions say to change the filter every two weeks. The full process of cleaning, reassembling, and filling the fountain, takes between 20 to 25 minutes.
PROS
Easy to assemble/set up
Quiet when operating (unless the fountain is getting low in water)
Easy to fill (when it gets below the minimum level, you just pour water into it)
It's relatively easy to clean (with a toothbrush it is much easier)
With pre-filter to protect the pump
With a charcoal filter to keep the water fresh and clean
With interchangeable spout rings to customize with 1 up to 5 water streams.
Suitable for kittens, single adult cats, or multiple cats
Adjustable water flow
Nice design
BPA-free plastic.
Solidly built
Cats cannot knock it over
Rubber feet prevent cats from moving the fountain around the room.
CONS
Often cleaning maintenance to keep the pump working (even more often if you use hard water)
The fountain gets noisy if the water level gets too low, (a pro in the sense that reminds you to fill the fountain so you don't burn out the pump)
You have to fully disassemble the unit in order to properly clean it.
Filters have to be changed often.
Pre-filter is made with foam
Some parts are not dishwasher safe
It gets slimy quickly.
Splashing noises might scare some cats
If filled in maximum level and adjusted in high, the splash gets into the floor.
The fountain diameter is big
The pump loses power as time goes (according to some customers)
The pump clogs up fast (especially if you have long-haired cats),
The bottom edge can be sharp if lifting the unit when filled with water
The drinking bowl is a bit narrow for larger cats
TIPS GIVEN BY CURRENT CUSTOMERS 
To save money on filters, you can buy reusable filters. The price of the filter is high but it will pay for itself.
To protect the floor, get a mat to use underneath the fountain.
If you don't want the fountain to splash, adjust the stream to low.
To easily clean the unit, the GUM Go Between Wide Proxabrush Cleaners-8ctworks wonderfully and it can be reused many times.
If you have large cats, the fountain may be suitable for up to 2 cats to drink at the same time.
CONCLUSION
Drinkwell 360 pet fountain works as advertised and it encourages pets to drink more water.
It is a good solution for people who only want to avoid the daily task of pouring water into the bowl and for people whose cats are permanently jumping into the counter for water.
Drinkwell 360 like any other automatic pet fountain needs a lot of maintenance, to ensure the pump works properly.
The disassembling and cleaning process is not a breeze; it takes about 20 to 25 minutes to do it all.
Replaceable filters have to be changed often so it might be a good idea to use reusable filters to save money in the long run. However, the unit can work without filters.
As with any automatic pet fountain the pump has not been made to last forever, so don't expect the device to last for several years, however, this is a very good system to encourage your cats to drink more water so the price you pay is worth it if your cat really needs to increase its water intake.
If your cat is allergic to plastic, there is a stainless steel version of the Drinkwell 360.
Because of all these reasons and pros and cons of the Drinkwell 360 Pet Fountain,
I recommend this fountain:
For cats that like to drink from moving water
If you have time on weekends to fully clean the unit (about 20-25 minutes)
If you don't mind spending money on filters
To be used without filter only if you use filtered water
If you don't mind splashing water noises
For short-haired cats that don't play with the water before drinking it.
x Not recommended:
If you don't want to weekly clean the entire unit.
If you don't want to spend money on filters
If your cat likes to play with the water before drinking it
Cats with long hair (if you don't want a clogged pump often)
If you don't want your cat's water to have contact with a pre-filter made with foam.
If you want a pump that will last forever