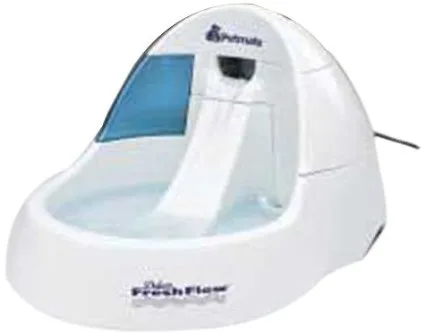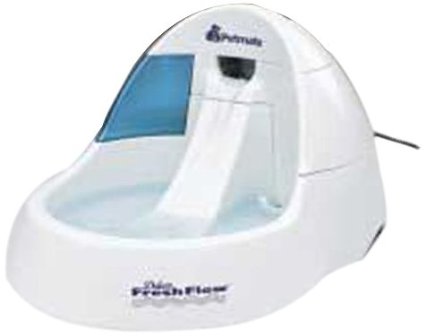 PETMATE FRESH FLOW FOUNTAIN REVIEW
Rating: 3.4 stars | Petmate Fresh Flow Pet Fountain is a quiet purifying fountain that encourages your cat to drink more water as pets love fresh flowing water. Special charcoal filters purify the water and a silent-operating submersible pump helps to supply cool and oxygenated water.
The unit includes a transparent 108 Oz reservoir that automatically adds water to the drinking bowl as the water level gets low. Additionally, the unit comes with 120-day supply of charcoal filters that help to remove impurities and odors. This pet fountain features a unique design with angled ramp prevents water from splashing and getting to your floor and special rubber feet to keep the fountain from sliding.
The Petmate Fresh Flow fountain comes in three colors: bleached linen, black and white. And it offers three sizes: 50 Oz water capacity with dimensions of 10.9"x 9.25"x 5.2", 108 Oz capacity, dimensions 14.1″ x 10.1″ x 7.7″ and 216 Oz. capacity 17.4″ x 14.4″ x 8″. This particular review is for the 108 Oz. capacity version.
FEATURES
Adds oxygen, filters water, cools naturally, reduces bacteria
It comes with a 120-day supply of charcoal filters to remove impurities
AC adaptor plugs into standard household outlet
Silent when operating (must keep water level above the submersible pump)
Moving water encourages pets to drink more water
Easy to assemble
With extra 108 Oz. capacity translucent water reservoir
12 Volt motor (UL listed)
Convenient handle at the bottom of the unit for easy lifting when it's full.
Dimensions: 14.1 x 7.7 x 10.1 inches; 1 pound
For indoor use only
Manufacturer's Limited One-Year Warranty
WATCH A CAT DRINKING FROM THE PETMATE FRESH FLOW FOUNTAIN
PROS
Quiet when operating (keeping the water level not low and the fountain clean)
Extra 108 Oz. water reservoir, so you don't need to refill as often
The constant running of water helps to keep the water cool and fresh.
Easy to fill, you just detach the reservoir from the back of the unit and fill it with fresh water. Put it back in and close the compartment.
The unit comes with two filters
Its unique design keeps the water from splashing and getting on the floor
Not noisy streams falling into the bowl
Replacement pump available
With non-slip feet
Good price
One year manufacturer's warranty
CONS
It builds up mildew easily if you don't clean it regularly
The pump gets clogged easily with particles, hair, etc.
You have to buy filters
To clean it is not as complicated as other fountains, but is not a breeze either
Filters seem not to work properly which leads to a frequent maintenance.
Not dishwasher safe
The pump gets loud if the water level gets too low or if it gets clogged with hair.
The water reservoir could be small for several pets.
HOW TO USE THE PETMATE FRESH FLOW FOUNTAIN? 
Plug the unit to make it operate. You might hear a humming noise when you do this; it is the pump getting started so don't worry, it is part of the process. When done, you should see a little stream of water falling. It might take from 2 to 3 minutes before the fountain starts showing the running water on the water-slide.
The induction to this fountain to your pet has to be done as a process. To make your cat used to this, you should put the unit close to the regular water bowl. Once your cat gets familiar with this new fountain and starts using it, you can take the regular bowl away.
To refill it, you do the same process of detaching the back reservoir and filling it with water, fill the bowl reservoir with water as well. Never leave the water level too low or the machine will start making loud gurgling noises.
After a week of use, it is a good idea to check the filter to make sure is not full of hair, if it is, just wash it and put it back. The filter should last up to 60 days, but this will depend on how many pets are using the fountain.
You have to clean the fountain deeply (including the pump) at least every other week to keep the unit working properly and ensuring the functionality of the pump. To clean the Petmate Fresh Flow you have to disassemble the unit and wash the parts by hand with mild dish soap. The parts are not dishwasher safe.
These are general instructions for basic information only. More detailed information in the owner's manual.
WATCH A VIDEO HOW TO CLEAN AND REFILL THE FOUNTAIN
TIPS FOR A MORE EFFICIENT USE OF THE FOUNTAIN
If you want to keep the unit clean longer, you can add silver sol water to the reservoir: this helps to maintain the water clean, pure and the silver is also good for cat's immune system.
You have to change filters after several weeks or when: the water flow slows down, your cat stops drinking water or debris block the filter screen.
To help the filter to last longer you can use filtered water.
If you have hard water it is a good idea to clean the parts with vinegar and soda to remove hard water accumulation.
Note: The Petmate Fresh Flow's reservoir does not discharge water continuously, only when the bowl drops to a certain level.
CONCLUSION
The Pemate Fresh Flow pet fountain does what it's supposed to do: give your cat a moving source of water which encourages your pet to drink more.
The unit has mainly two downfalls though: it is not a breeze to clean it and the pump gets clogged periodically. So you have to do an often maintenance (as any automatic water fountain) if you want to ensure its operation.
As the filters don't seem to filter the water properly, it is a good idea to use this fountain with filtered water. If you use filtered water and keep the unit clean often, you will enjoy a good product that will make your cat to drink more water.
The 108 Oz capacity is a little small for several pets (more than 2). For the reasons mentioned above and the pros and cons of this fountain;
√ I recommend the PetMate Fresh Flow Pet Fountain 108 Oz if:
You will use the unit for one or two cats maximum
If you are tired of your pet drinking water from the faucets or the toilet.
If you use the unit with filtered water (to make your life easier)
If you are willing to do a periodical maintenance to the fountain (such as not to leave the water go low and clean it at least twice a month)
If you don't mind humming noise of the motor (it is pretty quiet when filled with water and clean)
x I don't recommend the Petmate Fresh Flow 108 Oz:
If you want to use it for more than 2 pets.
If you don't want to buy filters or neither to use filtered water.
If you don't want to do maintenance to the fountain
If you want a very silent unit.
Cats with allergy to plastic