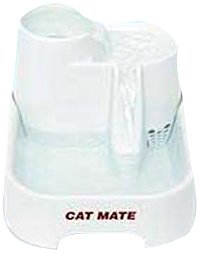 Cat Mate Pet Fountain allows your cat to have a fresh and moving source of water to increase its daily water intake. Its special design makes it very silent when operating and helps cats to drink from it with its multi-height fountain levels with fresh water in movement to ensure oxygenated cool water all day.
Cat Mate Pet Fountain is easy to disassemble to clean and dishwasher safe. The unit works with replaceable polymer-carbon filter cartridge to ensure purified water for your cat. This water dispenser is suitable for cats and small dogs as well. The unit has a 70 fl Oz (2 Liters) water capacity.
FEATURES
With multi-height water drinking levels
70 fl Oz (2 Liters) water capacity
10-foot cord length and low voltage power supply
Polymer-carbon filter to purify water
It is suitable for cats and small dogs
Product Dimensions: 6.8 x 10.5 x 8.8 inches; 2.2 pounds (1 kg)
Dishwasher safe
Disassemblable for easy cleaning
HOW TO USE IT AND CLEAN IT
To fill it, you can pull the cord apart instead of unplugging the unit from the wall. When doing this, you will have just a small part of the cord making it easier to take the unit to the sink.
The Cat Mate Fountain lifts apart easily and you fill the water from the bottom section; the pump is attached to the top with a plastic piece that you swivel it to one side and pull it off. When you fill the fountain you also clean the top, the bottom, the pump, the filter or change it and put it back together. Add water. Plug wires back together and the Cat Mate Fountain is ready to go.
WATCH A CAT DRINKING FROM THE CAT MATE DRINKING FOUNTAIN
PROS
Easy to setup
Easy to clean
Easy to fill
Easy to disassemble and reassemble (the pump is easily removable for cleaning)
Very quiet when operating
Different water levels make your cat choose from where he wants to drink from, which is more appealing for your pet.
Good price
The fountain does not splash and fits easily in corners.
It keeps the water fresh and cool.
You can unplug the cord from the fountain
Charcoal filter
It has different speed options
CONS
It gets grimy very quickly
The unit is not very sturdy.
You cannot wait until the water level is low to refill it.
The filter doesn't fit tight into the bottom of the fountain, which means hair and other small particles go under the filter and get trapped in the pump.
TIPS
Make sure to keep this unit clean from residues that the pump collects and this way the fountain will keep working properly. If not, the pump can get clogged and quit.
If you don't receive instructions with the fountain, Customer Service will email you the instructions upon request.
If the fountain starts getting noisy you have to check the water level. The motor noise gets louder if the water level goes below the minimum mark on the side of the bottom bowl.
To avoid fungus or bacteria formation, you have to clean the unit often.
CONCLUSION:
The Cat Mate pet fountain it is a good water dispenser for a cat that insists on drinking moving water. It is much quieter than other brands and easier to disassemble and clean as well. As all water fountains, the Cat Mate might not be suitable to all cats, some of them might love it and others won't even try it.
The filter seems to not filter properly and so all the little particles go to the pump making it dirty often. The good thing is the unit is easy to clean.
Even though the Cat Mate has good winning points in comparison to other brands such is being quiet when operating and easy to clean, it seems to have a downfall which is the durability. Several customers stated this waterer did not last a long time. For all these reasons:
√ I recommend this Cat Mate pet fountain only if you meet as follow conditions:
You have a cat or cats that insist on drinking moving water.
If your cat really needs to increase its daily water intake.
You are willing to clean the unit very often
If you don't mind to buy filters.
You are willing to give up durability in order to get a much quieter unit that is easier to clean than other brands.
X I don't recommend the Cat Mate pet fountain if:
You don't want to keep cleaning the unit often.
You don't want to buy filters
You want a built-to-last unit (years)
You don't want to fill the water dispenser often.