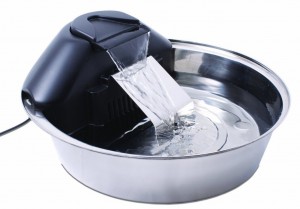 Drinkwell Zen Pet Fountain Review
The Drinkwell Zen Steel Fountain gives your pet aerated and fresh water with a 128 Oz (1 gal.) holding capacity. The Drinkwell Zen has a submerged pump for quieter operation and creates a free-falling oxygenated water stream enticing your pet to drink more. Constant circulation of the water helps to inhibit bacterial growth and slime.
The fountain comes with a 3-layer charcoal filter that removes bad taste and odors and it can be changed when needed. The stainless steel body is hygienic and easy to clean and a wide bowl facilitates your pet to drink water.
The Drinkwell Zen Steel Fountain has a receiving ramp which helps to reduce water sound and splashes. The unit runs in a low-voltage – 12V.
FEATURES
128 Oz (1 gallon) water capacity
Patented free-falling stream encourages pets to drink more
Wide stainless steel bowl makes it easy for pets to drink out of
3-layer replaceable charcoal filter eliminates bad tastes and odors
Receiving ramp helps to reduce water sound and splashes
Low-voltage, 12V submersible pump for a safe and quiet operation
Dishwasher safe (except the pump)
BPA Free & UL Listed
For indoor use only
It uses PAC00-13068 Drinkwell Replacement Filters 3 pack
Product Dimensions: 13.4 x 13.4 x 6.3 inches
PROS
Stainless steel bowl is more durable and healthier for pets
The bowl is easy to refill, just pouring water into it.
Very easy to set up
Easy to disassemble
It is easier to clean than other automatic fountains. Cleaning the bowl part is a breeze.
It holds a good amount of water (128 Oz) so you don't have to constantly refill it.
Cat's hair and other particles get filtered out before it clogs the circulation system.
With a receiving ramp for the falling water to run along
The bowl is a good size for cats to drink from
CONS
Loud if the water level goes low, the splash sound gets loud as well.
Tricky to reassemble the unit after cleaning it.

Recommended filters don't fit properly with the fountain.

It is very big (a pro in the sense that it holds more water)
Cats need to get used to the reach to get to the waterfall area. Not good for small cats.
It does not have reservoir tank
It tends to splash water outside the fountain
Hard to clean the inside area where the sealed pump is
Flat water coming out from the top sometimes gets divided in multi streams, making the fountain louder.
Some parts of the fountain are plastic (water pump cover and filter housing are plastic)
TIPS & TRICKS
Make sure to remove the pump before placing the fountain in the dishwasher.
Get a dozen filters, change them every two weeks and you are good for almost six months.
When disassembling the unit for cleaning, pay special attention in how all fits together to make sure you will reassemble it correctly.
It is a good idea to touch and feel the sides of the bowl to ensure it is not getting slimy.
VIDEO WITH TIPS TO CLEAN THE FOUNTAIN
CONCLUSION
Drinkwell Zen Steel Fountain is a good pet fountain that does what it is supposed to do which is to give your pet a fresh and clean stream of moving water. As any automatic pet water fountain not every cat might drink from it. Some cats don't like noises when it's time to drink water.
Also, the unit needs maintenance often: 1) Clean the bowl every two days and pouring water often, depending on how much pets are using the fountain and the climate. 2) Disassemble the unit and clean it deeply, every week. 3) Change the filter every week or when needed (this depends on how many pets use it, if they play with the water or if you have long haired pets).
Because of these reasons and pros and cons of the Drinkwell Zen fountain,
√ I recommend the unit:
If you have time for weekly cleanings
If you are willing to buy filters
If your cat is used to drink from moving water
If you have enough room to place the unit
For big cats
x I don't recommend it:
For cats with long hair or cats that play with the water before drinking it
If you want a quiet fountain
If you are not good reassembling things
For small cats that only drink moving water
If you don't want water splashes in a fountain
If you don't want to buy filters
If you don't want to do cleaning maintenance