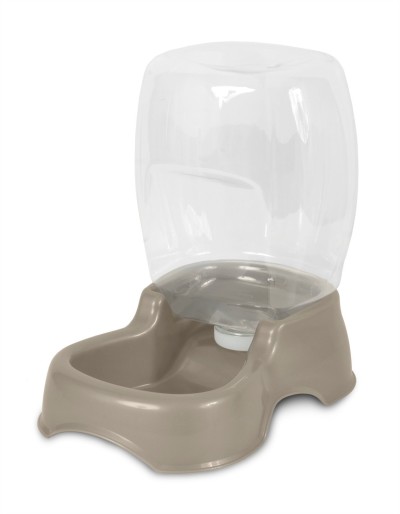 PRODUCT DESCRIPTION
Petmate water dispenser is a gravity water feeder which provides your cat a long lasting source of fresh water, essential to keep your cat hydrated and healthy.
The unit is very easy to clean and refill, consisting basically in: a bottle made from safe PET (a thermoplastic polymer resin) plastic with recessed handle for easy lifting and a bowl.
When the water levels go low, the water hopper automatically fills with more fresh water. The water hopper has a large opening making it easier to use a brush to clean it and a non-drip spout to prevent overflowing.
A non skid rubber base helps the waterer stay in place, good for sloppy drinkers.
The Petmate Cafe waterer has a nice fashionable design that matches any decor and it comes in: pearl tan, pearl blue, pearl waterfall blue, pearl lady pink. Petmate Cafe waterer comes in 3 sizes:
Small: 0.75 Gallon, suitable for cats
Medium: 1.5 Gallons, suitable for medium pets
Large: 3 Gallons, suitable for big dogs
This review is for the ¾ (0.75) Gal suitable for cats.
FEATURES
Gravity water feed system, gives a long lasting source of fresh water to your cat.
It keeps your cat hydrated
Good for a single or multiple cats
Easy to clean with its large bottle opening
Non-drip spout to prevent overflowing
Recessed handles for easy lifting
Ecologically friendly bottle made from PET plastic
BPA free
Non skid rubber base to prevent sliding
Fashionable design
HOW IT WORKS
The system is simple; a water hopper feeds by gravity the bowl from where the cat drinks.
A good way to refill the waterer without spilling is to unscrew the cap, fill the bottle with water, put the cap back on, place the bowl on top of the bottle as a lid, flip it leaving the bowl on the bottom (all this in the sink) and then place the unit on the floor. This way the water will fill the bowl with no inconvenience.
The cap that goes on top of the bottle regulates the amount of water that comes out. The bottle's mouth diameter of the ¾ Gal waterer measures approximately 1.75" (4.5cm).
PROS
Easy to clean and refill.
It provides a long lasting source of fresh water for your cat.
Very stable with rubber base.
Very good water capacity, with a ¾ Gal unit you have to fill the waterer once every week or so in a cool weather (in hot weather, every 3 days or so to keep the water fresh and avoid mold).
The unit gives you a peace of mind, "set it and forget", low maintenance.
Good for multiple cats
It does not overflow
Sturdy plastic
Good value for money
Good price
CONS
It is hard to screw the lid on the bottle. Often cross-threading.
The air bubbles going to the top of the bottle while pets are drinking scare them.
The packaging label claims "dishwasher safe" but the bottle's shape changes after a washing cycle, making it impossible to screw the cap back on.
Even though the wide bottle's mouth makes it easy to clean with a brush, a hand does not fit inside the bottle.
Some "bad" cats may be able to tip the waterer over.
To clean the bowl you need to empty the bottle.
TIPS
On hot days, put ice cubes in the bowl to keep the water cool.
Place the waterer on a mat to protect your floor.
As mentioned previously, place the bowl on top of the bottle before flipping it over to prevent water spillage.
CONCLUSION
Petmate Cafe waterer is a good water gravity feeder that works as advertised for a very good price. One flaw that some customers mentioned is that this unit is not dishwasher safe and it's a little tricky to wash it by hand.
If your cat is skittish to noises or movements (the air bubbles are distracting and they make noises), this waterer may scare him/her so it may not be the best for your pet. Otherwise, this waterer is good for the price and you will have several days worth or water for your cat.
? I recommend Petmate Cafe waterer for:
Well behaved cats that don't tip dishes over
Cats that drink lots of water
Single or several cats
x I don't recommend it:
Very picky cats when it comes to drinking water
Skittish cats that get very nervous with noises or movements
The "timber" type cats (tipping stuff over)
Hot climates
If you want a dishwasher safe unit