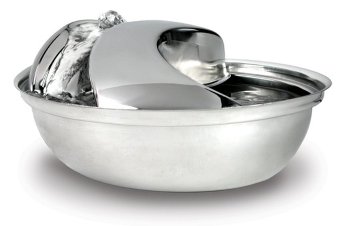 Pioneer Raindrop Stainless Steel Fountain Review
Pioneer Pet Stainless Steel Raindrop with a 60 Oz (1.77 L) capacity of moving water, offers two drinking areas for cats to drink from, the top where the water comes from and the bottom.
Pioneer pet fountain's unique and elegant design has a slide that helps to prevent splashing and gives a moving water area for pets to drink from. Some cats like to drink and lick the slide part of the fountain too. Increasing the water intake keep cats hydrated and healthy.
A quiet pump ensures constant circulating and oxygenated water for cats to drink and the fountain uses a replaceable charcoal filter to keep the water clean and pure from debris and hair. The Pioneer stainless steel fountain is easy to clean and dishwasher safe.
FEATURES OF THE PIONEER STAINLESS STEEL FOUNTAIN
Water stream continuously washes the bowl for optimal cleanliness.
Premium Stainless Steel
Capacity: 60 oz. (1.77 L)
Product Dimensions: 4 ¼"H x 9 ¾"W x 11 ¾" L
Product Weight: 1.7 lbs.
Water is purified with a premium replaceable charcoal filter.
Patent pending design holds for filter and electric pump.
Safe and low voltage UL listed power system.
Six feet (1.82 m) long power cord.
Moving and circulating water entices cats to drink more
Dishwasher safe
Stainless steel is very easy to clean
Modern and elegant design fits with decor of any room
PARTS OF THE PIONEER STAINLESS STEEL FOUNTAIN
The unit consists in 3 parts: the pump and housing, the bottom and top of the fountain. The housing contains the filter which is a small plastic clam-shell filtration case that holds the small carbon filter.

HOW IT WORKS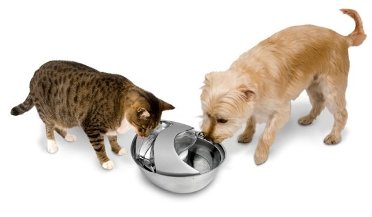 Water comes from the top part and then it runs through a slide to drop to the bottom. Cats can drink from the top part, licking the slide area or drink from the bottom part.
The Pioneer stainless steel raindrop design uses a charcoal filter that is located in the housing area of the pump.
UNPACKING & SET UP OF THE PIONEER RAINDROP
HOW TO CLEAN IT
The cleaning process is very simple: unplug the unit, take the top off, the plastic housing out of the bottom part and the pump out of the housing, scrub everything down (even better if you let them soak a little with vinegar), rinse all parts deeply and dry. Then reassemble the unit.
PROS
Easy to assemble and take apart (only three parts including the filter)
Very easy to clean
Good, steady and well aerated flow
It is quiet (like a hum of a refrigerator but lower, but if water level is low it gets quite noisy).
Two areas where cats can drink from: top and bottom (some cats drink from the slide area too).
Easy to place in the dishwasher and it is dishwasher safe.
It is sturdy and with elegant design
Pump is replaceable
Stainless steel helps to prevent bacteria buildup and it keeps water cooler
Cats have no contact with plastic parts, good for cats with chin acne to plastic.
Water running on the slide minimizes splashes
CONS
Very loud if water level goes low (it vibrates more). Pouring more water or gently pushing the "spout" towards the base fixes this.
It needs refilling often (daily or every other day, depending on the cat's water intake).
No extra reservoir.
It has to be disassembled periodically and the process takes some time (getting the pump housing to clamp together could take a while).
Water stains are not easy to remove
Instructions are not very clear
Cord plug detaches at the power source, instead of the pump (the cord has to be taken all the way in and all the way out any time you want to carry the fountain).
TIPS & TRICKS
You have to keep the fountain full and do a fast cleaning to it every week.
The fountain will require a deep cleaning (disassembling the unit) every two weeks to ensure the pump's operation. There are videos on YouTube how to clean the fountain.
When cleaning the fountain a good idea is to spray all parts with vinegar and let it sit a bit then wipe all with a clean rag and rinse the parts profusely. With vinegar you help to remove hard water stains before they get to the point when they cannot be removed.
When assembling the unit, make sure that you have aligned the 3 pump elements correctly: the pump spout has to match up with the holding spout, which must line up with the hole on the top part of the fountain.
Make sure to place a mat underneath the fountain.
CONCLUSION
Pioneer Stainless Steel raindrop design fountain works as advertised and offers cats circulating and fresh water with different sections to drink from. This fountain has a better rating than its ceramic version, but as any automatic fountain it needs maintenance often such as refilling and disassembling for deep cleaning and changing filters. The normal routine with this water fountain would be: pouring water in it every day or every other day, a fast cleaning every week, deep cleaning including pump, every 2 weeks and changing filter every 3 weeks.
The Pioneer Stainless Steel raindrop design is a little noisier than the Pioneer Big Max version. The fountain makes a humming noise and it gets louder if you don't keep it full with water. A timid cat or a cat that has never used an automatic waterer might get scared from the noise and here you will have to take your chances because with cats you never know. A cat might walk away from it and never get close to it again, or keep approaching it and finally take to it. Some cats start drinking from the fountain immediately.
The fountain can accommodate nicely two cats drinking from it. Although, I would not suggest the fountain to be used with more than 2 cats as the fountain would get messy and dirty quickly.
Before a year of use the pump seems to fail and there are pumps available for replacement. I must mention that practically all automatic fountains have pumps that have to be replaced sooner or later. The good thing with the Pioneer is that you can replace the pump so you don't need to buy a whole new unit again like with other brands.
BOTTOM LINE
√ I recommend this water fountain for:
Cats that need to increase their water intake
Cats used to drink from water fountains
Cats with allergy to plastic
I you don't mind doing periodic maintenance to the fountain (including buying filters)
x I don't recommend the Pioneer Stainless Fountain Raindrop design:
If your cat rejects noisy objects
To be used for more than 2 cats without other fountain as complement
If you have hard water and you don't want to clean the unit often.
If you don't want to pour water daily and you have 2 good drinker cats