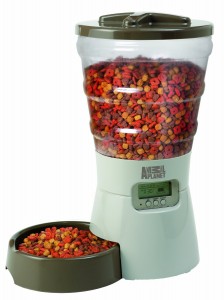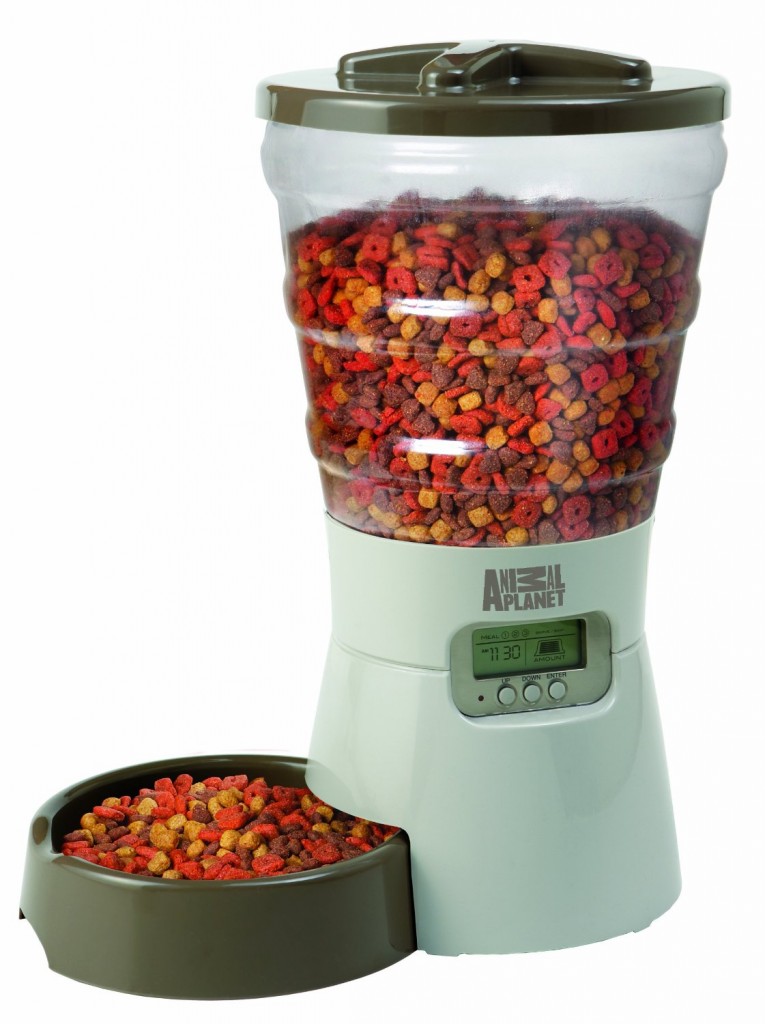 PRODUCT DESCRIPTION
Animal Planet pet feeder is an electronic automatic food dispenser with integrated digital LCD control panel that allows you to set the meal times at your convenience up to 3 meals by day and set the portions according to your cat's diet with a minimum of 1/4 of a cup.
The digital control panel is very easy to program with buttons "up" "down" and "enter" to set the times for each meal. The hopper has large capacity to hold up to 10 pounds of dry food (4,5kg).
It works with 3 "D" batteries (not included). Animal Planet feeder has a port to plug in a DC power adapter to run off AC, input specified is 4.5V at 800mA. If you use an adapter, the batteries have to be removed. Their main components are detachable for easy cleaning.
FEATURES
Integrated LCD control panel allows you to program customized meal times and portions
Feeds up to 3 meals by day.
Hopper has capacity to hold up to 10 pounds of dry food.
Main components are removable for easy cleaning
Cord-free convenient 3 "D" battery operation allows you to have portability
Dimensions are 17x11x19 inches.
Option to use AC adapter instead batteries.
PROS
Very easy to program and set the times with LCD panel control.
Friendly and well designed user interface. You don't need to read the instructions every time you need to make a change in the programming.
The feeder has been made with fine quality materials.
The clock is accurate and reliable.
Has the option of AC adapter not included.
Quiet when operating.
CONS
The feeder does not dispense accurately portions if using small and flat size pellet (1/4") or less diameter.
Cats can reach up inside the food chute and get extra food.
Feeder is tall and with a cat obsessed with food the hopper could get tipped over.
Hopper is thin and flimsy regards the other parts of the feeder.
Hopper's lid does not screw strongly on the base (see below in "tips" how to lock into place right).
The unit can use batteries or AC power, but not both.
It does not retain the programming when turned off.
TIPS TO USE THE FEEDER:
Animal Planet feeder performances better with large size pellet (1/2") diameter or with small round/spherical kibbles (1/4") diameter. This prevents jamming issues and also get accuracy in portions.
To make the lid stay on, you have to line up sections and twist to lock. This way the lid stays on fine.
Place the feeder in a corner to give it more stability.
This feeder is sensitive to low batteries, so if you get an "ERR" message while trying to operate, make sure to try a fresh set of batteries. However, some units came defective from factory, check the following video:
CONCLUSION
Animal Planet automatic feeder does not seem to be as desirable as other existing options to feed your cat. Customers in Amazon report some design flaws like the described above on the "Cons".
I would not recommend this unit as the first option because of the CONS mentioned and because some units came defective from the factory according to customer reviews and videos online. Though only some batches came defective in the past and they fixed that problem, this automatic feeder doesn't seem to be very reliable. I am sure it works well for some people but it's not a unit that I could blindly recommend.
This automatic feeder may not be suitable for your cat, especially if you match any of these situations:
If your cat is obsessed with food and very determined to get extra meals.

If you feed your cat small flat size pellet (1/4") diameter as portions are not accurate (portions are bigger) and the feeder might jam.
If your cat is on a diet
If your cat has 3-times-a day feeding schedule.
If you want a unit that assembles easily.
If you cannot or don't want to change your cat food to a bigger pellet.
If you have a cat that likes to tip things over with its paws.
Note: The normal daily intake for an adult active cat is half cup of dry food. Eating twice a day would achieve this intake. More than that, would exceed the recommended intake for a cat.