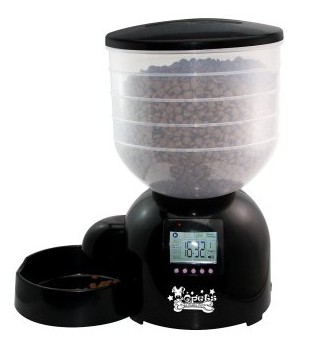 Star rating: 3.5 | The Qpets AF 200 is a programmable automatic pet feeder that allows you to feed your cat up to 4 times a day from a minimum of ¼ cup up to 5 cups at a time.
The unit has a large capacity of 10 lbs dry food and a transparent food container to see the food level with a screwed lid on top. The bowl is removable for easy cleaning. Also, this feeder features a built-in voice recorder and speaker for a customized personal message, calling your cat or dog to eat.
Q-Pets AF 200 automatic pet feeder works with 4-D batteries and it can be used to feed small and large pets.
FEATURES
10-lb capacity food hopper
Meals can be adjusted from 1/4 cup up to 5 cups at a time.
Built-in microphone and speaker for a personal voice message calling your cat or dog to eat.
It runs on 4-D batteries that may last up to 6 months if alkaline.
It can be used to feed small to large pets
Removable bowl, top rack dishwasher safe
Low battery indicator
Dimensions: 15"L x 9"W x 17"H
Weight: 3.5 lbs (assembled without batteries)
Limited manufacturer warranty for one year
HOW IT WORKS
After filling the hopper with dry food and screwing on the lid, you are ready to program the unit. With the control panel you can setup up to 4 meals a day, with half hours increments (e.g. 8:30, 14:30, 18:00). The clock does not have the am/pm format but the 24-hour format.
The Qpets can be programmed to feed every day or a group of days from 1 to 99. The feeder dispenses ¼ cup by default where 1 cup=1/4 cup so when you program the meal size, you put 1 cup, 2 cup, etc. For this reason you can increase the meals only by ¼ cups increments.
The Qpets AF 200 has a 1" horizontal screw shaped impeller which allows it to handle round and irregular shaped kibble well. When the unit is operating it's on "Running Mode" but you can setup the feeder in "Sleep Mode" if you don't want the feeder to feed at night.
You can record a personal message to call your pet to eat which will play 3 times per feeding. The volume of this recording can be muted. The feeder does not come with AC adapter, it works with 4-D alkaline batteries.
WHAT ARE THE PROS AND CONS OF THE QPETS AF 200 PET FEEDER?
The following are the good and not so good things about QPet AF 200 auto feeder, so you can make a well informed decision if you are thinking of getting this unit:
PROS
Easy to setup
Easy to program (instructions seem a little incomplete, but it's still simple to program).
It works well with small kibble
Reliable to dispense at the programmed times
Good capacity of hopper
Bowl is solid and dishwasher safe on top rack
Voice recorder to call your pet to eat
Good price
CONS
It does not have AC adapter. It works only with batteries (not included).
The feeder is lightweight when low in food, so it could be knocked over by a big cat or dog
Cats may pop the chute cap off the feeder and get more food from the opening.
Portions are not very accurate
Chute cap is too big and covers too much of the bowl area.
LCD panel is not lit so it's hard to program it while on the floor. You need to pick the unit up to do it.
Bowl and hopper don't stay attached strongly
TIPS
Specifications for AC adapter are: A standard 6V – 2.1mm ID (Inner Diameter). You can get the adapter at qpetstore.com
Limited manufacturer warranted applies against defects in material and workmanship, only for the benefit of the original buyer. So, make sure to keep your sales receipt.
CONCLUSION
The Qpets AF 200 dispenses food at the scheduled times and it has a good capacity to feed your pet without the worry of filling the hopper often. However, customers complain about portions accuracy and that their cats can steal some food from the chute with their paws.
Because of these points and the mentioned "Cons", the unit may not be suitable for cats, especially food-driven cats or cats that need very exact portions. The unit is more suitable for dogs, doing some little adjustments to make it more stable on the floor. I wouldn't consider the Qpets AF 200 the first option if you want a sturdy unit.