Petwant 5 meal pet feeder allows you to program your pet's feeding schedule up to 5 meals a day, one at present time. With Petwant's digital timer you can program each meal to be served to the hour and minute you choose, with no preset times like other feeders.
The feeder is suitable for dry food and if you want to feed your cat wet food, it needs to be served in less than 24 hours.
PetWant 5 meals pet feeder has CE/RoHS certificate. The CE marking certifies that a product has met EU standards for consumer safety, including health or environmental requirements.
FEATURES
24-hour Feeding Time Setting
Serves up to 5 meals per day, one at present time (with clockwise rotation)
Sensitive touch control panel
Blue backlight LCD display (1.77″ x 0.78″)
Low Battery Indicator
Built-in Distribution Alarm
10 seconds voice recording that plays 3 times before each meal
Locking Mechanism on lid
Memory Function that keeps the programming after a power outage
Non-skid feet to keep the feeder in place
Dishwasher Proof (Cover and Food Tray)
Feeder's dimension: 12″(L) x 13.2″(W) x 3.2″(H)
Capacity of each compartment: 240ml (total tray 240ml x 5)
The edge side of each compartment: 5.5" wide (the widest side)
Weight: 2.9 lbs
Material: ABS
Dual power supply system: 4x"C" alkaline batteries (not included) and/or AC/DC Adapter 5V/1A standard
100% Satisfaction Guarantee
WHAT COMES WITH THE UNIT
√ 1 x Automatic Pet Feeder
√ 1 x AC/DC Power Adapter
√ 1 x English User Manual
HOW IT WORKS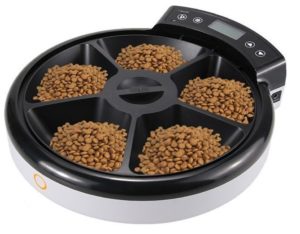 PetWant feeder can feed your cat up to 5 meals, one will be always exposed at present time. So only 4 meals can be programmed.
The inside tray with the 5 compartments rotates clockwise exposing one compartment at a time and the lid keeps still. This tray can be easily lifted out with the push of a button located in front of the feeder.
To program the unit you need to program the current time on the feeder, then program each compartment according to the number of meals to be dispensed in one day, up to 4. Finally, you can record your personal message calling your cat to eat.
With this feeder, you can set up a feeding schedule of one meal a day for 4 days or two meals a day for 2 days, etc. Only 4 meals are programmable since once it's exposed.
If you want the feeder to dispense one meal a day for 4 days, you just need to program one meal time to the hour of your preference, and then skip the other numbers. The tray will always rotate at the time of the day you chose so if you place the food in the 4 compartments, you can leave the feeder up to 4 days without refilling it.
The timer works similar to the cell phone alarm so it's really easy to program.
WHAT ARE THE PROS AND CONS OF PETWANT 5-MEAL AUTOMATIC FEEDER?
PROS
Easy to setup
Ability to work with AC adapter and batteries in conjunction, this way the feeder retains the programming if a power outage occurs or when changing batteries if kept plugged in.
It features dual supply power: AC adapter or/and batteries
It comes with AC adapter
Battery life indicator
Non-skid feet keep the feeder from moving around the floor
Tray is easily removable and dishwasher safe
You can customize a feeding schedule according to your cat's needs.
Secure locking system on top lid that can be only released by a push of a button.
Touch buttons are highly sensitive
With voice personal message calling your cat to eat
CONS
If the lid isn't snapped properly, a smart cat can outsmart the feeder and pull the lid from inside.
Food compartment could be narrow and deep for cats with a big head.
The audio quality of the recording isn't good.
Some customers report that voice recorder function doesn't work
Manual of user isn't very detailed
Programming it's in military time (24-hrs instead 12hrs)
It doesn't have ice packs, if used with wet food needs to be served in less than 24 hours.
There are no spare trays for backup
TIPS
Some customers freeze the wet food for a few hours and place it in the feeder for the next morning.
Placing the lid back on it's a little tricky because it fits very precisely without any play once it is locked.
CONCLUSION
PetWant 5 Meals Automatic Pet Feeder is a product made in China that is distributed for several brands, but the manufacturer is PetWant. The quality of this unit is higher than other low priced dish-shaped feeders made in China, however, a few customers report that the audio feature doesn't work. Anyway, the Company offers 100% satisfaction guarantee.
With this automatic feeder if you want to feed your cat several times per day you will need to refill the dish every day, but if you feed your cat once a day you can leave the unit for 4 days.
√ PetWant 5-Meal Automatic Pet Feeder is suitable for:
Cats that need to eat several small portions throughout the day, up to 5
For a docile cat that won't try to break into the feeder
For small faced cats
x The feeder may not be suitable:
For big faced cats
For cats with sensitive whiskers
If you want to leave the feeder alone for several days (unless your cat eats once a day)
To feed wet food for several days