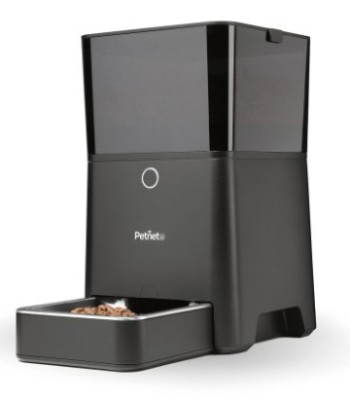 Petnet SmartFeeder Wi-Fi Feeder Review
Petnet SmartFeeder is an intelligent automatic pet feeder that you can program and control through your iOS device, SmartPhone, or iPad. This smart feeder allows you to remotely program a feeding schedule, select portions of food, feeding times, and how fast each meal will be dispensed, preventing cats from inhaling the food.
The feeding schedule and portions are fully customizable, you can program each meal at any time, any portion size from 1/16 cup (approx. 0.5 Oz) up to 1 1/2 cups (12 Oz) at a time. You can feed your cat several times a day, as much as you program the unit.
If you don't know what's the best amount of food for your cat or what's the best food for your pet, Petnet SmartFeeder's software is able to calculate the right amount of food for your cat and suggest you the best food for your pet based on its nutritional needs. Petnet iOS Apps has the largest pet food database. Also, this intelligent unit has the ability to control the food inventory in the hopper and notifies you if you are low in food so if you want, you can order more food through the Apps directly to Petnet and they deliver to your doorstep.
FEATURES
Petnet SmartFeeder allows you to manage your cat feeding activity in real time, anywhere in the world.
You can program feeding times, portion sizes and feed speed, according to your cat weight, age, and activity level.
Receive alerts and notifications on your Smartphone with feeding times, meal confirmations, food inventory, and battery life.
Petnet Apps helps you to choose the healthiest pet food for your cat from a large database, with thousands of pet foods and order more if you run low.
Portion sizes from 1/16 cup to 1 1/2 cups. Increments of 1/16th of a cup (Tbsp)
Kibble suitability 1/8″ – 5/8″ diameter, it works best with round kibble
Good hopper capacity of 5-7 lb of dry food
Food hopper and stainless steel bowl are removable and dishwasher safe
US A/C Adapter, built-in rechargeable backup battery and chew-proof cord
You can remotely do a manual extra feed at any time, pushing "One-Off" feed
Requirements: iOS 8 or Later
Made for: iPhone 4s, iPhone 5, 5s, and 5c, iPhone 6 and 6 Plus, iPod Touch, 5th Generation, now also for Android 4.4 KitKat or greater.
Connection: Wi-Fi connection 2.4 Ghz
Dimensions: 15.32"L x 8.70"W x 15.32"D
Bowl's depth: 2"
Weight:7 lbs
2-year limited warranty
New features: Better connection of the food bowl, stronger internal feeding wheel. A ramp that helps the kibble slide down the tray.
WHAT COMES WITH THE UNIT?
1) Main unit, 2) Stainless steel Bowl Insert, 3) Food Hopper, 4) Lid and Band, Micro USB cable (8ft) and 5) User's Manual.
Note: the manufacturer offers a special Petnet Ramp designed for helping big or irregular shaped kibble slide down the tray easily. You need to register your purchase and they will send it to you.
HOW IT WORKS
Petnet SmartFeeder can be programmed remotely from your SmartPhone, Android or iPod Touch, 5th Generation, using Petnet Apps from anywhere in the world. To integrate the feeder into your SmartPhone you simply need to configure SmartFeeder to your home Wi-Fi, following the instructions.
Petnet SmartFeeder uses sensors to detect if your cat is eating the right amount of food and to know if the hopper is low in food. It features a learning software that creates charts of your cat feeding activity. The unit stores and accesses data from the Internet Cloud, having a large pet food database from where Petnet suggest you the healthiest cat food for your cat according to its characteristics.
Using Petnet Apps you can program a feeding schedule that will be dispensed automatically. The feeding schedule programming is based in one-day-setup. This means you need to set up one day that will be recurring automatically every day. Consequently, the programming is not based on the 7-day calendar that you can program differently for every day. However, you can change the schedule whenever you want from your SmartPhone.
You can manage the Petnet only from your Smartphone, if you want a feeder that you can control from a PC or from your Smartphone you can check the Feed and Go automatic feeder. Petnet is cat-proof, it features a lid that can only be opened by turning in a counterclockwise direction and with 2 latches so it can only be opened by people.
PETNET SMARTFEEDER UNBOXING & REVIEW
WHAT YOU CAN DO ON YOUR SMARTPHONE THROUGH PETNET APPS: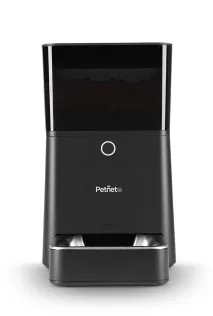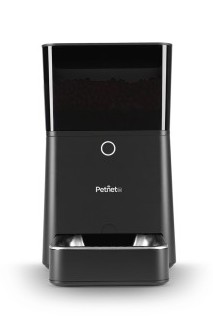 1. Program a Feeding Schedule. To program a feeding schedule you need to setup 3 things:
A. Choose the feeding times in the day (example: 8 am,5 pm, 9 pm). You can choose as many times as you want for your cat to eat during the day, 3 times a day, 4 times a day, 8 times a day, etc. And you can choose any time for each meal as well.
B. Choose the portion size for each meal (example:1/16 cup, ½ cup). The range goes from 1/16 cup up to 1 1/2 cups each meal. This allows you to choose a different meal size for a different time of the day, example big breakfast and small dinner, snacks, etc. You can opt for the feeder to calculate the ideal portions for your cat, based on your cat's weight, activity level, and age. You need to feed a cat food that is in their database for this.
C. Select the dispensing speed. This allows you to choose how fast the meal will be dispensed. The Apps shows you a line that goes from "Slow" to "Fast" and you move the pointer over this line to set up the speed as if you are setting a volume. This feature is useful if your cat gorges all its food at once and then vomits.
2. Feed a "One-Off Feed" at any time from your SmartPhone.
3. Check Alerts & Notifications. Petnet SmartFeeder Apps notifies scheduled meal times, when a meal has been served, how much food it's in the Inventory and the battery life.
4. See Feeding Insights: This option shows your cat's feeding chart with the amount of food your cat has eaten, if "Too Much", "Too Little" or "Just Right".
Petnet SmartFeeder Apps contains a large cat food database with nutritional values, matching your cat's nutritional needs with the best recipe available in their database. You need to enter your cat's characteristics of age, breed, weight, level of activity and the Apps will suggest you the best cat food for your pet, calculating the right portion as well. If you want to find your cat food in the Apps you can use your mobile device to scan the UPC Barcode of the food's bag and the Apps database will recognize it. If it doesn't, you can search for "Brand and Recipe". If your cat food is not in Petnet database, it will be added later once the bag's barcode has been added.
5. Food Delivery: You can order Petnet to supply your cat food every time your inventory is low, directly from your Apps. Petnet supplies the users preferred a choice of healthy pet food and they deliver to your door. This transaction is issued into a secure TLS encryption system.
VIDEO OF ONE-OFF FEED WITH THE PETNET
HOW THE BATTERY BACKUP WORKS
Petnet SmartFeeder works with AC adapter and battery simultaneously. The lithium-polymer built-in battery works as a backup in case accidental unplugs or power outages. The duration of the backup battery is up to 7-8 hours and Petnet App sends you a notification if your battery is running low. To charge the battery you have two options: plugging the micro USB cord directly into a charging outlet or disconnect the bowl and plug it into a charging outlet. The feeder does not work with external batteries.
PROS AND CONS OF PETNET SMARTFEEDER AUTOMATIC PET FEEDER
The following advantages and disadvantages of this smart automatic cat feeder will help you to decide with more accurate and reliable information:
PROS
Easy to set up, good instructions
Ability to program and control the unit remotely anywhere from your Smartphone.
Each meal is fully customizable in times and sizes.
Ability to program as many meals as you need within the App.
Petnet Apps can calculate the best size portions and healthiest pet food for your cat
You can adjust the speed of each dispensing, avoiding your cat to inhale the food
You can trigger an extra meal from your Smartphone in real time by pressing "One-Off" feeding
It reports you how many calories your cat is eating, excellent to keep your cat on a diet.
You receive notifications of meal times, meals served, food inventory and battery life.
You can order more food from Petnet if running low and they delivery to doorstep
Internal backup battery ensures operation if power outages
Stainless steel bowl and food hopper are removable for easy machine wash.
A sturdy and solid unit, with a low center of gravity it's not easy to tip it over or make it wobble.
Chew-proof cord
Feeder is quiet when dispensing
Secure lock type lid, with a twist-open mechanism.
CONS
It can't be set up or programmed without internet
It can't be managed through a website, only iOS Apps (so currently it does not work for PC's or laptops)
The feeder Apps only supports a single pet at a time.
The internal battery has a limit of 7-8 hours of backup when fully charged.
Sometimes, the unit loses connection.
You can't program in advance a different feeding schedule for each day of the week (Monday through Sunday)
A minimum amount of 0.5 Oz might be too much if you want to feed your cat few kibble as snacks.
Bowl is not big enough to feed two cats.
Internal rubber wheel deteriorates contaminating the food (now it has stronger feeding wheel)
Some pet foods are not in Petnet's database (SmartDelivery is still in beta)
Sometimes, some kibble sticks up inside the unit and don't fully drop onto the front of the bowl, causing the unit to jam. Update: Now the manufacturer offers a ramp that helps kibble to slide down the tray without getting stuck in the chute.
TIPS
If you feed your cat big kibble or triangle, star, fish shaped kibble, make sure to register your Petnet to get a free ramp from the Manufacturer. This will prevent jamming.
See in Amazon how the feeder works (US link) 

here

.
CONCLUSION
Petnet SmartFeeder has gone a step forward when it comes to feeding your pet. You can manage to program and controlling feeds in real time, selecting the best choices in pet food for your cat and supply your feeder when running low in food, all using Petnet Apps that act as an adviser in your cat feeding activity.
Petnet originally had the Beta version for the first customers and now they released the retail version featuring better charging functions, improved plastics around the bowl for better protection and a lid made from tougher plastic to ensure the food freshness and durability.
UPDATE: ISSUES OF PETNET THAT HAVE BEEN FIXED
In the past, the feeder had some issues with the bowl getting disconnected, but now the Petnet comes with a stronger bowl connection.
Another flaw was the internal wheel deteriorating over time, causing small pieces of rubber getting into the food. This issue has been addressed and now the feeding wheel is made from a much stronger material.
Considering the the update of this unit and the Pros and Cons of Petnet SmarFeeder,
√ I recommend Petnet SmartFeeder:
For busy people that are always using their Smartphone
To feed one cat
If you want to have the ability to change your cat feeding schedule anytime, anywhere.
If you need to be remained about when to buy cat food
If you like the idea of an App that will fully help you to manage your cat food intake within the best nutritional standards.
x This unit is not suitable or may not be suitable:
For people that want to manage the feeder through Smartphone and Laptop as well
People without internet
To be used in areas subject to long power outages (longer than 7 hours) if you won't be home overnight or for some days.
If you want to feed your cat few kibble as snacks in between meals (less than 0.5 Oz)
If you feed your cat irregular shaped kibble (not round) and bigger size than 1/4″ diameter (now the Petnet Ramp resolves this issue)
To feed two cats