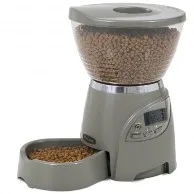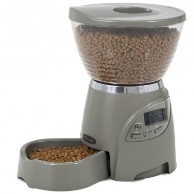 Petmate Infinity Automatic Feeder Review
Stars rating: 3 | The Petmate Infinity is a popular cat food dispenser so I decided to make a review for this product and give you good information if you want to buy one for your cat.
Petmate Infinity is a programmable feeder with the ability to dispense from 1 up to 3 times a day. For example, you can program 3 meals to feed your cat breakfast, lunch and dinner or simply skip one of the meals if you want your cat to eat less. With a large and easy to read LCD screen and built-in meal counter, the programming is much easier than before.
The Petmate Infinity dispenses from ¼ cup up to 2 cups dry food and the accuracy of the portions will depend on the kibble size. The unit has a large total capacity of 5 lb dry food (hopper holds 4.2 lbs and the bowl holds 0.8 lbs). The food bowl is removable but strongly attached to the base, preventing accidents.
The Infinity feeder is not weatherproof so it's not recommended for outdoor use, only indoor. The new Infinity versions are only battery operated.
FEATURES
Programmable to dispense up to 3 meals by day.
You choose a specific time for each meal, no default times.
Portion sizes from 1/4 cup up to 2 cups.
Feeder with a capacity of 5 lbs. of dry food
A twist-lock lid to keep the food fresh and secure.
Baffle added to the hopper to prevent jamming
Removable bowl for easy cleaning.
Locking bowl and stand makes it more stable
It requires 3 D size batteries (not included).
Low battery indicator
Dimensions are 14 x 9 x 15 inches (L x W x H)
Weight: 4.4 pounds
What are the Pros and Cons of the Petmate Infinity?
Learn about the good and bad things of the Petmate Infinity so you can decide with key information to make the right decision for your cat:
PROS
It is easy to assemble.
Easy to program with 3 buttons
It holds a big amount of food at once.
You have the ability to set the meal to be on or off.
This feeder does not make much noise.
CONS
Not accurate portions if using small pellet size (1/4" diameter or less).
Dispensing is not reliable if the hopper has low food level.
Cats could reach extra food from the chute using their paws.
The new version is only battery operated.
The minimum to dispense is 1/4 cup and if the kibble size is small the 1/4 cup becomes more like 1/2 cup, not good if you feed your cat two or three times a day.
CONCLUSION
This automatic feeder is more suitable for dogs than cats because some cats can outsmart the feeder, reaching food with their paws. According to some customer reviews, the unit is not very accurate in dispensing portions for cats, so it may not work well if you have your cat on a diet or if your cat needs a very accurate feeding schedule. So if you strictly want to control your cat's food intake or if you want a sturdy feeder, maybe this unit won't be on top of the list.
√ This feeder might work in some situations as follows:
If you feed your cat medium or big size pellet, up to ½" diameter (risk of jamming though)
If you feed a very active large cat 1 or 2 times a day.
If you want to feed multiple cats.
If your cat is not obsessed with food.
If you don't have your cat on a diet or if you don't need an exact feeding schedule for your pet.
x I would not recommend the Petmate Infinity in this situation:
If you feed your cat small size pellet (1/4″ diameter or less) and you want the best accuracy in the portions.
If your cat is chubby and obsessed with food
If you have to follow a strict feeding schedule for your cat
If you want a sturdy unit
If your cat is on a diet and you want your pet to eat 3 Oz. dry food per day (or less) and you want to feed your cat 3 times a day, I recommend you to check the CSF-3 Super Feeder or the Pet Feedster.
NOTE: Petmate changed their version "Infinity" to a new design. The new version works the same than the previous version.