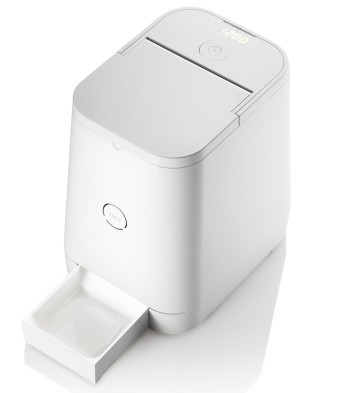 PETLY is an automatic pet feeder designed to feed your cat dry food in programmed portions and times, eliminating overeating and keeping your cat at a healthy weight or helping your cat to lose weight on a weight loss program. The unit is simple to use, to program times and amounts of food is as easy as turn and press a dial. Additionally, the feeder features a flip-up handle that will fit your hand perfectly and will make the unit very easy to carry.
This automatic feeder blends with any décor with its simple and modern design and it works with batteries so you can place it anywhere in your home, ideal for cats that like to chew on cords.
FEATURES
The food container has a 2.2 lbs capacity of dry food.
It feeds up to 4 times a day
The minimum interval between feeds: 30 minutes
Portions can be set from a minimum of 5-gram up to 50 grams (5-gram increments)
Designed to prevent food smell filtration.
Clock display: 24-hour setting
Materials: Body: ABS | Lid: PC | Plate: PP
Dimensions : L 7.87" x W 10.23" x H 11.10"
Weight : 4.85 lbs
Battery : 4 D batteries (sold separately)
Manufacturing standards: RoHS standard (Restriction of Hazardous Substances Directive)
Made in Japan. Limited production.
1-year warranty
WHAT COMES WITH THE UNIT
The main unit
Food tray pre-attached to the main body
Food tank pre-attached to the main body
User's Manual and Warranty
How it works
The dispensing mechanism is accurate and it's designed to be used with kibble no bigger than 3/5" dia. Using bigger or irregular-shaped kibble may create jamming.
You can program the feeder up to 4 times a day (F1 to F4) with a minimum of 30 minutes apart from each meal, this setting will be repeated every 24 hours. The minimum amount of food to feed a cat is 5g however, this may vary depending on the kibble size and shape so it's a good idea to run a test for the best accuracy. The maximum amount for each meal is 50 g. All meals can be individually adjusted.
The food drops to the food tray which is a small drawer that needs to be opened at all times while the unit is in use. The tray does not open automatically so you need to open it by pushing and release. The food tray is removable for easy washing.
The unit features an On/Off button to turn the feeder off if you want it to stop operating. The unit will keep working normally when turning it back on as it keeps all the settings, you only need to reset the clock for quick use.
Petly automatic feeder works with 4 D alkaline batteries that last approximately 6 months with normal use. There is a LED ring shine red indicator when the batteries are close to running out. As a safety measurement, this LED indicator shows for a week, but you need to change the batteries as soon as you see this indicator. The unit does not work with rechargeable batteries.
Programming
The programming is very easy, you only need to turn a dial to choose either portion or time and push it to enter the choice. To program a meal —for example, breakfast— you can select F1; 30; 07:00. This means meal number 1, 30g to be dispensed at 7 am. Additionally, there is a manual feed option to feed your pet whenever you want regardless of the programmed times.
PROS
Made with high-quality standards
Durable unit
Reliability in operation and accuracy
The meal portions can be adjusted individually
Very easy to operate and program, just by turning and pushing one dial
It allows manual feeds at anytime
Designed to block food smells from coming out of the feeder
It features On/Off button to stop the unit from operating
Feeding settings are saved when changing batteries
Removable food tray for easy cleaning
Elegant and minimalistic design
Intuitive and intelligent design
CONS
It works only with batteries so it does not have a power backup
The unit does not come with a battery (sold separately)
It does not accept all types of kibble
It does not work with the internet
Price
TIPS
If you want the best accuracy, run a feeding test to see the amount of food dispensed and adjust if needed.
CONCLUSION
Petly automatic feeder is a thoughtfully designed unit that is compact, modern, and made with high-quality standards. The unit is assembled by skilled technicians piece by piece, including a final visual a manual inspection. That's why the range of price is the one of a high-quality appliance.
According to its high quality and durability, I highly recommend this unit to all cats that need a feeding schedule from 1 to 4 meals per day of dry food.