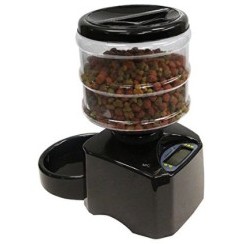 PRODUCT DESCRIPTION (2.7/5)
MOTA Perfect Dinner pet food dispenser can be programmed to dispense up to 3 meals by day with a minimum of a ¼ cup of dry food and a maximum of 1.5 cups at a time. The programming of meals portions and times is simple due to the large LCD panel.
It is recommended by veterinarian for diabetic pets and also for preventing obesity in cats.
This pet food dispenser can be used for feeding small dogs and cats and also for feeding two cats. It is easy to assemble putting together 3 pieces: Hopper, base, and bowl.
Perfect Dinner Pet Feeder requires 3 D size batteries that last up to 6 months, not included.  It does not have AC adapter.
FEATURES
It has a recorder and player for the owner to call the pet to eat up to 3 times.
Easy to program and read with LCD panel.
LCD displays time, programmed meals, portions, and meals served.
Can be programmed to dispense portions from 1/4 cup to 1.5 cups.
Transparent Hopper holds up to 7 lbs (3,17 Kg.) of dry food.
Removable feeding bowl.
Dimensions: 15.25 x 8.6 x 15.2 inches
Warranty by replacement of defective items.
HOW TO PROGRAM THE UNIT
You can set the feeder to dispense up to 3 times a day. These meals can be set up as follows:
1 meal = lunch that can be set up in a range of 11 am to 6 pm.
2 meals = breakfast and dinner. Breakfast can be set up in a range of 6 am to 10 am; lunch from 11 am to 5 pm.
3 meals = breakfast, lunch and dinner. Breakfast range is 6 am to 10 am; lunch from 11 am to 5 pm and dinner from 6 pm to 10 pm.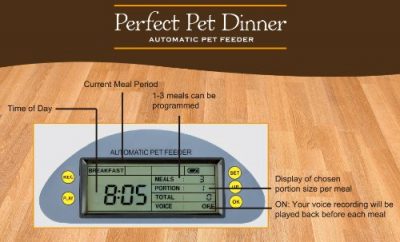 Notice that you can't program the feeder only for breakfast or only for dinner, unless you play with the time, introducing a fake time when setting the clock on the feeder.
Note about portions: According to customers reviews, the feeder's Manual indicates that 1 portion=1/8 cup but in reality, the minimum amount of food is in fact, 1/4 cup.
What are the Pros and Cons of Perfect Dinner Pet Food Dispenser?
PROS
Easy to assemble
Very simple to program
Recorder and player to call your cat to eat.
Hopper has good capacity.
Hopper is very airtight to protect food
Adjustable portions and feeding schedule, according to feeding time's range.
The bowl is connected to the unit in a way that is impossible for the cat to get it off
Bowl is removable for easy cleaning
Good to feed two cats
CONS

Each meal time has a set range of times to be programmed.
You can't program only breakfast or only dinner.
Hopper is made of thin plastic.
Just powered by batteries.
Some cats could reach some food with the paw.
It cannot dispense less than 1/4 cup of dry food at a time.
Voice recorder can't be deactivated.
TIPS
Make sure to put new batteries because if you put used ones, the dispenser might jump some meals.
Make sure to tape the battery cover to protect it.
When programming the unit first time, you have to expect the first meal to be served first (e.g.1/3), not the next meal of the current time you are at.
CONCLUSION
MOTA Perfect Pet Dinner old version is fairly good cat food dispenser because it is simple to assemble, just put 3 pieces together and it is all set up. It is easy to program as well. Some points to consider about this unit:
The dispensing accuracy of this feeder will depend mostly on the pellet size you feed your cat. The bigger the pellet, the less amount of food will be dispensed.
The programming allows you to set the feeding times only at certain ranges of time for each meal. If you want to feed your cat only once a day, the default programming allows you to only feed your cat at lunchtime and other default times.
The minimum amount of food for each meal is 1/4 cup so if you feed your cat 3 times a day you may be overfeeding your cat.
For all these reasons and Pros and Cons of this pet feeder:
√ I recommend it mostly for:
Feeding 2 cats
Cats that are not overweight
Docile cats (not determined to get extra food from the hopper)
Feeding one cat if it eats once or twice a day
x The feeder is not suitable:
If your cat is obsessed with food (to get food from the chute)
If your cat is overweight
If you want your cat to lose weight.
If your cat has diabetes
UPDATE: This product is currently unavailable.