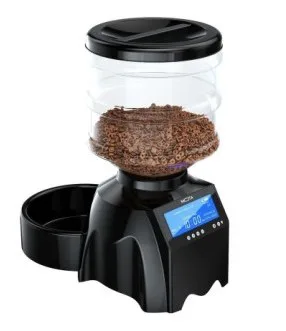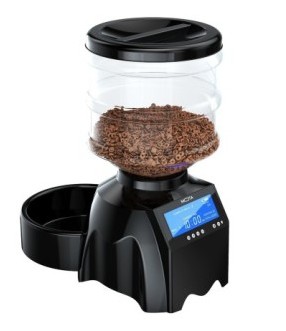 MOTA Perfect Dinner is an easy-to-program automatic pet feeder that allows you to feed your cat up to 6 times a day, from a minimum of 1/3 cup up to 6 1/3 cup per serving. With this range of portions, you can choose the best food intake for your pet to fulfill its nutritional needs and keep it healthy, preventing overweight.
The unit's large LCD screen allows you an easy setup and it shows you time, the programmed meals, meal sizes and meals served. This will help you to check and monitor your cat's schedule and diet.
This automatic pet feeder features a transparent hopper that holds more than 7 lbs of pet food. This allows you to monitor how much food is left.
If your cat loves to hear your call-to-eat voice, the unit has a built-in microphone which you can record a custom message, calling your feline friend to eat. MOTA automatic feeder requires 3 D size batteries that last up to 6 months.
FEATURES
Large LCD screen makes it easier to program meal sizes and servings
Portions are adjustable from 1/3 cup to 61/3 cups per meal
Transparent hopper has a large food capacity of more than 7 lbs.
Built-in microphone to record a voice message to call your pet to eat.
Meals sizes can be adjusted and programmed to be dispensed at specific times
Portion control feature helps you to control your pet's weight.
Removable bowl for easy cleaning
Nice design
It runs on 3 D size batteries that last up to 6 months if alkaline (not included)
Option to use AC Adapter (not included)
Indoor use only
1 year limited warranty
DIMENSIONS & SPECIFICATIONS
Product Dimensions:15.25 x H x 8.6 W x 15.2? D
Body size: 7.1" H x 7.8" W x 8.3" D
Bowl's diameter: 7.87"
Bowl's height: 2.55"
Item weight: 3.32 lbs
Body material: ABS
Bowl's material: PET
HOW IT WORKS
The unit dispenses food through a horizontal impeller with robust silicon teeth that release the food into the plastic bowl. The impeller handles most kibble sizes but it does not work optimally with very small flat kibble (less accuracy). The impeller is located close to the unit's slot, up inside.
The unit's main source of power is battery (3D), but it can be used with AC Adapter as well. The Adapter suitable for MOTA is DC 5V (1.0a); output current should be 1 Amp and input; 0.15 Amp.
CHECK HOW MUCH THE MINIMUM PORTION IS (PERFECT FOR TWO CATS)
HOW TO PROGRAM IT
You can program the feeder from 1 up to 6 meals by day. Each meal can be programmed individually at the chosen times and meal sizes.
The amount of food for each meal will be determined by how many portions you want your cat to eat by meal; each portion equals to 1/3 cup and this is the minimum amount to be set.
You can program from zero up to 19 portions per meal. Most likely you will want to program 1 portion for 1 meal, with one cat. The accuracy of portions will depend on the kibble size.
Important Points When Programming
Let's say you want to set up breakfast, lunch, and dinner. If you are programming the unit after lunchtime, for example, and you are expecting your cat to eat the dinner, the feeder won't start dispensing dinner that day, it will start dispensing breakfast, lunch, and dinner next day because the feeder only starts dispensing from the beginning of a feeding cycle. After this "window", the feeding schedule works normally.
If you set up the number of meals by day on the feeder (example, 3 meals by day) if for any reason you want to change that number to 2 by day, you will have to "jump" the 3rd meal by setting that portion to zero. The initially programmed meals stay on the feeder and you can't reset it.
Unlike MOTA old version, with this new version meals can be programmed within 24 hours, for example, you can program up to 6 meals to be dispensed with 4 hours apart from each meal.
VOICE RECORDER
If you record your voice to call your cat to eat, the voice recorder will play every time a meal is served (for example if you setup 2 meals by day, the voice will call 2 times).
If you program the unit to feed 2 times a day and for any reason, you want to reduce your cat's intake to 1 meal per day (by setting the second meal to zero), the second meal will still have the calling to eat message.
What are the Pros and Cons of MOTA Perfect Dinner?
PROS
Easy to assemble
Straightforward programming
It can be set to dispense up to 6 meals by day
Good hopper capacity of 7 lbs
Large LCD display
Voice recorder to call your cat to eat (optional use)
Customizable portion sizes
Detachable bowl for easy cleaning
Well built and sturdy (except the hopper that is made of thin, flimsy plastic)
The bowl is large enough for 2 cats eating together
Portion counter allows you to check if your pet was fed
Secure lid on top of hopper
Food container and bowl fits tight in place as a unit (no worries of the cat tipping it over)
CONS
It does not include batteries or AC Adapter.
Minimum portion of 1/3 cup may be too much with small kibble (unless your cat eats once a day)
Lack of good instructions
Loud beeping noise when programming the unit that can't be turned off.
Some cats can get extra kibble from the chute
LCD display fades depending on angle of visibility
It does not have manual feeding option by pushing a button
NOTE: Some customers left bad reviews about MOTA perfect dinner pet feeder, such as: the battery draining within a week, not dispensing food at the programmed times, dispensing food at times that were not programmed, not dispensing food at all.
MOTA determined that a very small percentage of units within a limited serial number range, came defective and were sold between August and December 2014. These specific units are being replaced free of charge from the supplier (more details on their website).
I considered important to point this out so you know that MOTA feeder works as advertised and those units have been recalled.
TIPS
Get 3D batteries or AC Adapter because the unit comes without any of them (Adapter DC 5V;1.0a).
The first time you set up the number of meals, make sure it is the number you really want because once the unit is programmed you can't reduce the amount of meals. Though, if done, you can skip that portion setting it to zero.
CONCLUSION
MOTA Perfect Dinner Pet Feeder is a good automatic feeder that works fine, but with some flaws:
The minimum portion to feed your cat is 1/3 cup. How much food this portion is will depend of the kibble size. The measurement "cup" it's about volume so if you use a very small flat kibble (a little less than 1/4" diameter) you may be feeding more than 1/3 cup portion. If you use regular cat kibble size (1/4 " to 1/2" diameter) you will get a better accuracy with portions.
The feeder is a little too big for one cat and this includes the spout where the food comes from. Cats may pull food out from the spout and get extra food.
If you want your cat to lose weight or strictly control its food intake, a 1/3 cup at a time might not the best amount, unless you want the feeder to feed 2 or more cats and in this case, this unit is suitable.
BOTTOM LINE
MOTA newest version is more suitable for dogs than cats. However, the unit eventually could work for your cat only if:
Your pet is not high food motivated (to figure out it can get food from the chute)
You feed 2 active cats, in which case you can program the unit to dispense 2 times a day, getting each cat a total of 1/3 cup or 1/2 cup of food by day, depending on how active they are.