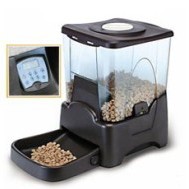 Large Automatic Feeder Review
This large automatic pet feeder is good for feeding both cats and dogs. It has a large capacity and a good range of feeding. Let's see a general description of this product, the features, and then the pros and cons:
DESCRIPTION
The large automatic pet feeder has a capacity of 45 cups dry food which allows this feeder to dispense up to 99 days (or non stop if you keep the hopper full).
The unit has adjustable portion sizes from a minimum of a ¼ cup up to 2 ½ cups and you can schedule the meal times from 1 to 4 times per day. In case you can't supervise the feeder for some days,  this unit features a smart sensor that prevents the feeding tray from overloading.
This unit also features a pet-proof locking system on the lid to keep those mischievous paws away from the food and also to prevent accidental food spillage in case your cat tips the feeder over. Another cool feature is that you can record a personal voice message calling for your pet to eat. This voice message will play every time a meal is dispensed.
FEATURES
The large pet feeder has an LCD clock easy to read
Dispenses up to 4 meals
built-in microphone and speaker
Low battery indicator.
The system has a unique anti-jamming feature.
This device requires 4 D batteries (not included).
The dimensions are 17" x 9.5"x 14" and weight, 6.5 lbs.
This large capacity feeder is made from ABS plastic (a thermoplastic polymer).
HOW TO PROGRAM IT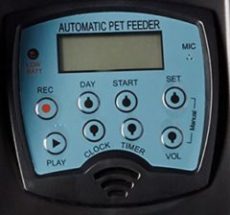 The programming of this automatic feeder is a little tricky so make sure to print these instructions and keep them close to your feeder.
1) Turn the feeder on
2) Set the time by pressing "Clock" to set the hour and pressing "Timer" for minutes (set the time within 90 seconds after turning the unit on). Press "Set" to confirm, then press "Clock" to toggle between 12/24 hours. Finally, push "Start" to confirm clock settings.
3) The display will show "1 07" which means meal #1 at 07:00. This is the default setting.
4) To set the meal #1 press "Set" for 2 seconds until display flashes and press "Timer" to set the feeding time
5) To set meal #2 press "Set" and press "Timer" to set desired feeding time
6) Press "Start" to save and exit
IF YOU WANT TO ADJUST THE PORTION SIZE:
1) Press "Vol" button to display portion size
2) Press and hold the "Set" button until the digit starts blinking
3) Press "Vol" button to choose the meal size. [ 1 = 1/4 cup, 2 = 1/2 cup, 3=3/4 cup]
4) Press "Start" button to confirm and exit
What are the Pros and Cons of the large automatic pet feeder?
Check the advantages and disadvantages of the Large automatic feeder for you to make a well informed decision if you want to purchase this item:
PROS
A large capacity of the hopper, to hold up to 10.65 L dry food.
Meals can be customized to fit your cat's feeding schedule.
Recording of owner's voice that plays when it dispenses
Allows up to 4 feeding times per day
Detachable hopper and feeding tray for an easy cleaning
Can be adapted to dispense food for 2 pets
CONS
Very tricky to program, so you have to remember where the instructions are to use them again.
Every time you change batteries or turn off the feeder, you have to program it again.
You need to set the clock within 90 seconds after turning the feeder on.
The ¼ cup portion is not accurate with small size cat food, it becomes more like 1/3 cup with small size food.
CONCLUSION: 
√  I recommend the large automatic pet feeder for your cat, in these cases (all together):
Feed 2 or more cats
You use at least ½" diameter size cat food.
Your cat eats 1 or 2 times per day at the most (more than that could overfeed your cat)
If you don't mind grabbing the instructions and reprogramming this unit every time you change the batteries and when the feeder is turned off.
x I wouldn't recommend it:
As the CONS states in this review, this is a very tricky unit to be programmed, so don't buy it if you don't want to deal with complicated programming devices.
Cats on a diet.
To feed one cat
To see more reviews of other automatic food dispensers click here.