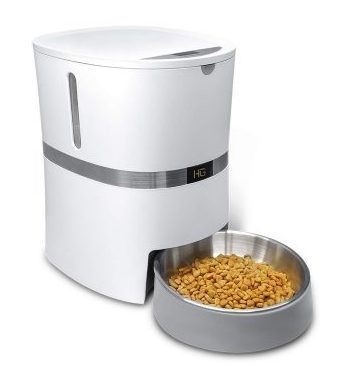 The HoneyGuaridan A36 is the answer for cat owners who need a reliable automatic feeder that won't jam and that will work effectively when leaving the cat alone at home.
Unlike the HoneyGuaridan S25 or the HoneyGuaridan A25, this unit features a removable stainless steel bowl that is more hygienic and prevents feline acne.
Features of HoneyGuaridan A36
Dispenses up to 6 meals per day
Portions are programmed individually
Design made to prevent food jamming
Infrared sensor avoids food bowl from overloading
Removable stainless steel bowl
Hopper capacity: 13 cups
Bowl capacity: 3 cups
Double power supply: AC/DC adapter (5C1A standard) or 4 x D size batteries (batteries not included)
Made of ABS plastic
Dishwasher safe food bowl
Motor working life expectancy: 20,000 hours
On/Off switch button
Feeder dimensions: 16.9" x 11.4" x 7.1"
Bowl dimensions: 7" dia x 1.5" deep
30 days money-back guaranteed
One-year warranty
What comes with the unit
Honey Guaridan A36 feeder
AC/DC adapter
User's guide
Customer service gift card
How the dispensing system works
The mechanism of HoneyGuaridan A36 consists of a small rotational tray under the food bin that features 6 slots or compartments that hold the food. One slot is equal to 1 portion, which is approximately 0.3 ounces (about 7 gr).
The recommended kibble size must be between 0.19 and 0.6 inches diameter in order to avoid food jamming inside the mechanism. If using a small kibble (0.19" dia) the amount of food in 1 portion is about 7-10 gr.
The feeder can be programmed to dispense from 1 portion up to 80.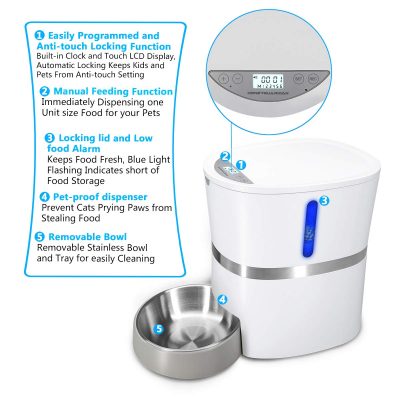 How to program the HoneyGuaridan A36
This automatic feeder allows you to feed your cat up to 6 meals per day. You can program each meal at anytime you need. Also, you can choose the meal sizes individually or program all the meals to be the same size. To program the size of each meal you must choose the # of portions from 1 up to 80. One portion equals to a little less than one tablespoon (7 gr./0.3 Oz / 1/32 cup).
The programming is easy using the built-in blue light LCD display. All the settings can be entered through 4 buttons. Follow these steps to program the HoneyGuardian A36 feeder:
1. Set the clock
2. Choose the portion # which will be the meal size (1 portion=A little less than 1 tbsp approx.)
3. Program the first meal. Enter the portion # and then the time.
4. Repeat the same for the second meal and so on.
Once you program a feeding schedule it will repeat the same everyday. If you are using AC adapter and a power outage occurs, the machine will retain the settings so you don't need to reprogram the meals, only the clock. If you need to replace batteries the programming won't be lost either. If you decide to plug the feeder and put batteries, the unit will retain the feeding plan and the clock. By doing this, you ensure the feeder will dispense food no matter what.
How to clean the unit
The feeding bowl and food hopper are removable for easy cleaning. Both are dishwasher safe. You can clean the bowl and hopper by hand, using warm water and mild soap.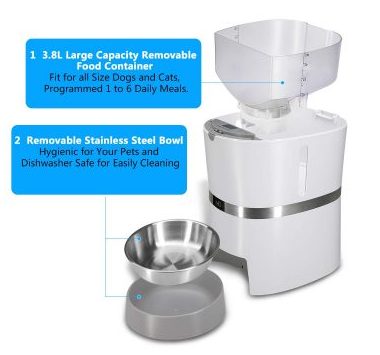 Pros & Cons of HoneyGuaridan A36 Automatic Cat Feeder
Discover the advantages and disadvantages of this automatic feeder to decide with good information if this device suits your cat needs.
PROS
Sleek and modern design that looks good anywhere
Easy to set up
Easy to program
You can feed your cat up to 6 meals per day, individually portioned.
It dispenses small amounts per meal up to cups.
It works with AC adapter and battery for continuous operation
Disassemblable and easy to clean
Cats can't reach food with their paws
Stainless steel bowl prevents feline acne
Cat-proof airtight locking lid keeps the food fresh
Ability to dispense small portions (2 tsp approx) `using the recommended food size
Voice recording feature calling the cat to eat
Blue light indicator when the bin is getting empty
Bowl is wide enough for two cats eat comfortably
CONS
A little noisy when the food drops
You need to test the portion first to program it
Final Thoughts
The HoneyGuaridan A36 is a good automatic feeder that will take care of feeding your cat automatically while you are at work or sleeping at home. The unit is reliable and it features an internal mechanism that doesn't jam when using the right kibble size. Also, the feeder lid can't be violated by the cat's paws because only human thumbs can unlatch the lid.
The capacity of this automatic feeder is large, being perfect to feed two cats that can eat together. Finally, the design of this unit is sleek and modern so you can place it in view without looking odd. I definitely recommend this automatic pet feeder, especially for:
Cats that eat too fast and then throw up
Food-obsessed kitties
Feeding two cats
Preventing feline chin acne