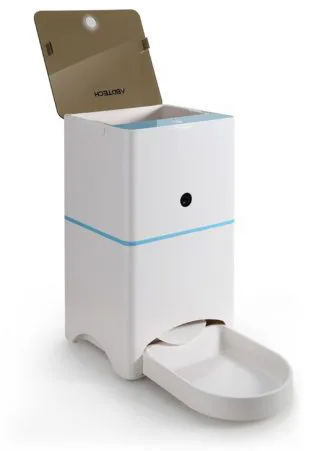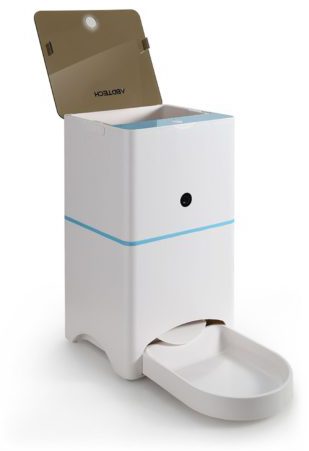 Abdtech SmartFeeder allows you to feed your cat from wherever you are and at any time. This automatic feeder works with iPhone, Android, and tablets. You need to download the Free App and connect it to your device and you're ready to program your feeder.
You can program as many meals as you need for your cat and customize the amount of food for each meal. The meal sizes can be served from 10g up (1 oz approx.) to 100g (3.5 oz approx.) at a time.
With the Adbtech you can trigger meals manually in real time and watch your pet while eating on a 0.3 Megapixels real-time camera. Also, you can monitor the daily intake of your cat through the App.
The unit features the "Offline Feeding Model" which means the feeder will keep dispensing 10g (1 oz approx.) of food at a set time every 4 hours. The Abdtech has a collapsible food tray that is easy to clean. The unit plugs into a regular wall outlet.
FEATURES
Abdtech SmartFeeder allows you to control feeding time and meal sizes.
Remote feedings by a press of a button
Ability to watch your pet when eating
Collapsible food tray
With "Offline Feeding Model" as backup in case of internet drops (10g e/4 hr)
Camera 300K pixels (0.3 Megapixels) allows you to watch your pet eating in a real-time video
Camera view angle: 70°

Dimensions

Camera vision height: 19 1/2 inches
Not suitable for pets over 50 lbs
Hopper is made from FDA certified ABS safe plastic (the type used for kids toys)
Removable food tray and hopper
Dimensions: 7.6" L (w/ tray opened) x 21 cm W x 40 cm H
Detachable food tray and hopper
Tray length: 7 inches
Hopper capacity: 5L (about 4-5lbs of food, depending on kibble)
Hopper held weight: 11 lbs
Power: 1.8w
Rated Voltage: 80-260V
Power adapter voltage: 5V
Operating Systems: iOs and Android. Smartphones and Tablets.
WHAT COMES WITH THE UNIT
1 x Main unit Abdtech SmartFeeder
1x AC Power Adapter
1x User's Manual
HOW IT WORKS
Make sure your Smartphone is connected to your home Wifi, then you need to connect the Abdtech SmartFeeder to the App you will find on Google Play. The App name is Smart Feeder, the link on Google Play is https://goo.gl/A1bEH8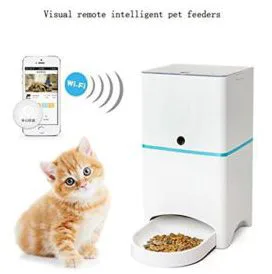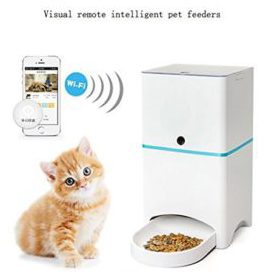 Once the feeder is connected, you'll have to set up the App, programming the feeding schedule for your pet. Also, you need to set the amount of food for each meal. This part is a little tricky because the sizes of meals are mentioned as "batches" without saying how much food is equal to one "batch". A "batch" is about 10g of dry food, which is approximately one tablespoon.
ABDtech SmartFeeder allows you to not only program an automatic feeding schedule that will repeat every day but also other options such as manual feeds by pushing the "feed now" button on the App.
Pictures & Videos
The Smart Feeder App also allows you to watch your pet by pushing the "Live Video" button. You also have features such as choosing the "ding" sound feed without food coming out, take pictures of your pet eating or recording as you are watching your pet on "live feed". You can choose a High, normal or low resolution for the picture or video.
You can check how much food your pet has eaten during the day through a feeding chart on the App and also how much food is left in the feeder.
As stated in the description, the Abdtech keeps feeding your pet even if you lose internet connection at home, dispensing 1 Oz of food every 4 hours.
PROS
You can manage your cat feeding anywhere in the word.
You can trigger manual feedings through a push of "Feed Now" button and choose that particular meal size.
You can see your pet eating on a live video, take pictures of it or recording a video with the camera.
You can monitor how much food your cat eats daily.
You can program many meals at many times with customizable sizes from 10g up to 100g at a time.
The feeder keeps dispensing even if you lose internet connection at home.
Hopper features a locking lid
The opening allows the food to come out easily without clogs.
"Ding" nose alerts pets when is time to eat
With a non-slip bottom to keep the feeder in place.
CONS
Some people may not be familiar with military hours (e.g. 1 pm=13hr, 2pm=14hr, etc.)
Meal sizes are measured in "batches" which doesn't tell you how much food each batch is.
The app signal could get a little unstable sometimes affecting the quality of the video.
Connecting to the App could take some work.
"Ding" noise when the feeder dispenses could be annoying for some pets.
The camera view is only straight so you may not see your pet if it eats from sideways.
It doesn't hold enough food to feed multiple cats.
TIP
To monitor if the machine is dispensing food you can set an alarm on your phone at feeding times and then open the App and watch your cat eating.
CONCLUSION
Abdtech Smartfeeder is a new automatic feeder and forms part of the intelligent feeders that work through Smartphone or tablets and it offers very good features, similar to other brands. However, the feeder currently is being improved due to some bugs that are being corrected, such as the App connectivity.
The unit works as intended once you get connected all devices to the home network and App, but it takes some work to do it. We will update this review once the connectivity is completely improved. You can check other automatic feeders reviews to decide for a better option.