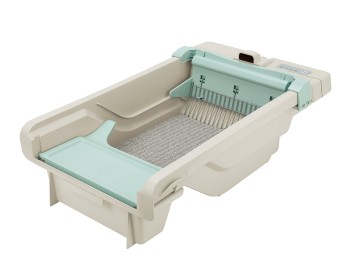 PRODUCT DESCRIPTION (3.0/5)Arm & Hammer is a new automatic litter box that scoops your cat's litter box automatically. The unit is quiet in comparison to other similar brands and its detachable motor and rake make it easy to clean.
The rake automatically collects clumps and deposits them into a waste compartment with a scented liner and an infused baking soda filter attached to the receptacle lid, eliminating odor by neutralizing the acids present on dirty clumps.
Arm & Hammer self cleaning litter box can be programmed to automatically clean in intervals of 1,4 or 8 hours and it features sleep mode. Also, you can manually start a cleaning cycle if needed.
The unit features an infrared sensor to stop a cleaning cycle if a cat enters the unit.
UPDATE OF IMPORTANT SAFETY NOTICE: There is a recall for this unit for some potential pinching or crushing hazard to pets. Check more details on this link. 
FEATURES
Automatically collects dirty clumps into a waste compartment.
Odor-Control system, uses filter and liners infused with baking soda for odor control.
Easy disposal of scented drawstring liners, using only one hand.
3 time-settings for the automatic cleaning cycle: every 1, 4 or 8 hours.
With sleep mode to stop the unit from operating while you are sleeping.
With a timer to activate the cleaning cycles.
Safe infrared sensor to delay the rake from start moving if a cat enters the litter box.
Removable motor makes it easy to clean.
Detachable rake can be easily hosed down for easy washing.
Very quiet operation.
The unit includes 3 liners and one filter to start.
Power source: standard 120V/AC outlet.
Dimensions: 18.2" x 23" x 9.6"
Weight: 11.7 lbs
HOW IT WORKS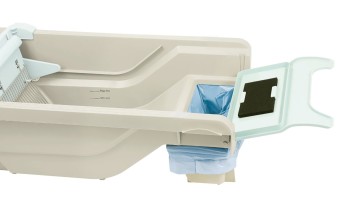 The unit features a rake that sweeps from back to front collecting clumps from the litter pan and then when it reaches the front end, the lined waste compartment opens and the clumps get deposited in there.
As the rake starts moving backwards the lid closes, leaving the waste covered.
The waste compartment features a filter that is attached to the lid. This filter has baking soda which neutralizes acidic odors from the waste.
The unit does not clean right after the cat uses it; it starts cleaning after a determined period of time you set which can be every one hour, every 4 hours or every 8 hours.
HOW TO SAFETY SENSOR WORKS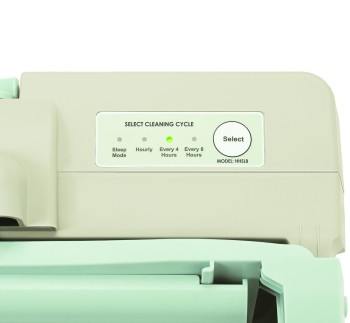 There are 2 scenarios that could happen if a cat enters the litter box while in cleaning cycle:
Scenario 1. If your cat enters the litter box when the rake has completed its forward motion and it's ready to move backwards into home position. If this happens, the sensor will detect the cat and will stop the returning motion until the pet leaves the box. The unit will skip this cleaning cycle until the next one.
Scenario 2. If a cat enters the box when the rake is moving into back position the motor sensor will stop the rake if detecting a blocking object. A blinking light will show on Control Panel if this happens.
PROS
It can be programmed to clean every 1, 4 or 8 hours, allowing you to customize your preferences.
It features a sensor to stop the operation if a cat enters the litter box while the rake is moving.
Very easy to assemble and setup
The waste receptacle is a good size
It is very quiet when operating
You can start a manual cleaning cycle at anytime.
The unit can be fully dissembled, making it very easy to clean
Rake has thinner and longer tines that dig deeper, cleaning more effectively with a slow motion.
Easy to disposal bagged waste when the tray gets full.
It does not need a special litter (although premium clumping litter is recommended).
It features an odor-absorbing system where liners and filter have baking soda.
CONS
The unit is large but the litter area is small (about 10 x 12 inches).
Waste receptacle is not firmly attached to the unit, it only sits under it (a pro when it comes to cleaning it).
As the waste receptacle is not part of the main base, the unit is not easy to move as a whole piece.
Infrared sensor might not detect black cats
The rake gets feces attached to it
Litter gets accumulated on front end, next to the receptacle (it has to be manually evened with a scoop).
Sometimes the unit jams and does not collects everything
Some parts of the litter box have nooks, crannies and indentations making them a little hard to clean manually.
Arm & Hammer is a new product without a long-term use history.
TIPS
Make sure to have room enough to place the unit with a power outlet about 3 feet from the unit because it works with a plug power cord similar to a charger.
Make sure to not fill the litter pan above the full line or the unit will jam or litter will get pushed outside the box.
In the beginning use the litter box unplugged to allow your cat to get used to it.
Don't use this litter box outside or in a wet or moist environment or under direct sunlight.
If the litter box jams you can reset the unit by pressing and hold down the "Select" button for about 3-4 sec. The LED light will blink and a cleaning cycle will start. Then you can choose the cleaning interval.
CONCLUSION
Arm & Hammer automatic litter box is a relatively new product on the market. Its best features are to be quiet and to have removable parts, including motor and rake. The ongoing expenses different than a regular litter box are liners and filter. Some aspects to consider about this unit:
This litter box requires daily supervision and manual scooping in some cases.
The best interval setting for a cleaning cycle will depend on how many cats use the litter box and the type of litter used.
Customers state that the motor is not very strong and this may be a crucial factor for your decision.
If you want to use this unit for a kitten or small cat and don't mind to check on the litter box daily, this unit may be suitable. If you want to forget about the litter box and use it with regular or big sized cats I would suggest you to research a little further.