Catit Jumbo Hooded Litter Box Review
Star rating: 4.6 | Catit Jumbo Hooded litter box gives cats privacy and enough room inside to feel comfortable to turn around when doing their business. The box provides high walls to keep urine and litter better contained.
This enclosed litter box features a hinged top that folds back for easy cleaning, including the transparent swinging door in front of the unit that can be folded back as well and keep it on top of the litter box. Additionally, the top features a hinged handle for easy carrying. Catit Jumbo has a carbon-impregnated filter that helps to contain odors.
Features
Gives cats privacy, preventing litter spillage
Hinged top can be folded back to facilitate access to clean the unit and pour litter
Carbon filter on top helps to reduce odors
Good for multi-cat households
Replacement carbon filters are sold separately
Pan dimension: 22.4" long x 17" wide x 18.3" tall
Door opening dimension: 10.4" x 9.6"
Dimension when assembled: 22″L x 20″W x 18″H
How the Catit Jumbo Works
The litter box features a hinged top with a swinging transparent door in front that can be folded back to sit on top. You can flip the door on top to clean the litter box and put in more litter.
The cat enters the litter box by pushing the swinging door and does its business. After that, the cat needs to push the door to exit the litter box. If your cat does not like the swinging door you can keep the entry opened all the time by just folding the flap back.
The unit consists of two parts that get assembled, the top and the bottom. They are attached by two sliding latches on each side that keep both parts together. The top part has a handle to carry the litter box when empty.
WATCH THE CATIT JUMBO HOODED LITTER BOX IN ACTION! (link to Amazon)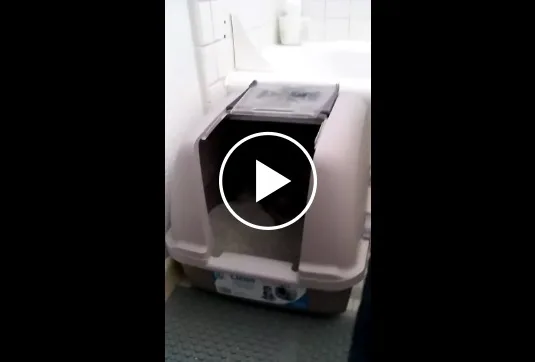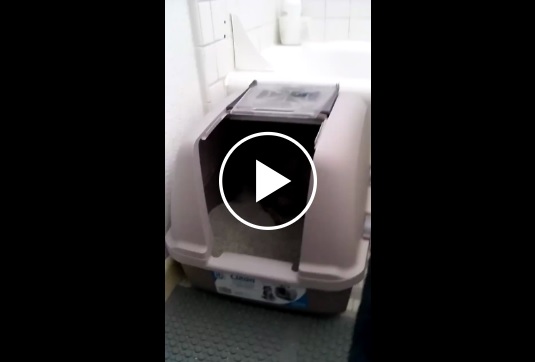 How to clean the Catit Jumbo
To scoop the litter box you can either flip the lid and fold it back which is the easiest way, or remove the top part completely. If you want to take the top part off it's more convenient to keep the lid/hood just sitting on top of the bottom part without using the latches so you can just pull it off. However, you can't carry the unit using the litter box this way.
Pros & Cons of the Catit Jumbo Litter Pan
What I liked and I didn't like about this hooded jumbo litter box:
PROS
This litter box is large with enough room for a large cat to turn around
High walls for cats that don't squat when urinating
Enclosed litter box provides privacy and keeps a better control of kicked litter
Hinged roof access is convenient for scooping and adding litter
The door can be folded back if your cat does not like it
With carbon-impregnated filter on top to help reduce odors
With swinging door that can be removed if you want
Top part is attached to bottom part so it can be removed if wanted
Easy to clean smooth edges, dirty litter does not stick to the sides (Not hard to clean corners or ridges)
Easy to assemble
Although the litter box is large it does not seem to take a whole lot of room.
CONS
Some units come with latches that are not sturdy and it's hard to lock them into place (they may break in the process)
Latches don't clip strongly so the top and bottom part may not be securely attached
Most cats chew and remove the filter located on top of the box (filter it's not protected)
The swinging flap/door gets stuck sometimes (tip: door can be left opened)
Cats feel trapped or may get trapped with the flap/door (The door is easy to fold back to keep the entry open).
The handle on top is not reinforced so the litter box can't be lifted when full with litter
The sticker that comes in front of the unit can't be removed without using solvent
If a cat urinates high the unit might leak through the middle seam.
The unit needs a lot of litter if you want a good litter depth
CONCLUSION
Catit Jumbo cat litter box offers a good option if you are looking for an enclosed litter box with high walls and it's the best seller in hooded litter pans.
The transparent flap/door is a nice feature but due to the cat's nature of easily feeling trapped, most customers keep the swinging door folded back, but this works perfectly for cats. Points to consider about this unit:
If your furry friend is a large high-peeing cat, some urine might leak through the seams. If this is the case with your cat, read my article about best self-cleaning litter box for high spraying cats.
The fact that this litter box is enclosed, it doesn't mean it contains or reduces odors 100%. Like ALL litter boxes, it's more important the litter used and the frequency of cleaning than the litter box itself.
If you are thinking about carrying this litter box when filled with litter, the handle can't handle the weight and may break. Just don't carry the unit when full with litter.
Catit Hooded Pan litter box is very large, check here in Amazon a very cool picture of a contortionist lady being able to put her body inside the litter box.
BOTTOM LINE
√ Catit Jumbo Hooded litter box is suitable:
For small, medium and big sized cats
To use with 2 small sized cats
For cats that usually have litter box "accidents" on the edges
To keep the litter area cleaner
x The unit may not be suitable:
Cats that like to chew on fabrics (they might chew and remove the filter)
Kittens
Cats that spray urine very high
To leave your cat alone for a day or days using the litter box with the door flapping (risk of getting stuck)
If you want to carry the litter box often
For small spaces