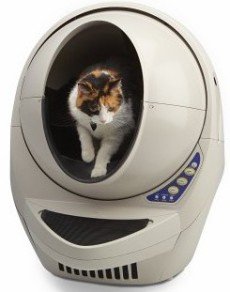 Litter Robot III Open-Air PRODUCT DESCRIPTION
(4.9/5)Litter Robot Open-Air automatic litter box is the top innovation and rated as the best self cleaning litter box according to thousands of customers reviews.
The cleaning mechanism remains the same than previous versions—a rotating globe that sifts the litter, dropping the waste into a lined bottom drawer.
The Open-Air adds great features, such as a full indicator light that will display when the waste drawer is full, an automatic blue night light that turns on when dark, helping cats to orientate at night, especially elderly cats. Litter Robot III also adds a control panel lockout, adjustable wait time and 8-hour sleep mode.
(You can get a very good price for this unit, more details on the end of this review).
Great News! The Open Air is now available with "Connect" WiFi and Smartphone connectivity. Click Connect to see my exclusive hands-on review showing all the new features of the Litter Robot Connect and get $25 Off your purchase!
 FEATURES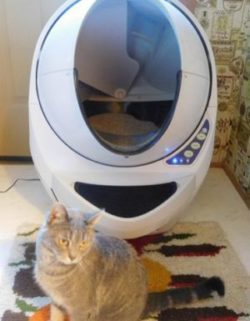 Fully self-cleaning litter box, no more scooping
Ergonomic chamber accommodate big cats
Larger upward facing entry gives cats an 'Open Air' feeling
Adjustable wait time 3-7-15 min
ON/OFF button
Night light to see the unit in the darkness
Control panel lockout
Full indicator light
Suitable for multiple cats
It saves up to 50% on litter
Lip extender and rubber mat on the step reduce litter spillage
Filtration system with vents in the waste drawer reduces odor
90 Day Money Back Guarantee
18 Month Warranty
Color: Bisque
Durable Construction
It can be Wi-fi powered with the Connect kit upgrade
Power: 120 volt outlet – 15 VDC
Weight: 24 lbs (fully assembled)
Made in the USA
Requirements to install: A level surface and electric outlet.
DIMENSIONS

Fully assembled: 29-1/2″ H x 24-1/4″ W x 26-7/10″ D
Waste drawer: 12 3/4″ W x 15-1/2″ L x 5″ D
Waste port: 5 1/2″ W x 5 3/4″ L x Diagonal 6 ¼"
Oval shaped entry opening: 15-1/2″ H x 10-1/4″ W
Litter area at maximum litter capacity: 14″ across ( 3" at the deepest point)
Head room for the cat inside the globe: 15″ to 17″ (more or less, depending on the level of cat litter).
Widest point inside the globe: 20″ across
Depth of globe: 20″ front to back
WHAT COMES WITH THE UNIT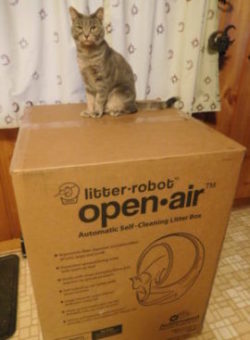 The Litter Robot features handles on the sides so you can lift the unit once you've removed all pieces of cardboard from the box that protect the unit. When you open the box you will find:
√ The LRIII Open Air assembled
√ Carbon filter (already inserted on the waste drawer)
√ AC adapter
√ 3x Drawer Liner
√ Manual Instructions
√ Quick Guide Reference
√ Returning Instructions
√ "Meow" sticker (cute)
Optional Accessories
Fence. The fence stops litter from going outside if your cat is an energetic litter kicker. Also, this accessory is recommended for cats that tend to point their butt towards the opening to do their business. The fence acts as a barrier that deters the cat from doing this.
Ramp. This is an excellent solution in case your cat jumps out of the Litter Robot, spilling litter onto the floor. Also, it helps arthritic cats to access the litter box easily. My cat uses the ramp to enter the box, but she jumps out.
Battery backup: By installing the battery backup you ensure your machine will keep operating in case of power outage. It ensures up to 20 cleaning cycles without electricity.
CAT'S SUITABILITY
The new Open-Air LRIII can accommodate bigger cats with its ergonomic, larger oval shaped entry and litter chamber so it works with any cat weighing between 5 and 20 lbs. approx.
The self-adjusting sensor is calibrated to detect any weight from 5 lbs and more so if you have a kitten he or she must weigh at least 5 lbs to use the Litter Robot safely. If your kitten weighs less than 5 lbs, you need to use the unit manually until your cat is grown enough to use the machine in automatic mode.
See a picture of my cat inside the unit doing her business. She has plenty of room to turn around, dig, etc. She is 20 inches long without tail and weighs 8 pounds.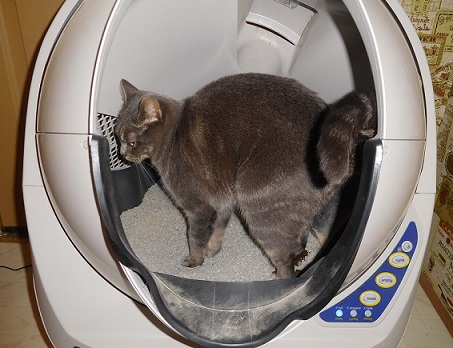 HOW THE LITTER ROBOT III WORKS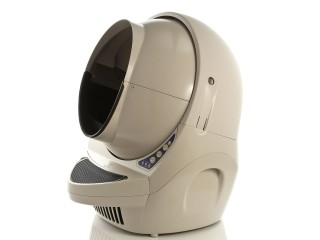 When your cat uses the Litter Robot Open Air, a 7-minute countdown will start and the globe will rotate a cleaning cycle, sifting the clumps that drop into a waste drawer at the bottom of the unit. The whole cleaning cycle lasts approx. 1-2 minutes. Finally, to clean the unit simply pull the drawer and grab the bag for easy disposal.
The previous models of the Litter Robot required the adjustment of the sensor to more or less sensitive but the new Open-Air version has a self-adjusting sensor that can be used easily with multiple cats without calibration problems. With the self adjustment sensor the cat's weight pressures the sensor as soon as the feline jumps inside the Globe and not when the cat steps on the step as the previous versions worked.
VIDEO HOW IT WORKS

(I didn't get to catch my cat actually doing her business, but I got there quick enough to film the video when she was still inside the unit)
For an even better understanding about how the mechanism works, here's a video that shows in a form of diagram how the Litter Robot 3 cleaning cycle works:
LITTER ROBOT OPEN-AIR (LR III) UPGRADES OVER LR II AND LR II BUBBLE
When it comes to level of noise both versions have same level (not too loud and not too low).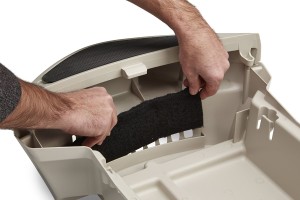 Drawer full indicator. This feature allows you to be alerted when time to empty the waste drawer through a blinking light indicator. The unit will still do 3 more cycles and only after that the machine will stop from operating if not emptied.
Clean cycle settings. Adjustable to 3, 7 or 15 minutes before the globe starts rotating. Previously it was 7-minute by default.
LED night light with nice blue color for your cat to see the unit better in the darkness.
Self-adjusting cat sensor. The sensor is connected to the Globe and not to the entry step as previous versions. Even if your cat jumps to the litter box the unit will start a cleaning cycle as soon as your leaves the box.

Blue LED night light

8-hr sleep mode. You can stop the unit from operating at night from the time you set it. The machine will continue operating the next day normally and the sleep mode will repeat every night.
Control Panel Lock Out. You can lock out the button functions on the Control Panel so your kid or that mischievous cat won't be able to start a cycle.
Accessory battery back-up option (no included). The unit will still operate in case of power outages, up to 48 hours for 2 cats (with 10 cycles a day)
Bigger entryway and litter chamber. Now the unit is larger, allowing bigger cats entering the litter box much easier and it provides cats more room inside to turn around.
Waste Drawer with vents and charcoal filter. Now the unit has better odor control in the waste drawer than before.
Location of control panel on upper right side for easier access.
Bonnet that covers the Globe and it also contains wires, electrical terminals for the blue LED light to work.
And a VERY IMPORTANT one:
Less contact of your cat with waste. This is a major difference. The Litter Robot Classic or Bubble unit don't feature the Plastic Shield and this is a very important improvement. This piece that goes inside the chamber right above the sifting screen is a sort of barrier that allows the clumps to slid directly to the hole where they drop. This way the protective shield keeps the interior of the Globe clean from feces. With the Classic and Bubble happened sometimes that the Globe got dirty with feces on the inside. This was due to the lack of this shield, resulting in the cat getting some of it on its fur. On the below picture you can have a better idea of the function of this important part of the new LRIII Open Air.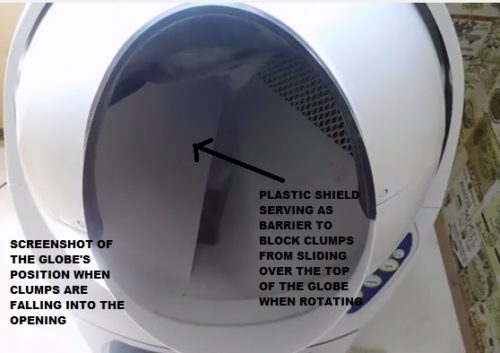 THE LITTER ROBOT III OPEN AIR IS VERY EASY TO SETUP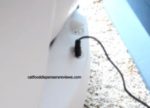 To setup the unit is so easy since the Litter Robot comes already assembled. To put litter in the litter robot just pour clumping litter directly through the entry. You need to pour about 12 and 13 (8-Oz) cups of litter on the litter box. Then you need to plug in the machine so insert the small round plug end to the Litter Robot socket located on the back of the unit. Finally you push power button for the unit to start a rotation. A blue light will show the litter box is ready to be used by your cat.
Note: If your cat is skittish, make sure not to do this right away and wait until your cat is confident enough to start using the Litter Robot.
VIDEO REVIEW OF LITTER ROBOT OPEN AIR SETUP
BUTTONS & FUNCTIONS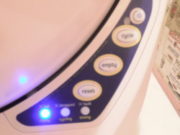 On the control panel you will see 7 buttons in total, 4 vertically lined up and 3 small ones on the bottom. The first small on top is the ON/OFF button, below the buttons "Cycle", "Empty", "Reset".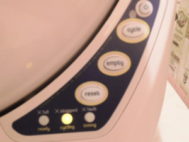 Cycle: allows you to start a cleaning cycle manually
Empty: you can empty the globe to change litter or clean the unit
Reset: push this button to stop an unwanted activation. The 3 small buttons at the bottom are "timing", "cycling" and "ready".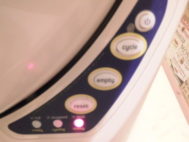 Timing: shows a red light when the unit is activated to start a cleaning cycle. Cycling: displays a yellow light when the Litter Robot is cleaning. Ready: this button shows a blue light by default and it turns back to blue once the cleaning cycle is finished and the machine is ready for another use.
CLEANING & MAINTENANCE OF THE LRIII OPEN AIR
It's recommended to wash the globe every month or every other month, depending on how dirty the Globe is. Use a mild detergent and no bleach. When I clean the waste drawer I use a little bleach though, but very little. A full cleaning of the Open Air is necessary to keep your machine operating for years.
The unit can be disassembled in 4 parts: Base, Globe, Bonnet and Waste Drawer. The globe and waste drawer are submersible for easy washing. The base and bonnet can't be in contact with water since they have electronics. Check my article how to disassemble the Litter Robot where I explain step by step how easy it is.
FREQUENCY DISPOSING WASTE
The waste disposal depends on how many cats use the litter box, the size of your cat and the weather. For example, with my cat Sophie (she's one year and 5 months old and weighs 8 lbs) I need to empty the waste drawer every week during hot weather. With cool weather, up to 10 days. The Litter Robot III requires very minimal maintenance, only topping off the litter once a week and grabbing the bagged waste for disposal.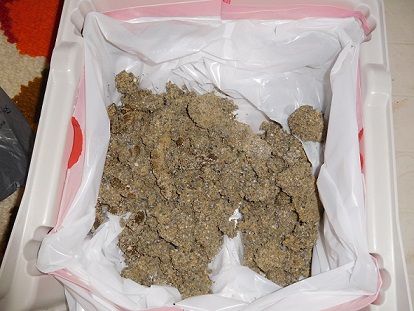 PROS AND CONS OF THE LITTER ROBOT III OPEN-AIR
The following is the list I created as a result of using the Litter Robot for almost 20 months now. I have been adding Pros and Cons as I keep discovering new things.
PROS
Very easy to set up, it comes fully assembled
It works reliably and effectively ( I have left my cat alone for 7 days and it works great)
Litter area made from thick rubber that handles the cat's scratching and digging
Adjustable wait time for a cleaning cycle from 3-7-15 minutes
Full light indicator to empty the waste drawer
Better odor control with vents and charcoal filter on waste drawer
Larger new design suitable for bigger breed cats
It reduces the amount of litter boxes in multi-cat households.
The unit can be filled with litter directly through the entryway
Blue LED night light helps cat to use the litter box at night
Self-adjusting sensor allows the unit to work reliably on any floor and with any cat weighing over 5 lbs.
Sleep mode allows you to stop the unit from operating at night
No rakes to clean and no clogs
Easy to change litter with a push of a button
Well designed sifting system does not get anything stuck on the bottom or walls
You can use any 8-13 Gal trash bag to dispose the waste
It saves in cat litter up to 50%
Cleaning cycles by a push of a button
Suitable for multiple cats
Much easier to clean than previous version with its larger opening
Reset button allows you to restart the unit to keep it working normally
Option to upgrade to a Wi-Fi Smart version, the Litter Robot "Connect"
CONS
The unit is big so it's bulky
Waste drawer increased slightly its capacity regarding previous versions but not a lot (though it holds waste up to 10 days with a 8-lbs cat like mine with cool weather)
Panel doesn't show the current wait time (3, 7 or 15 min) so there's not a way to check the new wait time if you decide to change it.
Litter amount can't exceed the full line, otherwise the Globe doesn't rotate (as the video review states, 12 to 13 cups is a good amount of litter)
High price
It's hard to keep track of your cat elimination habits since you will always see the litter box clean (note: you can keep track of your cat's health by getting the Litter Robot Connect Wi-Fi that provides a daily, weekly and monthly chart of your cat litter box usage. You can check these reports on your smartphone and you can control pretty much all the functions of the Litter Robot with the App).
As the Litter Robot always self cleans after 7 minutes you don't get to see the feces in case your cat is having a digestive problem.
A POSSIBLE COSMETIC "CON":
Personally, this "Con" has not happened to me with my unit and I have had it for over 2 years, but I thought I should mention this in case you see other reviews mentioning this. There are few customers stating that the rubber lip on the entry detaches from the Globe when it rotates. This is just cosmetic and doesn't affect the function of this machine at all, but I wanted to show you on the following video that my unit has never had this cosmetic "Con".
Note if you get the Fence (accessory): If you install the fence and for whatever reason you keep pulling it off from the lip, you may make the rubber lip get loosen a little bit. So if you get the fence, install it and just leave it put, if you do that you won't have problems at all. You just need to pull the fence off once a month when washing the Globe and with that frequency the lip doesn't get loosen.
A POSSIBLE "CON" RELATED TO YOUR CAT:
Some cats are so fascinated with the Litter Robot Open Air being always clean and fresh that they start playing with it getting in and out or just chilling on it :-). This could create the machine doing useless rotations often. This is not a product defect but if this happens to you, you need to educate your cat to stop from playing with the unit (I did that and my cat stopped). If an unwanted rotation is activated (red light) simply push the "reset" button to cancel.
TIPS FOR BETTER USE OF LITTER ROBOT III OPEN AIR
If your cat jumps to enter/exit the unit, you can get the Litter Robot ramp, reducing litter spillage and tracking. This ramp is part of a wide variety of the accessories that you can get to upgrade your machine.
Make sure to top the Litter Robot off with litter every week with one cat. If the unit gets too low in litter the sensor won't activate the cleaning cycle after your cat uses it. This is because the sensor is calibrated with a specific amount of litter plus the cat's weight in order to activate the cleaning cycle when the cat gets inside (when red light turns on) .
If you want to get a good litter mat to trap most of the litter from your cat's paws, get the "Cat Litter Trapper EZ Clean".
Any 8-13 gal trash bag or kitchen bag will fit the waste drawer of the unit. I use those 13-Gal kitchen bags with drawstring so when I put the bag on the waste drawer I leave the drawstring flat and tight along the edges (as the picture above). This leaves no gap between the bag and the drawer. Update: Currently, I am using the Litter Robot liners that I got by purchasing the Accessories Kit. The liner fits very well to the waste drawer and I am using them mostly because they are biodegradable plastic, hence more environmental friendly.
If your cat always hesitates on things get an "attract cat litter" to entice it to use the litter box.
The best cat litters to use with the Litter Robot III are Premium clay clumping litters such as, Dr. Elsey's Precious Cat Ultra Clumping, Arm & Hammer Double Duty and Clump & Seal (regular version), Tidy Cats, etc. Crystals or litter pearls may work, but only if small enough to be sifted by the screen in the globe. I personally made an experiment for over a  year using the most popular brands of clumping cat litters with my Litter Robot Open Air and I created the ranking for the Litter Robot Open Air's best cat litters.
Almost 99% of cats adopt the Litter Robot with no problem, but some cats are more stubborn and might take longer to adapt to the litter box. Have patience and use simple tricks, such as catnip or treats.
I discovered that changing the seal strips every two months you keep the cat waste drawer tight, sealing the waste much better reducing the odors in a 50%.
UPDATE:
June 20th, 2018. Due to some questions about how long the Litter Robot lasts I decided to create this video as an update so you can see how my Litter Robot is working after 2 years and one month. The unit keeps rotating normally and working normally. The only detail I noticed is that the Globe got a little more sensitive to the litter weight so you just need to keep the litter up to the full line, leaving a flat litter bed. If you put too much litter the Globe won't rotate; if you put too little (or don't top it off with litter every week with one cat) the Globe won't sense the cat and it won't activate the cleaning cycle. As a reference, the amount of litter up to the full line is about 13-14 cups or approximately 9 to 10 pounds of cat litter.
CONCLUSION
Litter Robot III Open-Air's new improvements and design reduces substantially any possible blockage of the Globe, ensuring an even better reliability. Also, the unit has a much better odor control than previous versions which is a major improvement that cat owners really appreciate.
√ Litter Robot III Open-Air is highly recommended:
For cats weighing between 5 lbs up to 20 lbs
For multi-cat households, reducing the amount of litter boxes at home
If you want to forget about the litter box for 4-5 days or more with two cats
For picky cats that don't use the litter box when dirty
To forget about the litter box up to 7-10 days with one cat.
If you don't want contact with cat's waste anymore
If you want a reliable machine
For trips up to 7 days if you have one cat (always leave someone checking on your cat though)
x The unit may not be suitable:
For kittens under 5 lbs (unless used manually)
If your cat does not like enclosed areas (the oval entryway is really big though)
If you don't use clay clumping litter
For houses without room enough to locate the unit (with a power outlet close)
BOTTOM LINE AS CAT OWNER
My name is Lorena Avila and I've been researching and investigating automatic litter boxes for years (exactly 4) and most of them have similar fails, but I can tell you with authority that the Litter Robot Open Air is the best self cleaning litter box you will ever find.

I must confess that I wasn't a real fan of automatic litter boxes. I was like "I don't mind cleaning my cat's litter box", but only when you own a Litter Robot Open Air you realize how much your life changes as a cat owner. This unit will be my partner forever from now on because it has given me a gift that nobody can give me, EXTRA TIME!

You can avoid paying full retail price for this unit and instead pay only $449 for this great machine. On top of that, and due to this in-depth review, the Manufacturer granted me the chance of giving you $25 off your purchase, so you will be paying only $424, including shipping and 90-day full guarantee.
Click on the below link to access this great limited opportunity! The $25 off will be reflected at the checkout. If you want to purchase your Litter Robot Open Air with payments you can do it and still receive $25 off!. Just click the link and select "Affirm" at checkout.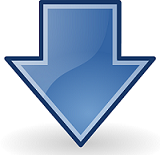 Maybe you have some concerns or questions about the Litter Robot Open Air. Just ask me on the comment section and I will answer honestly and quickly. Thanks for reading!