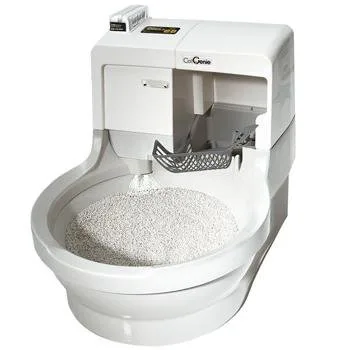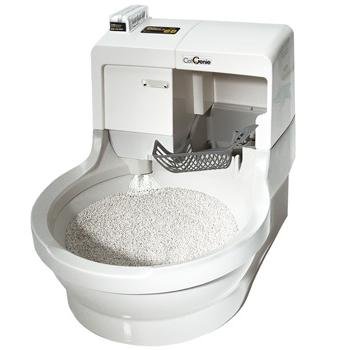 Editor's rating: 3.8 stars | Avg. rating online: 3.8 stars
The CatGenie is a self-flushing, self-washing cat box. This is an innovative concept in automatic cat litter boxes because it works as a "cat toilet" flushing the waste away, cleaning and drying the cat box and litter so it's ready to be used over and over again. Washable litter is permanent; it does not have to be changed and it consists of granules that look like regular cat litter. With this system, you never have to touch or buy cat litter again. The CatGenie 120 features 3 different settings, and a child lock mode to prevent accidental starts. The unit works with a biodegradable and recyclable SaniSolution cartridge for cleansing and it holds enough SaniSolution for at least 120 washes.
Features of the CatGenie Automatic Litter Box
Full automatic process of scooping, flushing waste away, and self-washing clean.
Reusable litter-like washable granules for your cat to dig and cover
Suitable for no more than 3 average-sized cats from 6 months of age.
It requires hookup to a cold water line, wastewater drain, and electrical outlet
Unit includes biodegradable SaniSolution cartridge and washable granules.
Product Dimensions approx: 25.8 x 22.4 x 13.8 inches
Litter bed area: 17″ across
Weight approx: 25 lbs. (Includes Processing Unit, 11 lbs. Base Unit, 14 lbs)
Power Requirements (North America): 120VAC, 60Hz (15A Fused)
Power Requirements (Europe): 230VAC, 50Hz (8A Fused)
Power Consumption: 20W (Cleaning Cycle-17Minutes) 1200W (Drying Cycle-17 Minutes)
Requirements to Install: Coldwater line, wastewater drain, and electric outlet.
Included supplies last approximately 3 months for one cat and about 2 months for 2 cats.
The product is covered by a 90-day money-back guarantee and a 2-year warranty limited.
What comes in the package?
The CatGenie litter box
Utility or Laundry Room T-Adapter
A bathroom or Powder Room T-Adapter
SaniSolution Cartridge
Washable Granules
Optional Accessories
The Sidewalls, to stop litter from falling, and the Cat Dome, to contain litter and male cats' urine (note: not suitable for big cats over 15 lbs)
How To Hook Up The System?
The CatGenie is hooked up to a cold water line and to a waste-water drain such as a toilette or washer's drain pipe and it is plugged into an electrical outlet. The unit includes everything you need to install the CatGenie. It comes with T-adapters to hook up the device whether to a laundry room or to the bathroom. The only tools needed are a wrench or a pair of pliers. Additional parts may be required with non-standard hookups.
Unpacking & Installing the CatGenie
 How Does The CatGenie 120 Work?
When your cat does his business the urine drains away from the granules so basically only the waste gets flushed. The process starts with a GenieHand that scoops out the solid waste, this waste is deposited in a chamber located in the hopper while freshwater fills the box and this waste is turned into liquid by an impeller for safe and easy removal. This waste liquid is drained through the washer drain pipe (which connects directly to the sewer or septic tank) in case the installation is in the laundry room. If the waste liquid is dumped into the toilet, the CatGenies's pipe hooks to the toilet's rim. Once the waste and dirty water are drained away more spinning rinse cycles continue while SaniSolution disinfects everything. Finally, a hot-air blower fully dries the granules and box.
How Long Does A Full Cleaning Cycle Last?
This process takes 34 minutes in total, 17 minutes in the cleaning cycle, and 17 minutes in the drying cycle. The result is clean and disinfected litter box ready to be used again.
Watch How The CatGenie Works (video has been sped up)
Mode Settings
The CatGenie has 3 settings: "Cat Start" (or Cat Activation), "Auto Start", and "Push Start".
1. CAT START (cat activation)
It cleans the litter box 10 minutes after your cat has used it. Special eye sensors detect the cat when leaving the litter box so if the cat does not leave the litter area the cleaning cycle won't start; it will only be activated once the cat leaves the unit. Also, if another cat needs to use the litter box right after his "buddy", the unit resets and delays for another 10 minutes.
Active Mode vs Sleep Mode
When set in "Cat Start" (or Cat Activation) the CatGenie works based on two modes: Active Mode and Sleep Mode. Active Mode lasts 14 hours straight, where the unit will clean the cat's waste automatically. For the other 10 hours, the machine is in "Sleep Mode", which means it won't clean the waste if the cat uses it. This feature allows you to sleep because eliminates the cleaning cycle's noises at night. However, you can push a manual cleaning anytime you want during sleep mode. The next day when the system switches automatically to Active Mode again, it will clean the cat's waste if there is any.
How is The SaniSolution Used When The Genie is on "Cat Start"
When set in on "Cat Start" the SaniSolution cartridge automatically switches from 120 washes to 240. This is because as the unit cleans and flushes the waste immediately, it needs less solution per wash. This "Cat Start" or Cat Activation setting is more suitable for one cat or two at the most. Having multiple cats means more cleaning cycles (34 minutes each cycle) so this could create problems if other cats want to use the machine while in the cleaning cycle. The unit running almost all day is something to take into consideration.
2. AUTO START
It gives you the option to run the CatGenie from 1 to 4 times a day, depending on the number of cats. When choosing a self cleaning litter box multiple cats you need to keep a balance between cleanliness and energy efficiency. That's why this mode is suitable for multi-cat households. Auto Start means the cleaning cycle won't start after a cat uses the litter box instead, the unit will run every 6, 8, 12, or 24 hours per day, depending on the number of cleaning cycles you program the device to run (4, 3, 2, or 1 per day).
How to Program The Catgenie on This Mode?
As the unit does not feature a digital timer, once programmed it will start automatically at the pre-set cleaning times, so you have to program the CatGenie at one of the times you actually want the machine to start a cleaning cycle. For example, if you want the CatGenie to clean 2 times a day and to start cleaning at 1 pm and then at 1 am, you have to program the Auto Setup at either 1 pm or 1 am. It is a good idea to observe the cats' habits for optimal programming. On Auto Start setting the SaniSolution cartridge lasts for 120 washes.
3. PUSH START
Allows you to start a cleaning cycle anytime you want by only pushing the start button. This is a good complement to other setting options, for example during a Sleep Mode in Cat Start setting or between Auto Start cycles. This is a good option if your cat is sick and you want to check its eliminations. In this setting, the SaniSolution cartridge lasts for 120 washes.
Is The Catgenie 120 Easily Adopted By Cats?
Cats in general don't switch easily to new systems and especially automatic systems with movements and noises. However, cats do have the ability to take to new automatic litter boxes if they are introduced properly. CatGenie includes a "Cat Acclimation Guide" that is important not to skip. It might take a long time for your cat to accept the litter box but a lot of patience and strategy needs to be applied to this. If you introduce the CatGenie to cats properly they seem to adopt it very well and use it consistently. Some cats might not accept the unit at all; every cat is unique and when it comes to felines nothing can be guaranteed. You may want to check my article how to make your cat to use a self cleaning litter box where you will find the top brands and learn how to make a good transition for your cat.
Cat Suitability
The CatGenie is recommended for cats and kittens over 6 months of age weighing between 5 lbs and 10 lbs. If you have a cat that is really picky about the litter, the granules may not be attractive to your cat. If you have a timid cat that doesn't like much noises or movements, this machine may not be suitable.
CatGenie Supplies And Environment
The washable granules and maintenance cartridges have an additive that allows plastic-loving bacteria to degrade the plastics. The Cartridge Cases biodegrade in less than 10 years. If some washable granules go to a septic system they will biodegrade within 9 months, and two years in landfills.
 Pros & Cons of CatGenie Self-Washing Cat Box
Here's a list of the advantages and the disadvantages of the CatGenie so you can decide with better information:
PROS
A fully automatic solution for scooping and disposing of the waste.
Programmable automatic flushing keeps the unit clean and disinfects the area.
Good for households with 1 or 2 cats.
Easy to set up
Good construction and quality.
No contact with the litter.
Hypoallergenic and environment-friendly litter.
The unit works as advertised.
Good for a trip as it takes care automatically of the litter box.
CONS

It does not work well if your cat defecates soft feces that might stay on the device (the cleaning cycle might pulverize them causing a very bad smell).
The system might get clogged after some period of time (this does not happen always).
In order to deep clean the unit you need to fully disassemble it and it takes time.
Biodegradable litter does not cover up the cat feces and urine odor.
Lots of tracking granules
Loud and long cleaning cycles
Tips to use the CatGenie
Make sure that you have a space large enough to locate the unit.
Clean the unit with the Machine Maintenance Cartridge at least 4 times a year to keep the water sensor from buildup and the box from clogging.
Customers prefer unscented SaniSolution instead of scent.
If you have a kitten get the Dome to protect your cat from playing during the cleaning cycle.
If your cat is a digger or if your feline sprays or urinates on sides it is a good investment to get the Dome and Sidewalls.
Have always enough supplies to make sure the unit will always work. Without supplies, the unit does not work.
Get a good mat to reduce some of the litter trackings.
Conclusion About The CatGenie
My final thoughts of when it is a good idea to get it for your cat(s), and when is not.
√ I recommend CatGenie in these cases:
If you want a fully automatic cat litter box (no scooping, no disposing of waste)
Households with 1 or 2 cats maximum
If your cat defecates firm stools
If you have enough space in your bathroom or laundry room
Ideally to be installed in a basement bathroom or guest's bathroom.
x I would not recommend this cat box:
To be used for more than adult 2 cats.
Small houses or apartments.
For cats that defecate very soft feces.
A very playful kitten.
For large breeds
If you can't clean & maintain the unit periodically (possible clogs if you don't).
If you don't like noises (dry cycle spinning)