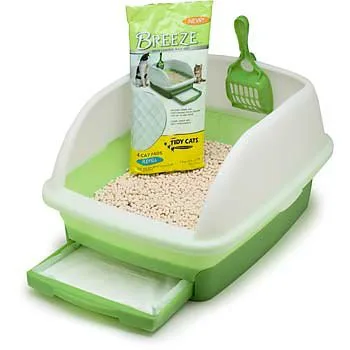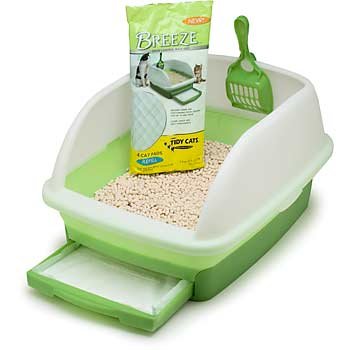 Editor's rating: 4.6 | Avg. rating online:4.3
Tidy Cats Breeze Litter Box is a very innovative system on litter boxes because its unique design divides liquid from solid waste to control odor and make the maintenance of the litter box an easy task.
Tidy Breeze litter system uses special litter pellets that are 99.9% dust-free and anti-tracking. These litter pellets allow the cat's urine to pass through to be absorbed by the pad located on the bottom of the box. Solid waste remains on the top of the unit, over the litter pellets for easy cleaning.
With this cat litter box, you don't have to deal with clumps getting stuck on the sides of the box or smelling the strong cat urine odor.
FEATURES
Kit contains: 1 litter box, 1 scoop, 1 bag of pellets, and 4 pads
Litter pellet 99.9% dust free and anti-tracking
Separate compartments for liquid and solid wastes
Quick and easy removal of wastes
It efficiently controls urine smell
Versions: Hooded, Open
Sizes: Regular & XL
Dimensions Regular: 20.3″L x 15.2″W x 11.8″H
Dimensions XL: 27.6″L x 18.5″ x 13.8″
HOW TIDY CATS BREEZE LITTER BOX SYSTEM WORKS?
First, pour the pellets into the litter box and then you place a pad on the bottom tray. After your cat uses it, the urine will go right through the main platform into the pad that will absorb it and the feces will be on the top of the unit, over the litter pellets.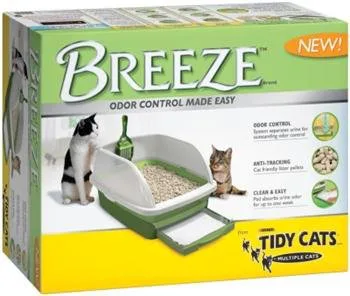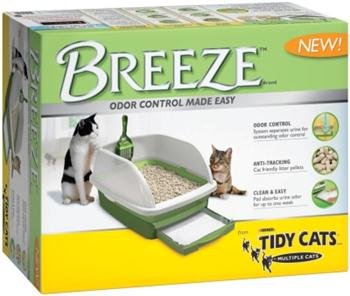 This efficient separation of liquid from solid will keep you from smelling the strong urine ammonia odor, common in litter boxes.
With the Tidy Breeze system, you don't have to scoop out clumped litter, you only have to scoop the waste from the litter pellet area daily which is very easy since there is not stuck clumps involved, only remove the waste from the top. These litter pellets are made from silica gel and zeolite; the silica gel means that these pellets don't create any dust or a mess like other cat litters.
To clean the bottom, simply pull out the pad tray after a week or so and you are done. To dispose the feces and the pad simply put them in a plastic bag and toss it in the trash.
VIDEO HOW IT WORKS
PROS
Easy to assemble and setup
Innovative pellets-litter for easy scooping as the cat's urine is not involved and there are no clumps stuck on the sides of the litter box.
An innovative and efficient system that control urine odor
Pads last several days (up to 7 days with one cat)
Easy to dispose of cat urine pads
Almost no tracking pellets
Nice stylish design
Easy to disassemble for cleaning
CONS
You have to buy pads and pellets to maintain the system
Cats need to adopt pellets instead of regular litter.
As cats cannot dig on the pellets, usually feces are exposed although typically the pellets somehow grab the smell after some minutes. Before that period of time, you can smell the feces.
Noisy if your cat is a stubborn digger
If a cat urinates high, the walls may leak urine onto the floor.
It does not have a hood to complement the unit
There is a risk of the cat eating the pellets (check tip #6)
The size of cat litter is rather small.
USEFUL CUSTOMERS TIPS
If your cat urinates in the same spots every time, it is a good idea to rotate the pad on day 3 or so.
Try to put the unit on a hard surface instead of carpet.
If you want to save money on litter pellets, you can wash them and reuse them. Do this only if you have a healthy cat.
When pouring the litter pellets into the litter box, try to keep most of them in the center of the box.
Even though a couple of pellets are safe for your cat if you don't want your pet to eat the pellets, test your cat before buying the whole system by simply putting pellets in front of it to see its reaction.
You can get kiln-dried Natural Pine Pelletized Bedding at your local Tractor Supply store. You will save on pellets, plus is natural and eco-friendly.
Wash the bottom tray every week to prevent bacteria from getting in the plastic. If your feline urinates too much, a good tip is to replace the bottom drawer with a plastic litter box and lining it with a puppy training pad.
CONCLUSION
Tidy Cats Breeze Litter Box System is a good system that works as advertised. Its main accomplishment is to control the cat urine odor and reducing the scooping, making this task much easier. There is a little "poop" smell involved as cats cannot dig and cover the feces, but the special pellets seem to cover the smell after some minutes. However, it's more suitable for females and small cats that don't urinate high. I don't consider the Tidy Cats Breeze the best solution for high spraying cats because its walls are not that tall.
√ I recommend the Tidy Cats Breeze litter box because it is an efficient system to control urine odor in your house. I suggest placing the Tidy Cats Breeze Litter Box in the bathroom, laundry room or garage. This unit is especially suitable in the following cases:
For a small cat weighing up to 10 lbs, if using Regular size.
For cats weighing up to 20 lbs, if using XL size.
Cats that don't need to dig excessively when using the box.
Cats that don't urinate high, against the wall
People that are allergic to regular cat litter.
X I don't recommend the Tidy Breeze Litter Box:
For kittens under 6 months that are prone to chew on things
For adult cats with Pica (chewing on non-food items)
For cats obsessed with food (they may eat the pellets)
If your cat sprays high
If your cat has stomach issues (diarrhea) or its feces are soft
If you have a dog in contact with the litter box.
If you don't want to buy supplies to maintain the cat litter box system.
For cats with diabetes
If you love the idea of this litter box you can subscribe and save on Amazon on pellets and pads.