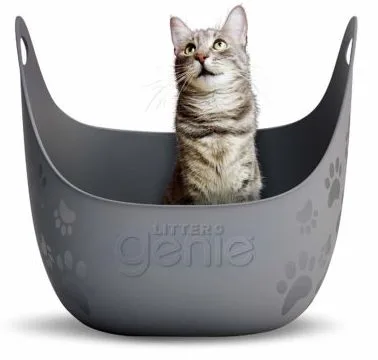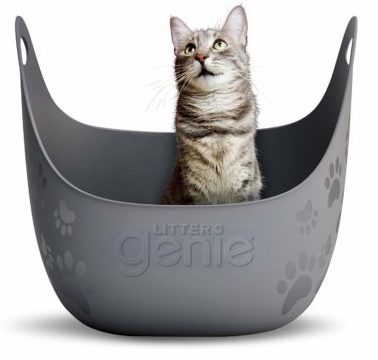 I decided to review the Litter Genie Cat Litter Box because of its design and materials of which is made of that make it unique. This cat box is flexible so you can accommodate it in areas where it's hard to squeeze a regular hard plastic cat box. This would be a great advantage for cats owners that don't have much space where to locate the box. In this review, I learned some of the good things about this design and also bad things about it. Let's start with its key features.
Features of Litter Genie Box
Flexible plastic helps you to accommodate the litter box in smaller areas.
Higher walls on sides with handles to carry the litter box much easier
Spout for easy disposal when emptying dirty litter
Higher walls on sides help to reduce litter scattering
The design provides your cat privacy without uncomfortable hoods that some cats don't like
Easy to clean with coated bottom and round base with no sharp corners
It comes in: Original version and Brand Edition
Dimensions
Front wall: 6″ high
Back wall: 10″
Sidewalls (with handles): 16" high at the highest point.
Width: 18″
Length: 21″
Weight: 1.49 pounds
How it works
The Litter Genie cat box works just like any other litter box with the difference of its convenience to carry it and accommodate it anywhere in the house. The cat box is easy to empty with the handles and spout but if you fill it too much it could be hard to carry. Make sure to use a minimum of 2.5 inches of cat litter to avoid scratches on the bottom of the box. When pouring litter into this litter box it gets wider (the tall sides with handles separate a little more), losing its original shape a little bit and accommodating the cat much better.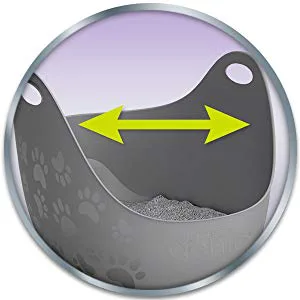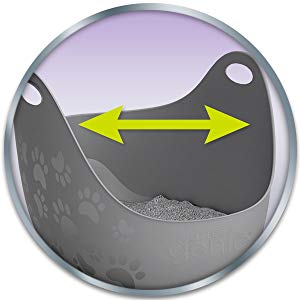 How to clean the Litter Genie cat litter box
Scoop the litter box ideally using a rounded edge scoop, this will make it easier for you to work on the round corners of the unit. To empty, simply grab the handles and gently shape the box into a spout to dump the dirty litter. Be careful on this step not to crack the edges of the litter box if you bend the plastic too much. To wash it and depending on how dirty the litter box is, you can hose it off or wipe it clean with a damp cloth or paper towel.
PROS
Nice unique design
No plastic smell
Easy to carry anywhere with the tall sides and handles
You can grab it and put it on a higher place to scoop it (easier for people that can't bend over too long)
It helps to reduce litter scattering
Cats adapt to this litter box easily
The tall sides with handles (16″) and the higher backside (10") helps to contain urine and litter
The round shape makes it easier for scooping, no nooks
You can pour the dirty litter directly from the box into the trash
More flexible to accommodate easier in some areas (it doesn't work if you squeeze it too much though).
The coated bottom makes it easier to remove the litter clumps (clumps stick to the sides though, but still easy to clean).
Most cats fit well
The unit is lightweight
Reasonable price
CONS
It's much larger than it looks in pictures
When filled with litter it loses its shape a little
If the cat kicks litter or urinates against the front end, the box may not contain it (ideal if your cat uses the high sides to urinate, it works great).
Hard to maneuver when full
Round corners are hard to reach with a regular scoop (a scoop with round edges works better).
If you bend it too much it could crack in some areas.
It seems like the consistency of the materials is not steady and some units are more flexible than others.
TIP
—You can squeeze this litter box no more than ½-inch without making the box lose the shape too much or risking of cracking the material if squeezing it too much.
My thoughts about Litter Genie Cat Box
Litter Genie cat litter box works as intended in the sense that is easier to carry and adapt to any space where it needs to accommodate. Some points to consider are:
The litter box is flexible when it comes to the high sides with handles but the back and front sides are not that flexible. Also, when emptying the dirty litter you need to bend the unit gently and carefully to avoid a possible crack. Some units seem to be more flexible than others too.
The cat box is much larger than it appears in the pictures, make sure you check the dimensions carefully.
The Litter Genie box looks a little odd when full with litter (like a laundry basket), but it gives more room for the cat to maneuver.
My bottom line
I recommend the Litter Genie litter box for any healthy cat under 14 lbs. I don't suggest getting this unit for cats that are heavy diggers or for cats that urinate high unless you locate the box in a way that the cat will be forced to use the higher sides (sides with handles and backside). Consider that this may not work that well if you want a super flexible litter box. All in all, this is a good addition that works great for cats.