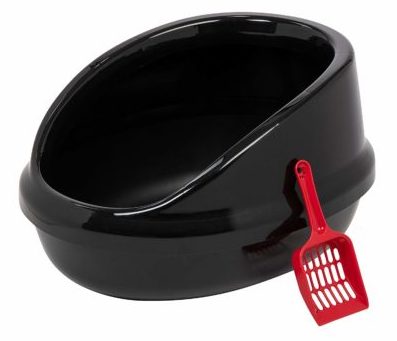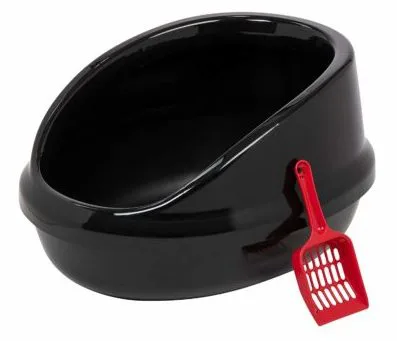 When I saw IRIS Ellipse litter box I immediately wanted to make a review of this cat box. I loved the design, simple and effective, but I had some questions about this unit such as the size. My cat is not large but she appreciates the space so I wanted to make sure the size of this litter box is enough for my kitty to maneuver while doing her business or digging.
After I investigated this litter box I came to some conclusions that I am sure will help you to decide if this will work for your cat.
Features
Oval shape with no sharp corners, easier to scoop
Smooth polished interior allows easy cleaning
Modern and sleek design that fits with any decor
Lower entry facilitates the cat to enter the litter box
Rims help contain litter and cat urine
Includes matching litter scoop
It comes in two versions: Shielded and no shield
Colors: Black, Gray and White
Dimensions with no shield: 19.00″L x 15.00″W x 5.10″H
Dimensions with Shield: 19.68″L x 15.51″W x 10.63″H
Weight No shield version: 1.55 lbs
Weight shielded version: 2.15 lbs.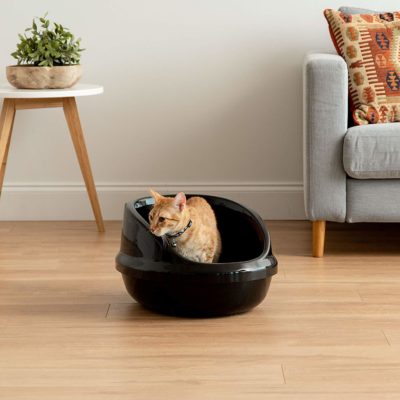 How to clean the unit
Iris Ellipse cat litter box comes in two types, the basic version without shield, and the shielded unit. The basic version features a skirt rim that snaps on and you need to take it off to clean the litter pan. The shielded unit features a top shield that you need to remove to scoop the box. The shield provides a much taller wall so it contains more litter scattering and urine.
Both types, shielded and basic version, come with a scoop and they both have polished interior that gives the litter box anti-stick properties, making it much easier to clean. The inside of this litter box doesn't have any nooks or crannies and it's actually very smooth.
How to wash it?
Iris Ellipse comes with snap-on rim or shield that you need to remove to wash it. In order to keep the smooth properties of the plastic is recommended washing the litter box with a solution of lukewarm water and mild detergent. Don't use harsh brushes or sponges to avoid scratching of the surfaces.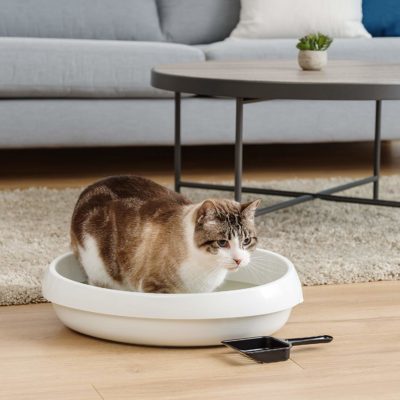 What are the pros & cons of IRIS Ellipse cat litter box?
If you like this litter box but are not sold yet about it, this list of pros and cons will help you to decide with truthful information. That's the goal of this review.
PROS
Cute and modern oval design provides style to your decor
Two different options, with or without shield
Rounded shape without corners make it easier to scoop, not more clumps trapped in corners.
Smooth polished interior provides anti-stick properties that help with the scooping
High sides help contain litter and urine
Easy to take apart to empty and clean
Low front makes it easy for the cat to get in and out of the litter box
Easy to carry and move around
Shielded version provides high back that keeps litter and urine inside the box.
Nice colors
Good price
CONS
The size of the litter box is rather small
Some litter gets caught under the "skirt" rim
The version without shield doesn't stop much litter from going outside
The scoop is too small
Sometimes the rim or shield doesn't snap on and it comes off if the cat moves it while using the litter box
The rim makes it harder to scoop the litter box
TIP
You can use the IRIS Ellipse litter box with a liner. A cheap alternative is using a garbage bag making sure to make if fit very well. With a liner you can change the litter much faster and easier.
My final thoughts about IRIS Ellipse litter box
IRIS Ellipse litter box is a nicely designed cat box with a modern and sleek look that allows you to put the litter box in living areas without looking too intrusive. The polished plastic gives the litter box a shining look and makes it much easier to scoop than regular litter boxes.
This unit is meant to be used with very tiny cats or kittens that squat to do their business. If you have a regular sized cat most likely this litter box will be too small for your cat. A good rule of thumb is that any litter box needs to be at least half of the cat's body as extra space. This ensures that the cat can move freely to do its business and turn around to dig which is essential for any cat.
I recommend IRIS Ellipse litter box for kittens and cats weighing up to 7 lbs. Ideally, female cats that squat to do their business.